Obituary
Dorothy Elaine Krizer (1933-2019)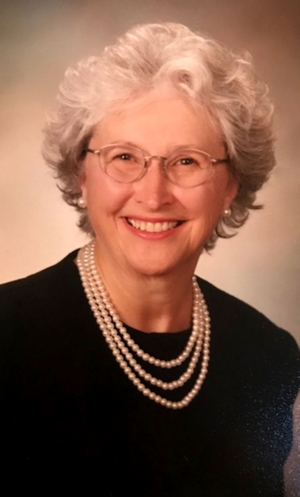 Dorothy Elaine Krizer (1933-2019)
Dorothy Elaine Krizer, loving Wife, Mother, Grandmother, Great Grandmother and friend of all, was summoned home by the Lord on Sept. 24th, 2019, surrounded by her children. Dorothy left in anticipation of reuniting with her husband Ron and the others who preceded her to the other side of this life.
Dorothy Elain Sriver-Krizer was born in Ottumwa, Iowa, the daughter of Charles Sriver, an engineer who drove trains for the Burlington Railroad including the Denver Zephyre, and Marie Baumgartner Sriver. A granddaughter of Swiss immigrants on one side, she was also a G-G-Grandaughter of early English colonists, whose descendants supported the Revolution and fought the British at Bunker Hill making her a Daughter of the Revolution. She attended Ottumwa High School growing up in a large family, and participated in many school activities like choral singing and serving in various clubs. In Ottumwa she met her best friend and love of her life, and during the Korean War married Ron Krizer and started life together with him in the US Air Force, deploying to Eilson Air Force Base in Fairbanks, Alaska.
Dorothy and Ron had three children, each born in a different state, as she accompanied her husband following work in the booming aerospace industry. Son Mark Douglas was born in Alaska in the Air Force, daughter Rhonda Dianne was born in Denver, and finally Curtis James was born in Anaheim, CA after they had migrated their way out to the west coast where she told her children Ron had convinced her to move after bringing her fresh roses and orange blossoms from business trips in California to Denver in the dead of winter. In 1969 her family left for two years to serve in the mission field in Kingston, Jamaica, returning to Anaheim for several years before moving to beautiful Fillmore, CA, in 1975. Dorothy and Ron where constantly going, and loved to travel and share the world all around them, both local and distant, with their children. She loved Ron and her children deeply, and would later say "I'd follow that man anywhere in this world!"
Known as "Dot" by her close family and friends and "Gramma Dot" by her grandchildren, Dorothy loved the Lord, her family and friends, flowers, art, music, singing, traveling, CHOCOLATE, and parties! Her beautiful smile and sunny, spunky disposition lit up a room, and her positive, uplifting spirit-led attitude was an example of Christian living, salt and light, to those she encountered. She was gifted with a natural ease, and even zen-like child-psychology ability that would sometimes amaze those around her, particularly her own children. Serving together with her husband in life, and Christian ministries in the USA, Jamaica, and even down to Columbia and Peru, she served in various Ladies Bible Classes, church events, and Childrens Bible Classes where she cemented her memory as a great teacher that would use chemistry experiments, magic tricks and various memorable instructor demonstrations, finished off by taking her class on a trip to somewhere fun like Magic Mountain or a pool party in her backyard!
Dorothy went to Business College as a young woman, but always had a gift and appreciation for art, and over time became a professional artist who developed a successful architectural rendering business. She learned how to make and decorate professional level cakes and wedding cakes, served as a Girl Scout leader, served Associated Women of Pepperdine (AWP), and set an example of a constantly learning, serving, and continuously growing life. When her own kids grew up, she volunteered to help people read, and became a care taker for two of her own parents and family who became ill, and took art classes at VC.
She taught her children to love God, and to look at the inside of people rather than their outside. A Midwestern girl, she loved basketball, and became a big LA Lakers fan. She had a love and appreciation for paintings, design, sculptor and architecture, museums, history, and Gods natural beauty. She saw and lived in many beautiful places in the world, and touched people wherever she went with her humor and joyful spirit. Later in life she was able to go to Italy and Switzerland, and to see the homelands of her forefathers in the Alps. Overwhelmed by the beauty, she and broke out singing a verse of "How Great Thou Art" on the train, entertaining her family who was with her there. We trust she is, incomprehensively, in an even more beautiful place now.
Dorothy is survived by her children Rhonda (Krizer) and Larry Fisk of Fillmore/Indio, Curtis Krizer of Fillmore, and Mark and Sue Krizer in Alaska, as well as grandchildren Matthew Krizer in California, Rebbeca (Krizer) and Nate Morrison of Richmond, VA, Kerri (Krizer) and Aaron Base in Sacile, Italy, Carli Krizer of Fillmore, Brandon and Holley Fisk of Anchorage, AL, Jonathon Fisk of Fillmore, and Great Grandchildren Alana and Dracen Morrison, and Jonah and Milo Fisk.
A celebration of Dots life will be held at the Fillmore Church of Christ on Saturday, Oct. 5, 2019 at 12:30 pm. In lieu of flowers, donations can be made to SOS Childrens Villages (orphans), or the Alzheimers Association. Dorothy will be missed by all she knew her, but encouraged by the joy and positive example she left behind.