Obituary
Donald Mosbarger (1925-2020)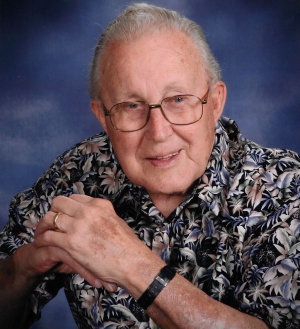 Donald Mosbarger (1925-2020)
Donald Orley Mosbarger passed away from natural causes on Tuesday, May 19, 2020, at the age of 94. Don was born on October 10, 1925, in Fillmore, California. After graduating from Fillmore High School in 1943, he enlisted in the United States Army. He served during World War II in both the European and Asiatic-Pacific Theatres of Operations with the 342nd Infantry Regiment.
Don was honorably discharged in 1946 and attended Woodbury College on the GI Bill. Upon graduation, he went to work for the Fillmore School District in the accounting department and remained there until his retirement in 1988. In 1954, he married Beverly Clarkson. They made their home in Fillmore and were married for fifty-five years.
Don was an accomplished tennis player and for many years played weekly with a local group of serious competitors. He played in numerous local tournaments, winning several trophies. Don was very gifted musically and sang and played his clarinet in various musical groups in Fillmore over the years. Dixieland Jazz was a favorite of his. After retirement, he and Beverly traveled often to Jazz Festivals. Most recently, he was a member of the choir at Santa Paula Presbyterian Church. Another favorite activity of Don's was playing bridge. He and Beverly were regular players in a couples' bridge group. In recent years, he enjoyed playing in a men's group with other bridge enthusiasts.
Don had a great sense of humor and loved to tell jokes. He was easygoing and had a positive outlook on life. He was much loved and will be greatly missed. Don was a wonderful husband and father who is survived by his daughters, Joy Mosbarger and Jill Sobieski; and eight nieces and nephews and their families. Don was preceded in death by his wife, Beverly; his parents, Orley and Margaret; and his sister Peggy Bartels.
A private graveside service will be held at Bardsdale Cemetery.