Obituary
Dolores Marquez Sibaja (1928-2014)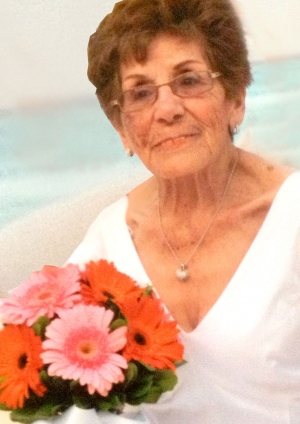 Dolores Marquez Sibaja (1928-2014)
On April 27, 2014, the Lord called to Heaven Dolores Marquez Sibaja. Although we are terribly saddened, we rest now knowing that she lived a loved life surrounded with her family and friends. For her daughters it was a gift to know how much she was loved.
Dolores was born October 8, 1928 in her family's ranch El Ocote in San Juan De Los Lagos, Jalisco Mexico. Affectionately known as Lola, she was the youngest child of Refugio and Candida Marquez. She has two surviving siblings Salome and Guadalupe. She was preceded in death by her brothers and sisters Felipa, Felipe, Cira, and Salvador.
Dolores married Enrique Sibaja in May 1964 in San Juan de Los Lagos, Mexico. The newlyweds celebrated their nuptials in Veracruz and Mexico City and then headed west to Santa Paula, CA , where they lived the rest of their lives.
Lola was a loyal parishioner of Our Lady of Guadalupe Church in Santa Paula. She also assisted in the funding of the renovation of Guadalupe Church. Lola and Enrique were responsible for the donation of the Holy Thursday bread, a tradition that she carried on to the present day.
Lola's love was to attending gatherings with her family and friends. She traveled many times back to Mexico to see her family that she kept close to her heart.
Lola's great joy was being a mother, and grandmother. She dedicated her life to her two daughters Natalia Sibaja Pacheco (Rafael) and Veronica Sibaja Morris (Sean). Which she jokingly called her pair of earrings. She loved spending time with the apples of her eyes, her grandchildren: Steven, Scott, Enrique, Sofia, Ian, Jackson, and great granddaughter Samantha. She will be greatly missed by Magdalena Sibaja her loyal sister in law who never left her side, as well as numerous nephews and nieces. Lola was true to her family, friends and her faith. She was an example to many to continue to follow the course.
The family would like to express our deepest thanks to the Drs. and staff of Santa Paula Hospital, Dr. Michael Tushla and staff, and family and friends for the love and support.
A rosary will be held to celebrate the life of Dolores Marquez Sibaja on Thursday, May 1, 2014 at 12:30 pm followed immediately by a memorial mass at Our Lady of Guadalupe Catholic Church, 427 North Oak Street, Santa Paula, CA.