Obituary
Consuelo V. Ortega Ruiz (1922-2022)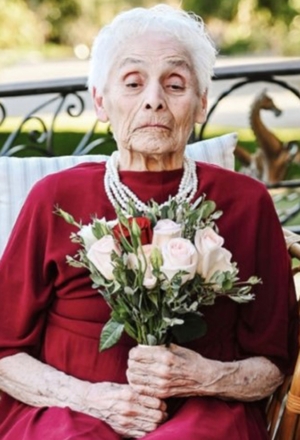 Consuelo V. Ortega Ruiz (1922-2022)
Our beloved Momma went to be with our Lord on Saturday, November 26th, 2022 with her loved ones at her bedside. Our beautiful Momma was born to Ignacio and Amanda Abalos Ortega, on March 23rd, 1922 in Piru Ca. At the time of her passing, momma was 100 years 8 months and 3 days old.
During the War, Momma went to live with one of her cousins and her cousins husband to work at McDonald Douglas. They were the home front workers "Rosie the Riveters". She returned back home to Piru, where she met and fell in love with this handsome man (our daddy) from across the street.
Mom and Dad married on February 4th, 1951 at St. Francis of Assisi church in Fillmore. Momma & Daddy built our family home just up the street from where she was born and raised. And this is where they raised their 6 children.
Mom worked at Fillmore Piru Citrus Association for 50 plus years. After retiring, Mom would take care of some of her grandchildren. She also enjoyed the outdoors and having a few "cold ones" and just being surrounded by family and friends.
She was also a devoted Catholic and loved going to church. She was a member of the Sacred Heart Society.
Momma had so much unconditional love for all her children, her grandchildren, great grandchildren and great great grandchildren and anyone else who came into her life. There isn't anything that she wouldn't do for any of us. Momma & Daddy always had their door open and welcomed everyone into their home.
She leaves behind her children Jim Ruiz Jr. Of Piru, Cathy Chavez (Joe), Denise Ruiz (Bear) of Fillmore, Anna Ramos (Julio), Jamie Rodriguez (Gilbert) of Piru. As well as 14 Grandchildren, 30 Great grandchildren and 11 Great great Grandchildren. She also leaves behind 2 sisters Delfina Ortega and Catherine Cervantes and numerous nieces and nephews.
Mom was preceded in death by her loving husband (our daddy) James N. Ruiz Sr., her son (our brother) Lonnie K. Ruiz, her Grandson "JJ" Topete and great Grandson Michael "Mikey" Lopez and many other family members. She will be greatly missed by all.
Te extrañamos mucho mamá. Siempre estarás en los corazones. It is not goodbye, but "Until we see you again" Madrecita Querida.
Funeral service will be held on December 31st, 2022 at. 10 am at San Salvador Church, 4045 Center St. in Piru, California 93040
Internment to follow at Piru Cemetery, 3956 Center Street Piru Ca. 93040
Immediately following the Internment, we will have a reception at San Salvador church hall.
Funeral arrangements are under the direction of Mission Hills Catholic Mortuary in San Fernando, Ca.
To sign the Family's online guest book, please visit Mission Hills Mortuary at http://www.missionhills mortuary.com, click the menu link go to obituary and in search bar type Consuelo Victoria Ruiz.