Obituary
Constance (Connie) Downey (Arundell) (1934-2015)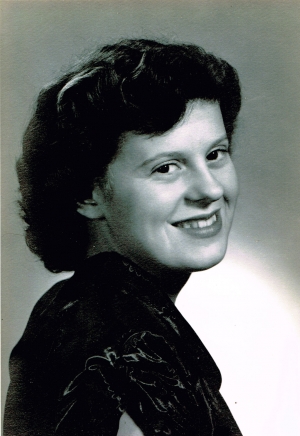 Constance (Connie) Downey (Arundell) (1934-2015)
Constance (Connie) Downey (Arundell), born January 6th, 1934, passed away peacefully in her home surrounded by family on August 23rd, 2015. She was preceded in death by her husband Dorwin (Dody) Downey and is survived by her sister Janet Ming [Garlon], children, Mike Downey [Mary Jordan], Sheryl Downey, Timothy Downey [Lois], Sean Downey, Kathleen Steller [Edward], Darren Downey [Debbie], 18 grandchildren and 19 great-grandchildren.
Born in Oxnard, California to Lester and Thelma Arundell, she attended Fillmore High School. Shortly after graduating she was wed to the love of her life Dody. After the wedding they established their home in Ventura where they were blessed with six children. An active member of the PTA and CSTA, she spent much of her time raising the children while Dody earned a living as a bus driver for the Ventura Unified School District. After all the children were in school she worked at Ventura Unified School District, Beverly Fabrics, and concluded her career at Montgomery Wards. Dody and Connie 8 spent years working together at Roller Gardens in Oxnard, where they shared their love of Roller Skating with their six children, who then passed it on to their grandchildren and great grandchildren.
More recently, Connie enjoyed her retirement and filled her days with sewing, reading, spending time with family, and playing cards. She was known by many as a talented seamstress, creating the majority of the clothing her children wore, leather jackets, and beautiful embroidery.
A very heartfelt thank you to her caregivers late in life; Treacy Villa, Aegis, Community Memorial Hospital, Oakhurst Hospice and Stephanie. The immediate family will have a private service, and a Celebration of Life will be held on Friday, September 4th at 4pm in the home of Timothy and Lois Downey. Please email services@porchlightpr.com for the address. In lieu of flowers, the family asks that you contact your friends and family and let them know you love them.