By Gazette Staff Writer — Tuesday, February 11th, 2014
For decades field biologists, researchers and animal care staff were the only people able to witness the development of a California condor family. Now viewers around the globe will be able to watch the growth of a condor, from caring for the egg to rearing the hatched chick, via the San Diego Zoo Wildlife Conservancy's online Condor Cam. This rare glimpse has only recently been available for public viewing with the hatching of the Condor Cam's very first star, Saticoy, in 2012.
More than 600,000 visitors watched Saticoy on the website's Condor Cam, and many read blog updates as he was released into the wild in November of 2013. Since his release, Saticoy has been observed perching and roosting in trees with other condors and field biologists have confirmed that he is doing well and integrating seamlessly into the wild.
Saticoy's is a success story many years in the making. In the 1980s, there were only 22 condors left in the world. The San Diego Zoo Safari Park has now hatched 181 chicks and released more than 80 birds into the wild as part of the California Condor Recovery Program. Having cameras in the nests has certainly played a part in the recovery programs success.
The cameras allow animal CONTINUED »
By Gazette Staff Writer — Monday, February 10th, 2014
By Gazette Staff Writer — Monday, February 10th, 2014
Help Keep Fillmore Clean
Join the Soroptimists for the annual Treasure Hunt as you help Keep Fillmore Clean!
Come to the Taco Llama parking lot at 9:00 on the February 22 to help clean up the bike path AND find hidden treasures! This is the special clean up . COME ENJOY THE FUN! All are welcome! For information, call Lynn Edmonds @ 907-6576.
By Gazette Staff Writer — Monday, February 10th, 2014
"Neuropsychology Takes a Look at Fetal Alcohol Spectrum Disorders (FASD)" will be the topic of a free two-hour training presented by CASA of Ventura County on February 20th, from 6 pm to 8 pm. Dr. Ann Simun, PsyD, will be presenting new information about the effects of fetal alcohol syndrome and therapies to mitigate impacts on the growing child. Dr. Simun has been working professionally with children with learning and behavioral challenges since 1989. She is a licensed psychologist with a specialization in neuropsychology. Dr. Simun conducts neuropsychological and psycho-educational assessment, expert witness and consultation services, and formal observations.
CASA of Ventura County recruits, screens, trains and supervises community volunteers who become sworn officers of the Court and advocate for one of the children in Ventura County's foster care system who has been appointed by the Juvenile Dependency Judge to the CASA Program. Each year over 500 children removed from their families due to child abuse or neglect. CASA's 140 volunteers advocate for about 200 of the 1,200 children in the foster care system until a safe, permanent home can be found. CASA volunteers are required to complete at least 12 hours of In-Service Training each year to keep current on changing trends in child development, the legal system and other matters affecting foster care.
The training is free to CASA volunteers and the public. For more information contact Bernadette@casaofventuracounty.org or call 805.389.3120.
By Gazette Staff Writer — Monday, February 10th, 2014
Livingston Visiting Nurse Association will hold the following Joint Replacement Class to prepare you for total knee or hip replacement surgery. Home preparation, exercises and rehabilitation information will be discussed. Open to the public and free of charge, the class will be held:
• 1st Thursday of the Month, March 6,from 1:00 – 2:00 pm @ Livingston Memorial Visiting Nurse Association, Rm 109, 1996 Eastman Ave, Ventura, RSVP Diana Davis @ 642-0239 x 739
• 2nd Wednesday of the Month, March 12, from 10:00 – 11:00 am @ Pleasant Valley Hospital, 3rd floor Classroom, 2309 Antonio Avenue, Camarillo, RSVP Barrie Gilster @ 797-7699
• 2nd Wednesday of the Month, March 12, from 1:00 – 2:00 pm @ Thousand Oaks Library, 1401 E. Janss Rd, Thousand Oaks, RSVP Barrie Gilster @ 797-7699
• 3rd Wednesday of the Month, March 19, from 1:00 – 2:00 pm @ Sunrise Senior Living, Activity Room, 190 Tierra Rejada Road, Simi Valley, RSVP Barrie Gilster @ 797-7699
By Gazette Staff Writer — Monday, February 10th, 2014
Moorpark, CA – The California Department of Transportation (Caltrans) will close the northbound Moorpark Freeway (SR-23) connector to the eastbound Ronald Reagan Freeway (SR-118) at Los Angeles Avenue from 10 p.m. Friday, February 7 until 5 a.m. Monday, February 10.
The closure is required to implement emergency repairs of bridge joints on the Arroyo Simi Overhead structure.
Electronic freeway message signs will begin warning of the impending closure a week in advance. Caltrans is urging motorists to avoid the interchange if at all possible and to expect delays.
Eastbound SR-118 will be directed to exit northbound SR-23 at Tierra Rejada Road, travel eastbound and then turn left onto Madera Road to return to eastbound SR-118.
Motorists continuing on eastbound SR-118 from eastbound SR-118/Los Angeles Avenue will take southbound SR-23 to Tierra Rejada Road.
Work will take place around the clock and may generate noise and dust for residents adjacent to the freeway. Otherwise, the work is not expected to involve significant community impacts.
A second 55-hour closure will be required to perform the same work on the westbound Sr-118 connector to southbound SR-23, currently scheduled from 10 p.m. Friday, February 21 through 5 a.m. Monday, February 24. Additional information will be provided closer to that date.
# # #
By Gazette Staff Writer — Monday, February 10th, 2014
Santa Clara Valley Disposal will maintain its regular Friday trash and green waste collection schedule in Fillmore on Feb. 21, during the week of Presidents' Day.
For more information, call 647-1414.
By Gazette Staff Writer — Wednesday, February 5th, 2014
The Fillmore High Alumni Association wants to thank all the community members who attended our "Pack the House" night last Thursday and Friday evening at the High School Gym. On Thursday night we honored long time Teacher and Coach, Mr. Harry Burns. Alumni President, Mark Ortega and Vice-President, Corinna Mozley presented Mr. Burns an appreciation certificate for his 34 years of coaching and teaching with Fillmore High and Jr. High. On Friday evening, the community came out again and it was standing room only for Carmen and Jim Fauver's presentation. Mrs. Fauver was honored for all her years of volunteering and chaperoning our Fillmore students, and Mr. Fauver for his years of dedication in Teaching and Coaching the Boys Basketball Teams. Many of his past players came to say Hi. Two special evenings indeed, and we say Thank You to the community for coming out to honor our Alma Mater, Mr. Burns, and Carmen and Jim Fauver. Go Flashes!!
Mr. Burns video: http://goo.gl/aOIQaH
Mr. and Mrs. Fauver video: http://goo.gl/lcAZtq
And don't forget to "Like" the Fillmore High Alumni Association's Facebook page located here: http://goo.gl/HFMPfQ
By Gazette Staff Writer — Wednesday, February 5th, 2014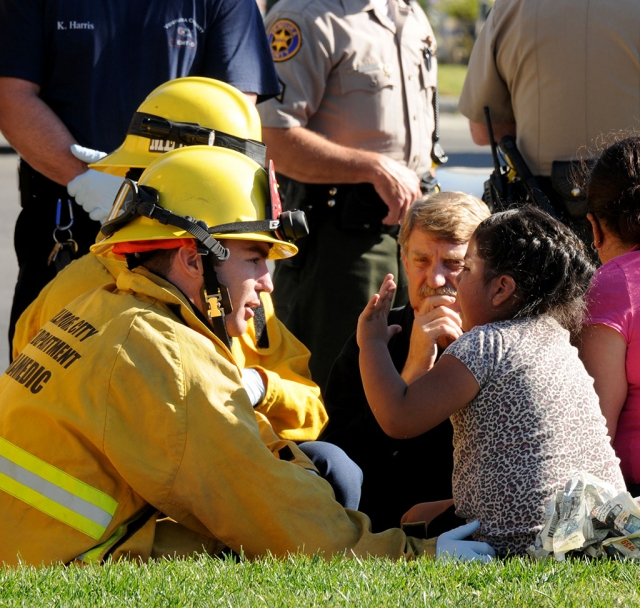 A pedestrian involved traffic collision was broadcast on Wednesday, January 31st. Fillmore Fire responded and thankfully there were no serious injuries. The firefighter pictured above gave special attention to the child involved.
Enlarge Photo
By Gazette Staff Writer — Tuesday, February 4th, 2014
"Fiesta of Flowers"
The sixth annual Fillmore Flower Show, will be held April 12-13, 2014, at the Fillmore Senior Center, 533 Santa Clara Street, Fillmore, California, 93015. In conjunction with Fillmore's celebration of its centennial year, the theme will be, "100 Years of Flowers". The Vision 2020, Civic Pride Committee, is proud to have been able to revive this well respected show that began so long ago, before WWI, continuing through the years until the early 1990's.
This years' flower show will be held in memory of Conway Spitler, who passed away in July, 2013. Conway had been a chairman of the flower show over many of the years, along with his wife, Tillie, and maintained a meticulous scrapbook which he allowed us to use for reference in that first year, 2009. He also met with us and offered his wisdom on planning and helped with the flower entries on the first day of the shows.
Another flower show scrapbook was located at the Fillmore Historical Museum and this book is brought to each show for people to look back at the history. Some people have found pictures of themselves as children in newspaper articles showing them as winners. Civic Pride will be offering a free class on grooming plants and flowers for entry, information on divisions and classes with classic styles, along with tips from judges' comments during judging. Joanne King will lead the class. Location of this class, and date will be announced in a future newspaper
The show is free and open to the public from 1-4 pm each day. A Garden Boutique with plants and items attainable for a donation, along with door prizes, will be available.
Musicians will add the pleasure of live music on piano (Saturday) and guitar (Sunday).
Entry is open to all, but competitive entries are limited to residents of Fillmore Unified School District area which includes Fillmore, Piru, Bardsdale & west to the Little Red School House.
Entries will be received Saturday morning from 7:30am to 10:00am. Youth entries are free and adult entries (unlimited) for $5.00.
For more information, please contact Joanne King, 805-524-4904 or Linda Nunes, 805-524-3021.
By Gazette Staff Writer — Tuesday, February 4th, 2014
The most dramatic period of construction is coming to an end – the erection of the steel structure of the new Community Memorial Hospital.
No other portion of the building process has had such an impact on the community as watching the skeleton of the new hospital rise from the ground. It brought a very tangible sense of reality that this new hospital will soon be open.
As they begin to leave the job site, we extend our heartfelt thanks to the ironworkers who daily entertained us as they wrestled and secured the iron into place, and then welded it together. Turn up the sound, and enjoy our tribute to the members of The Erection Company (TEC) – true, cowboys in the sky.
By Gazette Staff Writer — Tuesday, February 4th, 2014
Thousands of participants will "Give Love" in full color as they celebrate life, friendship, fitness and fun
WHAT: Run or Dye, the world's most colorful 5k, is coming to the Ventura Ranch KOA in Santa Paula on Saturday, February 8th and bringing the colors of the rainbow with it. The color-blasted 5k will feature multi-colored showers of safe, eco-friendly, plant-based cornstarch dye at every kilometer for a day of full color fun. Afterwards participants will have the option to take part in the Run or Dye world-famous Dye Festival where they'll "Tie-Dye the Sky" with an explosion of colors in the ultimate celebration of life, friendship, fitness, and fun.
Run or Dye will be partnering with Ventura Family YMCA, a local organization striving to enrich the lives of kids, adults, families and communities through health, well-being and fitness programs, camps, family time, education and leadership. Run or Dye will donate a portion of the race proceeds to Ventura Family YMCA.
WHEN: Saturday, February 8, 2014… Detailed schedule is as follows:
• 9:00 am – Run or Dye 5k begins
• 9:45 am – Finish Festival
• 10:00 am – Tie-Dye the Sky (every 15 minutes)
*Times are subject to change
WHERE: 7400 Pine Grove Rd, Santa Paula, CA 93060
By Gazette Staff Writer — Tuesday, February 4th, 2014
The Ventura County Rose Society will hold its monthly meeting on Thursday, February 20, 2014, at the Ventura County Office of Education Conference Center at 5100 Adolfo Rd., Camarillo.
The doors will open at 6:30 p.m. for advice from Consulting Rosarians and refreshments, and our speaker presentation will begin at 7:30 pm. Please note that this is a change in date to the 3rd. week of February for this month only.
The VCRS meeting will feature Bob Martin, Jr. who will speak about " Tools for Roses You Never Knew You Needed". Mr. Martin has been growing over 350 roses for more than 40 years. He is an American Rose Society Master Rosarian and he is both an Accredited Horticultural and also an Arrangement Judge. Mr, Martin is an author of several books, a hybridizer, and also an Editor on Showing Roses and the Exhibitors Forum. He was awarded the highest medal from the American Rose Society in 2009 for lifetime achievement in growing roses, hybridizing and educating people. He is an excellent speaker and his talk will be very informative and enjoyable.
Visitors are always welcome to our VCRS meetings. For more information contact: Janet Sklar at 818-337-9970 or Dawn-Marie Johnson at 805-523-9003. Our website is http://www.venturarose.org/
By Gazette Staff Writer — Tuesday, February 4th, 2014
Attend this informative discussion and film "Consider the Conversation", which examines how we view life's final chapter and how talking about what we want, in advance, prevents unnecessary suffering. Sponsored by Livingston Memorial Hospice and Scan Senior Resource Center, the film will be shown on Tuesday, February 18, from 7:00 – 9:00 pm @ the Ventura Center for Spiritual Living, 101 S. Laurel St, Ventura, CA. The film includes personal accounts from patients, family members, doctors, nurses, clergy, and national experts on the physical, social and emotional issues related to dying. A discussion will follow featuring Lanyard K. Dial, MD, Livingston Memorial Visiting Nurse Association and Hospice Medical Director. RSVP: (805) 643-1933.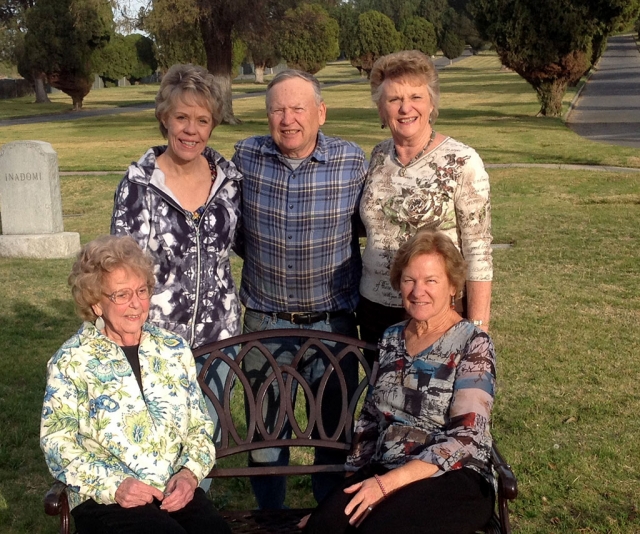 Standing, Cemetery Board members Rita Rudkin, Scott Lee, President and Lynda Edmonds. Seated, Garden Club members, Maxine Merry (Fillmore) and Lora Clarke (Ventura), current Vice-President.
Enlarge Photo
By Gazette Staff Writer — Tuesday, February 4th, 2014
The Ventura County Garden Club's most recent Beautification Project was the purchase of a bronze wrought iron bench for the Bardsdale Cemetery. The selection was made by Cemetery Board members Lynda Edmonds and Rita Rudkin and will be installed by cemetery staff.
Each year the Garden Club chooses a beautification project for a city represented by its members who are from all areas of Ventura County.
By Gazette Staff Writer — Wednesday, January 29th, 2014
A PowerPoint presentation was viewed at Tuesday night's City Council meeting. Planning and Community Development was discussed. The Planning Commission's recommendation and adopting of the Resolution(s) including: Approves a General Plan Amendment by adopting the revised draft Housing Element; and, Approves the Environmental Addendum to General Plan EIR pursuant to CEQA Guidelines… was on the agenda.
The City has laid out a 7-year plan for slow home development growth. The vote was a unanimous Yes to the new Housing Element to the General Plan. Housing Element must be updated (at least) every eight years. These updates may require cities and counties to adjust their zoning codes for new housing plans.
Fillmore's new Housing Element will cover 2014-2021 and calls for 1,373 new homes. This is 426 housing units less than the 2006-2013 Housing Element. It will include zoning for up to 203 very-low income homes, 17 for low-income homes, 799 for moderate-income homes, and 354 for just above the moderate level.
These numbers mean Fillmore 'needs' 52 low-income homes. The city will now wait for the State to sign off on the new Housing Element. Council has until mid-February to approve a Housing Element. If the deadline is missed, the City will have to update the plane every four years instead of every eight.
By Gazette Staff Writer — Wednesday, January 29th, 2014
The annual Ventura County St. Patrick's Day Parade will march down Main Street for the 26rd time in downtown Ventura on Saturday, March 15, beginning at 10 a.m. The theme is "The Irish Thru the Ages."
Richard Rush, president of California State University Channel Islands since it opened in 2001, is this year's Grand Marshal. As head of the 23rd and newest campus in the California State University system, Rush has hired the faculty and senior administrative staff and overseen the creation and development of the university's strategic, academic and physical master plans as well as its budget and financial structure.
Parade entries are being accepted until March 7. Parade organizers invite bands, dancers, acrobats, clowns, horses and organizations to participate in the county's greenest event.
Last year's Arnold Hubbard Memorial Trophy went to the McGrath Family, the Mayor's Trophy went to Totally Local VC and the "Most Irish" award went to the Claddagh School of Irish Dance.
Entry forms can be downloaded from the parade's website, www.venturastpatricksdayparade.com or by calling Jim Monahan, parade chairman at 643-4275.
WHAT: 26rd Annual County Ventura St. Patrick's Day Parade
"The Irish thru the Ages"
WHEN: Saturday, March 15, 2014 at 10 a.m.
WHO: Richard Rush, President CSUCI
WHERE: Main Street in downtown Ventura, beginning at the Mission San Buenaventura, ending at Laurel Street
By Gazette Staff Writer — Tuesday, January 28th, 2014
Camarillo, CA – The 4th Annual Coats for Casa Pacifica charity coat drive at Three Springs Park in Westlake Village on January 18th was a huge success. Privately hosted by Lydia Gable with Keller Williams Realty and Rick Winters of Winters Financial, the event included 25 tons of snow and sledding to entertain the kids and their families, free cold and hot coffee drinks and smoothies, plus an arts and crafts area.
More than 1,400 community donations of warm clothing including coats, sweaters, mittens, scarves, and sweatshirts were collected, far surpassing the previous year's collection of approximately 1,000 items.
All the donated items were delivered on Tuesday, January 21st to Casa Pacifica Centers for Children and Families, the Camarillo-based agency that cares for abused, neglected, and at-risk youth through both campus and community-based programs.
Casa Pacifica's Chief Advancement Officer Vicki Murphy was ecstatic at the huge volume of donations. "We're so grateful to Rick and Lydia . . . it makes such a difference for our children. In general, we don't receive a lot of coat donations, and often our kids come with just a few things when they are admitted to Casa Pacifica, so it is really lovely for them to have so many coats to choose from, and they can take as many as they like."
Murphy continues, "On behalf of all the kids and families who desperately can use these coats and sweaters, we thank you so very much."
Headquartered on a rural 24-acre campus just five miles from the ocean, Casa Pacifica is a crisis-care and residential treatment facility serving abused, neglected, or at-risk children with severe emotional, social, behavioral, and mental health challenges primarily in Ventura and Santa Barbara Counties. The agency is the largest non-profit provider of children's mental health services in both counties and administers a number of community-based programs which are designed with the intent to strengthen families and keep children in their homes. For more information about Casa Pacifica visit its website www.casapacifica.org or call the Development Department at (805) 445-7800.
By Gazette Staff Writer — Tuesday, January 28th, 2014
The Fillmore Library was recently transformed into a room full of kids acting out various animals in the form of yoga poses, when Lisa Hammond (Next Generation Yoga for Kids) presented Yoga Fun on Wednesday, January 15th. The monthly programs are presented by Soroptimist International of Fillmore and the Fillmore Friends of the Library. Lisa is a certified and insured instructor, specializing in classes, camps, and special events like birthday parties. Yoga offers a safe space for youth to creatively express themselves, build confidence and develop strong, healthy bodies. Lisa works with youth from ages 2-13. For more information on yoga classes for youth please contact Lisa Hammond at 831.801.2276 or ngywithlisahammond@gmail.com
By Gazette Staff Writer — Tuesday, January 28th, 2014
Fair Theme is "A Country Fair with Ocean Air"
The Ventura County Fair announces that the 5thannual fair poster contest will be held for the 2014 Ventura County Fair. The contest is open to young artists in grades 5 - 12 who reside in Ventura County.
The theme of the 2014 fair is "A Country Fair with Ocean Air" and will serve as the guideline to the imagery. Artwork may be created in any medium but may not include the use of glitter, metallic paint, or 3 dimensional objects attached to the artwork.
Poster designs will be judged on Theme, Originality, Composition and Skill. Entries will be accepted until the entry deadline, Tuesday, April 1. Entries can be brought to the Fairgrounds administration office at 10 W. Harbor Blvd. in Ventura. Office hours are Monday through Friday from 8AM until 5PM.
Rules, deadlines and other information can be found on the Fair website, www.venturacountyfair.org. For more information about the contest call 648-3376 or send an email to info@venturacountyfair.org. (Please put "Poster Contest" in the subject line)
Prizes will be awarded to the top three entries, Firstprize: $500, Second Prize: $250, Third Prize: $100
The winning design will be used to advertise the fair on posters, souvenirs, advertisements and other applications. Second and third place winners will also be used in various applications. All contestants entries will be displayed in the Youth Expo at the Ventura County Fair.
The Ventura County Fair will begin its annual 12-day run Wednesday, July 30 and continue until Sunday, August 10.
For more information about the fair, or the poster contest, please call the Ventura County Fairgrounds at 648-3376 or visit www.venturacountyfair.org. Keep up to date when you Like us on Facebook