By Gazette Staff Writer — Tuesday, August 12th, 2014
Location: Diamond Realty Of Fillmore, Corner Of Central Avenue And Santa Clara In Fillmore
Date: Friday, August 15, 2014 At 5pm-7pm
The Artists Guild of Fillmore is celebrating the 100th Birthday of our city in artistic style with an exhibit of original, one of a kind post card size works of art. The art harks back to the time before facebook, twitter, email and other modern day forms of communication, and speaks to the time when a brief note was placed on a small , 4" x 6" decorated card and was mailed to friends and family far and wide!!. .
These small, ready to frame works of art are available for sale and are a perfect way to begin or add to a collection of art by local artists. The art is presented anonymously, so the buyer finds out the artist's name after purchase!!! The concept is patterned after similar gallery exhibits , especially the annual event at the Royal Academy of Art in London, England.
Participating artists are Judy Dressler, Karen Scott Browdy, Lady Jan Faulkner, Lois Freeman Fox, Joanne King, Wana Klasen, Virginia Neuman,, Doris Nichols, Luanne Hebner Perez and Lia Verkade. Along with Theresa and Henry Robledo of Diamond Realty we invite you to join us for this festive, artistic celebration of Fillmore's 100th Birthday! We hope to see you at the Reception!!!!
By Gazette Staff Writer — Tuesday, August 12th, 2014
October 26, 2014
12:00 noon- 4:00 pm
370 Baldwin Rd., Ojai CA 93023
Ojai Raptor Center, (ORC) a non-profit 501(c) (3) organization is dedicated to the rescue, rehabilitation and release of birds of prey and other wildlife, and to providing educational programs to teach communities about wildlife and our shared environment.
The Center is closed the public year-round due to the sensitive nature of wildlife in rehabilitation, but on Sunday, October 26th, ORC will open its doors to the public for a rare opportunity to meet all 18 of our non-releasable "ambassador" raptors.
Hawks, falcons, eagles, and owls will be on hand to greet guests with concurrent presentations on the ORC stage along with special guest Julie Tumamait-Stenslie, Chumash elder, who will be sharing native stories about our local wildlife throughout the afternoon. Drinks and snacks will be available for purchase as well as activities for children, auctions, and raffles.
Ojai Raptor Center Open House will be a free event with a suggested donation of five dollars. Handicapped parking will be available. Overflow parking will be located one street down from the Center where Pegasus shuttles will be running every 10 minutes.
By Rigo Landeros — Wednesday, August 6th, 2014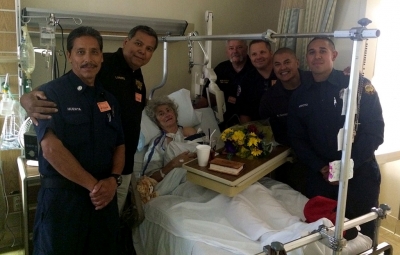 Pictured is Capt. Al Huerta, Fire Chief Rigo Landeros, EMS Chief/AMR Bob Scott, Firefighter/AMR Ken Harris, Capt. Billy Gabriel and Firefighter Jason Arroyo. Not pictured is Lou Farah Sr. and Michael Lechnar.
Enlarge Photo
On July 4th, 7:00am Fillmore Fire Department responded to a person not breathing on the 800 block of Hinckley Dr. Upon arrival we found Darlene Wallace not breathing and no pulse. Fillmore Fire Department and AMR personnel began CPR and defibrillated her twice. After 15 min. of CPR Mrs. Wallace regained her heart beat. She was transported by AMR Ambulance to CMH Hospital. Mrs. Wallace was discharged is doing well and expecting a full recovery. I am very proud of our Fillmore Fire Department for their quick response and great training that made a difference and saved a person's life. Hat's off to the Fillmore Fire Department and AMR Ambulance for a job well done.
By Gazette Staff Writer — Wednesday, August 6th, 2014
By Gazette Staff Writer — Wednesday, August 6th, 2014
The Month of August
Here is a list of upcoming events happening at the pool.
August 16, 2014 Safety Night- We will have Fillmore's Finest here at the pool. The Fillmore Fire Department and The Fillmore Sheriff/Police Department will be on hand. 5-7 pm
August 29, 2014 Hot August Nights- Lets all get together to celebrate the end of summer. We will have music and other fun events. The evening is only $1 for all those attend. 5-10pm
We will still have 1 more afternoon session of swim lessons starting August 11- August 22 from 4:30, 5, and 5:30 p.m. only $50.00 for 2 weeks.
List of hours for the Month of August
Lap Swim A.M. session-Monday-Saturday 6:00 am to 8:00 am.
Lap Swim P.M. session-Monday- Thursday 5:30 pm to 7:30 pm.
Pools Last Day is AUGUST 30! Come say goodbye to the Summer!
By Gazette Staff Writer — Wednesday, August 6th, 2014
Camarillo, CA — Court Appointed Special Advocates (CASA) of Ventura County presents the 2nd Annual CASABlanca Pop-Up Dining Event, to be held on Saturday, September 27, 2014 at 2 p.m. on the Ventura Harbor Village main lawn.
Hailed as the only event of its kind in Ventura County, over 500 Ventura County community members are expected to "pop-up" to raise awareness and funds to benefit CASA of Ventura County.
This year's Pop-Up dining theme is "A Magical Dining Experience by the Sea." Guests are encouraged to bring their own elegant table "scapes" and place settings, with prizes going to the most creative table decorations and best dressed. Guests may bring their own inspired meal and libations of choice, or pre-order dinners from participating Harbor restaurants.
"Our goal is to make people aware that each child in the foster care system deserves to have his or her own Advocate," explained Teresa Romney, Chair of the Board of CASA of Ventura County. "The Advocate is the one constant adult presence in the child's life who will stay with the child until she can be returned to a safe, permanent home."
Last year 150 Advocates helped 200 of Ventura County's neediest children, but there are still 1,000 others who need an Advocate. The purpose of CASABlanca is to raise awareness and funds to support the program.
Last year's event raised nearly $25,000 for CASA of Ventura County. CASA is a not- for-profit organization which recruits, screens and trains community volunteers who become court-appointed advocates for a foster child. For every $1,600 that CASA raises, one child could be provided with a trained advocate to help her through what can be a frightening and confusing time.
For more information about the 2nd Annual CASABlanca Pop-Up Dining Event and for information about CASA of Ventura County, go to www.casaofventuracounty.org or call Pam Knitowski at (805) 389-3120.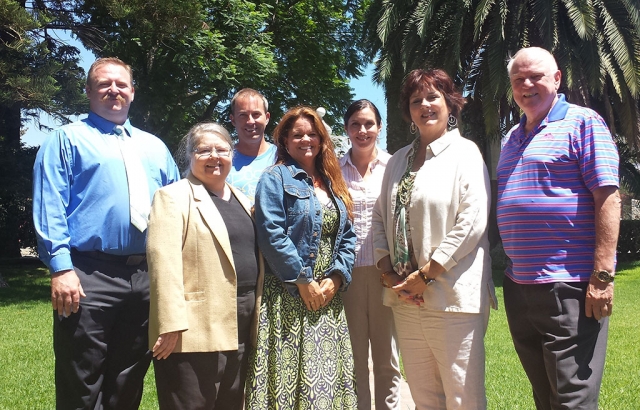 The Fillmore Chamber of Commerce is pleased to announce their Board of Directors for the Heritage Valley Tourism Bureau. Picured from left to right: Rick Neal (Councilmember, City of Fillmore), Maria Christopher (Rancho Camulos), Kevin Keehl President (Piru MX), Cindy Jackson Vice President (CJ Financial), Talia Wunder Executive Director (Best of VC Marketplace), Ventura County Supervisor Kathy Long 3rd District, and Ron Lewis (Santa Clara Valley Railroad Historical Society). Not pictured: Jeanne Orcutt (California Oil Museum) and Jim Mendralla (Santa Clara Valley Railroad Historical Society).
Enlarge Photo
By Gazette Staff Writer — Friday, August 1st, 2014
The Heritage Valley Tourism Bureau meets every other month and welcomes the general public to attend. Their goal is to promote tourism throughout the Valley by working together with its Members, the California Welcome Centers, and other Tourism based offices throughout the County and region. If you are interested in becoming a member or would like to participate feel free to give them a call at 805-524-7500 or go to the Chamber's Facebook.
By Gazette Staff Writer — Friday, August 1st, 2014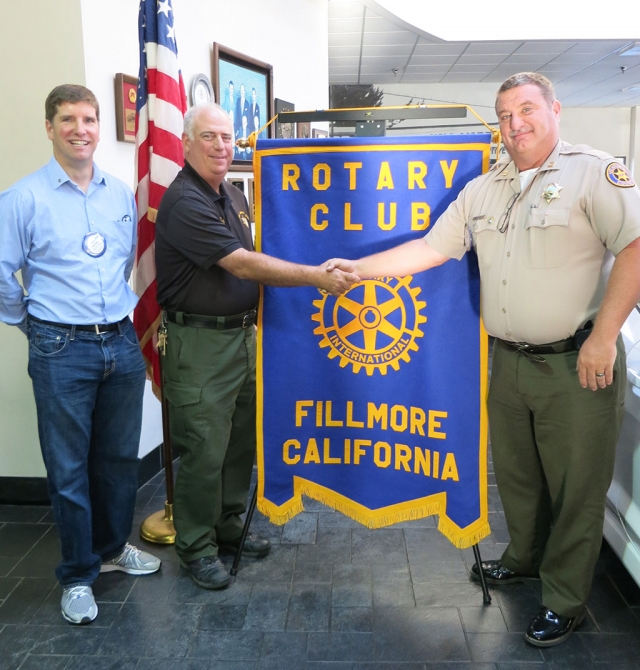 Jerry Peterson is inducted into the Rotary Club of Fillmore. Pictured are Sean Morris, President, Jerry Peterson and Dave Wareham, Fillmore Chief of Police.
Enlarge Photo
By Gazette Staff Writer — Friday, August 1st, 2014
Do you belong to a group that invites speakers to its meetings? The Ventura County Grand Jury conducts an ongoing speakers' bureau and outreach program. Service organizations, teachers, librarians, and community groups are invited to request a presentation by current grand jurors.
The grand jury does not pursue criminal cases or give evidence in courtrooms. The grand jury truly embodies democracy in action. This all-volunteer "public watchdog" group serves as an independent agent of the public to investigate complaints from the public, write reports and make recommendations about all components of local government such as city councils, school districts, libraries, jails, hospitals, harbors and water districts. It investigates everything from alleged violations of city and county codes to disaster preparedness in schools and contracting procedures of ports, taking an in-depth, unbiased look at the policies, processes, and practices of the department or agency in question. The reports of grand jury findings and recommendations as well as required responses going back to 1995 are posted on its website, http://grandjury.countyofventura.org, along with a simple, one-page complaint form.
To learn more or schedule a date for a presentation, please call the Grand Jury at (805) 477-1600.
By Gazette Staff Writer — Monday, July 28th, 2014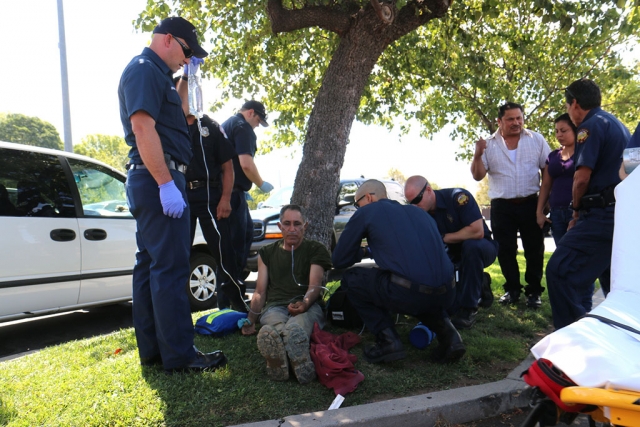 An unknown male was bitten by rattle snake in Piru and was on his way to the Urgent Care in Fillmore. The man was unable to make it safely and had to request the aid of Fillmore Fire Department and was transported to the local hospital by ambulance. Photo by Sebastian Ramirez.
Enlarge Photo
By Gazette Staff Writer — Monday, July 28th, 2014
139th Fair kicks off Wednesday, July 30th
The 2014 Ventura County Fair, "A Country Fair with Ocean Air" runs from July 30st through August 10th at the Ventura County Fairgrounds. As always, the fair will feature exciting entertainment and activities for all ages. Concerts, interesting exhibits, farm animals, wild carnival rides and delicious fair food are on tap for summertime family fun.
Fairgoers will enjoy new exciting events and attractions, including Cub Country with rides for children under 36", a Ten-in-One Carnival Sideshow with old fashioned wonders of the world, "Deep Fried-Bacon Wrapped Jalapeno Poppers" in the Food Court, A Slider-Eating Contest in Kelly Court, The Bounty of the County Peoples' Choice: Beer Contest and the Ventura County Fair Agricultural Scholarship Contest. Come on down to the fair and check out these new attractions, as well as your returning fair favorites!
This year's Grandstand entertainment features The Beach Boys, Little Big Town, The Spinners, Larry Hernandez, Carmen Jara, Mariachi Aguilas de Mexico, Tony Orlando, Deep Purple, Seether, Jake Owen and Creedence Clearwater Revisited. All concerts are FREE with paid fair admission. In addition, Motorsports and the PRCA Rodeo are back by popular demand for the 2014 Fair! Motorsports with the Demolition Derby will take place on Wednesday, July 30, and has an admission cost of $5. Don't miss the free Rodeos on Saturday, August 9th and Sunday, August 10th with shows at 2 PM and 7 PM.
The Ventura County Fair is home to a wide variety of exhibits. Whether you're enjoying the slicers and dicers in the Commercial Exhibit building, sampling cooking creations in the Home Arts building or educating yourself on the county's natural resources in the Agriculture building, the fair's exhibits feature something for everyone. While you're here, visit the various exhibits and learn about all that Ventura County has to offer.
Throughout the fair various horse shows will be presented in the Morgan Arena. These shows include the Friesian Horse Show, the Draft & Carriage Show and the two-day Open Horse Show with English classes. On Friday, August 8, Cattle Sorting and Team Roping will take place. Don't miss these exciting Horse Shows, running throughout the duration of the fair.
Check out the farm animals in the livestock area! Chickens, rabbits, sheep and goats are just a few of the animals that will be displayed. These animals have been raised by county residents, and are showcased for all to see.
The Junior Livestock Auction, on Friday, August 8th, is an authentic livestock auction. You will feel the excitement of a good old country fair at this culmination of the 4-H, FFA and Grange youth livestock projects.
Thrilling rides in the Carnival Midway include the Carousel, the Wave Swinger and, of course, the famous Ferris Wheel overlooking the Pacific Ocean. Ride enthusiasts will want to take advantage of the "Pay One Price" Carnival Wristband Days: July 31st, August 4th, 5th and 7 th. On these days, fair visitors can purchase a $25 wristband until 6 PM to ride unlimited rides until 7 PM.
The nightly fireworks extravaganza is the fair's gift to the community! The dazzling show lights up the sky over the ocean at the end of the day.
For more information, visit the Ventura County Fairgrounds website at www.venturacountyfair.org, or call (805) 648-3376.
By Gazette Staff Writer — Monday, July 28th, 2014
Ventura, CA - The Ventura County Transportation Commission awarded a nine-year contract to Camarillo-based Roadrunner Management Services for the operation of its popular inter-city bus service. The proposed contract award received unanimous approval at the Commission's July 25, 2014 meeting.
The Commission received sealed bids from four vendors in response to a Request for Proposals released in early May 2014. Ultimately, three vendors were invited to participate in interviews conducted by representatives from various VCTC-member communities as well as senior managers for local and neighboring public transportation agencies.
Based on the proposals submitted, oral interviews, and subsequent deliberations, the six-member evaluation panel recommended VCTC initiate contract negotiations with Roadrunner Management Services.
"Selection of Roadrunner represents the 'best value' to the Commission, taxpayers, and transit riders alike," noted Darren Kettle, VCTC's Executive Director. "Roadrunner has demonstrated its ability to provide quality, safe inter-city transit service across the past two years. It has recruited and retained quality personnel and mobilized a supporting fleet (following the cessation of service by VCTC's prior transit operations contractor)."
Celebrating its twentieth year of operation, VCTC Intercity Bus (formerly VISTA) provides frequent service along six routes throughout Ventura County as well as to Warner Center in Los Angeles County and neighboring Santa Barbara County. For the fiscal year ending June 30, 2014, nearly 825,000 rides were provided.
For VCTC Intercity Bus service information, call (800) 438-1112 or visit www.goventura.org.
By Gazette Staff Writer — Monday, July 28th, 2014
‱ Strong Credit Quality and Core Deposits
‱ Strong Capital Ratios
‱ Strong Liquidity
SANTA PAULA, CA. – Santa Clara Valley Bank (SCVBank;OTC BB: SCVE) Chairman of the Board, Leslie Cornejo, today announced the Bank's 2014 second quarter results.
Board Chairman Leslie Cornejo reported that portfolio quality continues to demonstrate solid performance.Past due plus non-accrual loans achieved a record low of 0.80% of loans outstanding, with credit strength further demonstrated by just $14,693 in net losses, year-to-date 2014.
SCVBank continues to maintain a strong capital position with a Tier 1 Leverage Capital Ratio of 11.41%, up from 10.83% at December 31, 2013. Liquidity continues to be very strong as cash, interest bearing deposits at financial institutions and investments totaled 48% of total assets at quarter end.
SCVBank recorded anet loss of $2,000 for thesecond quarter of 2014 compared to a net loss of $1,000 for the second quarter of 2013. The year to date net loss through June 2014 was $129,000 compared to a net loss of $91,000 for the same six month period in 2013. The net losses are primarily attributable to declining loan balances.
President Cheryl Knight commented that, "Challenges remain due to weak loan demand and very low interest rates; however, loans in process have recently increased and core deposits continue to be very strong." Chairman Cornejo added that, "The bank continues to seek good quality business and commercial real estate loans in Ventura County and North Los Angeles County. As good quality loans are funded, the financial performance of SCVBank will continue to strengthen."
Founded in 1998, SCVBank currently operates three branches in Santa Paula, Fillmore, and Valencia. Executive and Loan Offices are located at 866 East Main Street, Santa Paula, Ca. Under its stock symbol of SCVE, SCVBank's stock is traded through McAdams Wright Ragen,Raymond James & Associates Inc., and Monroe Securities. The Bank's web site is www.SCVBank.com.
Santa Clara Valley Bank Corporation Headquarters
901 East Main Street
Santa Paula, California93060
(805) 525-1999
Statements concerning future performance, developments or events concerning expectations for growth and market forecasts, and any other guidance on future periods, constitute forward looking statements that are subject to a number of risks and uncertainties. Actual results may differ materially from stated expectations. Specific factors include, but are not limited to, the effect of interest rate changes, and the ability to control costs and expenses, the impact of consolidation in the banking industry, financial policies of the United States government, and general economic conditions.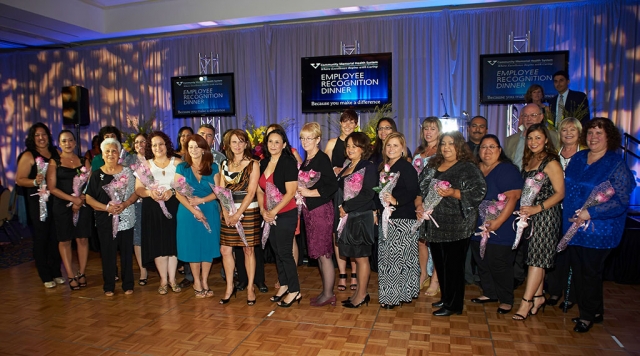 15-year awardees at CMHS Awards Banquet.
Enlarge Photo
By Gazette Staff Writer — Monday, July 28th, 2014
Ventura, CA - Community Memorial Health System honored 264 employees at its annual Employee Recognition Dinner, including five employees with 40 years of service, three with 35 years and nine others who celebrated their 30th anniversary with CMHS.
CMHS recognized scores of employees at the event who together have cared for patients and supported healthcare in a variety of jobs at Community Memorial Hospital and Ojai Valley Community Hospital, as well as throughout CMHS's twelve Centers for Family Health offices in Ventura County. This year's awards banquet was held June 13 at the Ventura Beach Marriott.
Guillermo "Memo" Berber, CMH Food Services Central; Priscilla Brennan, OVCH Surgery; Portia Carter, CMH Surgery; Mary Richey, CMH Same Day Surgery; and Paula Roberts in CMH Food Services Central were especially honored for 40 years of service, while Terri Anderson, CMH 5th Floor; Jan Bale, CMH Physiology; and Denise Salinas, CMH Health Information were honored for 35 years.
Kim Baird, CMH Pharmacy; Sharon Cummings, CMH Surgery; Cliff Griffiths, CMH Engineering; Terry Koller, CMH Pathology; Joanie Kruse, CMH Surgery; Janet Moore, CMH Same Day Surgery; Venita Perkins, CMH Ob/Gyn Post Partum; Beverly Rodrigues, CMH Pathology; and Debbie Yanez in CMH Physical Therapy were honored for 30 Years.
Twenty-one employees were recognized for 25 years of service, another twenty employees were recognized for 20 years of service and scores of others were thanked for 15 years, 10 years and 5 years of service to the hospitals and community health centers.
In addition to a welcome by President and CEO Gary Wilde, speakers at the event included Phil Drescher for the Board of Trustees, as well as CMH Chief of Staff, Dr. Tom Golden and OVCH Chief of Staff, Dr. Rochelle Wilson for the respective Medical Staff.
Community Memorial Health System is a not-for-profit health system, which is comprised of Community Memorial Hospital, Ojai Valley Community Hospital, and 12 family-practice health centers entitled Centers for Family Health. The health system is located in Ventura County, California.
By Gazette Staff Writer — Wednesday, July 23rd, 2014
July 31, 2014
VENTURA, CA - On Thursday, July 31, the Ventura County Fair will host a "Feed the Need" Fair Cares Food Drive benefitting FOOD Share.
Fair-goers who bring five canned goods to donate to Ventura County's regional food bank when they purchase an adult admission ticket before 5 p.m. will receive a free return fair ticket valid Monday through Thursday, August 4-7. Non –perishable foods, such as canned soup, vegetables, meats, spaghetti sauce, peanut butter, pasta, rice, beans and cereal, are FOOD Share's most needed items.
Ventura County has experienced a steady increase in the population of hunger insecure individuals over the past five years since the economic downturn. Today, FOOD Share serves more than 74,500 people per month; and according to the latest findings by national hunger-relief charity Feeding America, 102,390 people in Ventura County do not always know where they will find their next meal.
"The hunger gap is a reality for every community in our nation, and for Ventura County, that means almost 28,000 children, seniors and adults are going without food," explains Bonnie Weigel, president and CEO of FOOD Share. "Every donation we receive helps us close this gap, and we encourage the community to take part in this important food drive."
The community also can get involved by supporting the Ventura County Fair Junior Livestock Auction on Friday, Aug. 8, which will benefit FOOD Share, and winning bidders may donate livestock animals directly to the food bank.
The 2014 Ventura County Fair runs from July 30 – Aug. 10. For more information about the Ventura County Fair, go to: www.venturacountyfair.org and for more information about FOOD Share, go to www.foodshare.com.
About FOOD Share:
More than 35 years ago, eight citizens performed a good deed by distributing food to those who were in need underneath a Ventura bridge. The early philanthropic movement quickly formed into what is now Ventura County's regional food bank, FOOD Share, which has grown from serving a few hundred hungry people per month to 74,500 people. Today, staff and volunteers distribute more than 10 million pounds of food annually from its distribution site; more than 180 partner agencies, which include neighborhood and church food distributions and soup kitchens; as well as hunger assistance programs. FOOD Share's programs provide healthy nutrition and education to children, families and seniors, which include: KIDS Share, SENIOR Share, Nutrition Education, Community Market, SoCal Gas CARE Program, ART Share and more. A 501(c)3 non-profit organization, FOOD Share is a member of the Feeding America network, the nation's largest hunger-relief organization. For more information about FOOD Share, visit www.foodshare.com. Find us on Facebook and Twitter.
By Gazette Staff Writer — Monday, July 21st, 2014
Four works of art by Fillmore artist, Wana Klasen are included in a group exhibit sponsored by the Ventura County Arts Council shown in the Atrium Gallery of the Hall of Administration, Ventura County Government Center located 800 S. Victoria in Ventura. The exhibit is entitled "Art Saves Lives" and highlights the healing powers of the arts, a concept long held by Klasen, a retired Registered Nurse.
Klasen's work reflects the joy of healing through artistic expression, and centers on the energetic, colorful images of her Earthsong Collection as well as other water color and mixed media works. Wana teaches water color class at the Fillmore Senior Center on Thursday mornings..
The exhibit runs now through August 27, 2014, and can be seen 8-5, Monday through Friday. Call 658-2213 for further information.
"Art speaks to the rhythm of life and the connectedness we share in the human spirit!" (Wana)
By Gazette Staff Writer — Thursday, July 17th, 2014
Sierra Bancorp (NASDAQ: BSRR), the holding company of Bank of the Sierra, announced the signing of a definitive agreement to acquire Santa Clara Valley Bank, N.A. (OTC: SCVE) of Santa Paula, California for aggregate cash consideration of $15.3 million. The consideration consists of $12.3 million or $6.00 per share to common shareholders and cash consideration of $3.0 million to preferred shareholders to retire outstanding preferred stock and associated warrants. Included in the $12.3 million consideration, Sierra will pay $700,000 to cash out existing in-the-money warrants.
James C. Holly, Chief Executive Officer of Sierra Bancorp, commented, "This is an exciting opportunity for Bank of the Sierra. The Santa Clara Valley is a strong agricultural region in close proximity to our primary market, the Southern San Joaquin Valley. The market is very similar to the region we already serve and this opportunity is a natural extension for us. In addition beyond the Santa Clara Valley, we believe that we can serve the commercial and residential communities of Ventura, Oxnard and Santa Clarita" Mr. Holly added, "We look forward to welcoming Santa Clara Valley Bank's customers and employees to Bank of the Sierra."
The consideration per share represents approximately 109% of Santa Clara Valley Bank's tangible book value as of March 31, 2014. Sierra Bancorp expects the acquisition to be immediately accretive to earnings per share, and will yield a tangible book value earnback of less than 3.5 years and an IRR in excess of 20%.
Kevin J. McPhaill, President CONTINUED »
By Gazette Staff Writer — Thursday, July 17th, 2014
The Assessor is slated to mail 244,000 annual secured Roll value notices to real estate property owners over the next two weeks totaling more than $112.5 billion in value and $3.6 billion in exemptions. As these value notices start appearing in mail boxes, it is important that property owners review them carefully. It is important owners are aware of how their assessed value is determined and contact the Assessor's office or check the Assessor's Website if they need additional information.
Most property owners will receive a "Proposition 13 Factored Value Notice" notice showing the property assessment increasing by 0.454% (about one half of 1%). Proposition 13 provides for an annual adjustment of assessed values by an inflation rate not to exceed 2%, and this year the rate as determined by the California Consumer Price Index was less than 2%.
Assessor Goodwin notes that, about 55,000 owners of properties that previously received a temporary reduction under the "Decline in Value" program will receive a "January 1 Value Notice" this year showing an increase in assessed value to fully or partially restore their Proposition 13 value. Assessed values of properties identified below the proposition 13 limits in the "Decline in Value" program have been steadily increasing in the last three years consistent with the recovery of the real estate market.
Prior year "Decline in Value" assessments are reviewed annually, to determine their market value as of January 1 each year. Staff appraisers complete individual comparative sales analysis for each property. Owners who feel the assessed value exceeds the market value are encouraged to contact the Assessor's staff for an informal review of the comparable sales. Increases in assessed value of propertied in the Decline Value Program cannot exceed the proposition 13 limit which is shown on each assessed value notice.
Those disagreeing with the effective date January 1, 2014 assessment have until September 15, 2014 to appeal by filing an Application for Changed Assessment with the Clerk of the Assessment Appeals Board.
If you have any further questions, additional information can be found on the Assessor's website at assessor.countyofventura.org or you may also contact the Assessor's Office by phone at (805) 654-2181.
By Gazette Staff Writer — Thursday, July 17th, 2014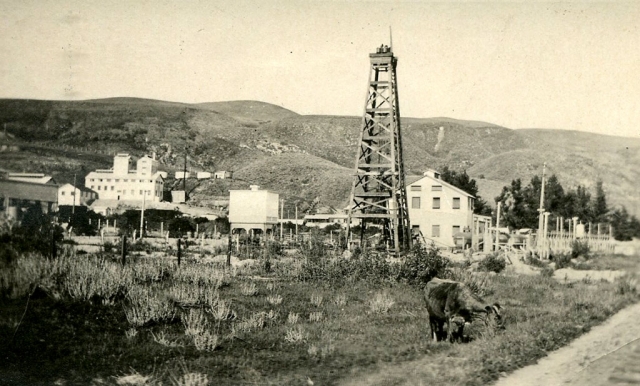 The attached photo is of the refinery in about 1920.
Enlarge Photo
By Gazette Staff Writer — Thursday, July 17th, 2014
What was it like to grow up on the grounds of the Fillmore Refinery? How large was the oil industry here? Visit the Fillmore Museum at 340 Main Street (In the two story bunkhouse building) to see photos and information regarding the Refinery, the local oil industry and its historic relationship to our city.
We are open Tuesday , Wednesday, and Friday from 9 a.m. to 12 noon and 1 p.m.-4 p.m., Thursday from 1p.m.- 4 p.m. and Saturday from 10 a.m. – 3 p.m.
The museum also contains hundreds of photos and stories of local pioneers, farmers and businesses.