By Gazette Staff Writer — Wednesday, August 5th, 2015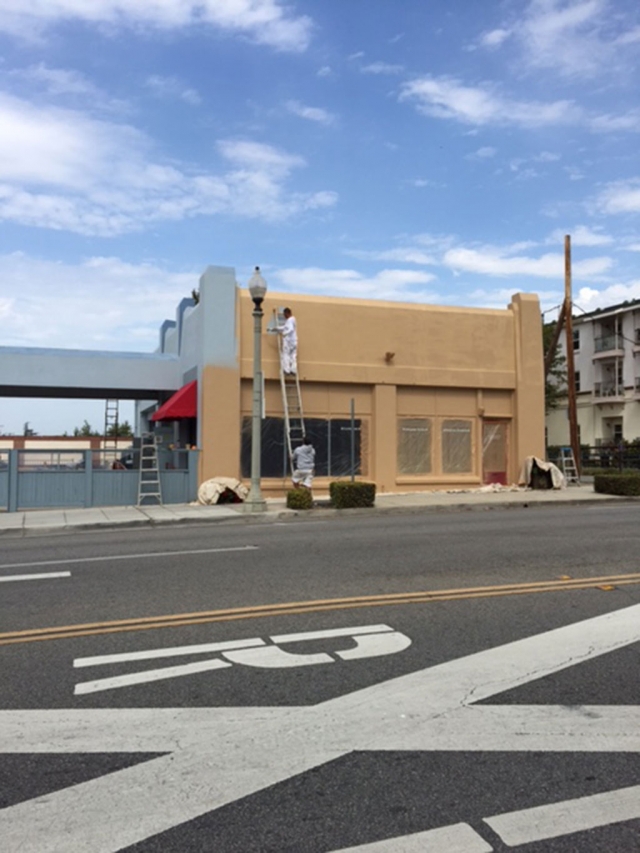 The vacant Wm Morris owned building on Central Avenue, across from Fillmore City Hall, received a fresh coat of paint this week. The drab blue building was painted in the tan/beige range, in keeping with the Central Avenue theme. The property has housed a now-defunct newspaper, a BBQ place, H&R Block, an upscale restaurant, and a railroad eatery in the last few years.
Enlarge Photo
By Gazette Staff Writer — Wednesday, August 5th, 2015
SACRAMENTO – California Department of Public Health (CDPH) Director and State Health Officer Dr. Karen Smith today warned parents about the continued dangers of pertussis (whooping cough). The disease has already caused one infant death and at least 126 infant hospitalizations in California this year.
"Vaccinated mothers pass protective antibodies to their infants during pregnancy," said Dr. Smith. "Right now, it's estimated that fewer than half of all pregnant women in California are vaccinated against whooping cough. We need to increase that number to help improve the health of our children and of our communities."
CDPH urges expecting mothers to receive a pertussis vaccine (called Tdap because it covers tetanus, diphtheria, and pertussis). Prenatal vaccination will help protect newborn children until they are old enough to receive their own vaccination against pertussis. Because immunity decreases over time, women should receive the pertussis vaccine in the last trimester of each pregnancy.
Pertussis continues to spread at above-normal levels in California following a major epidemic in 2014, when reported disease rates were the highest seen since the 1950's. Disease rates and risks of hospitalization and death are highest for infants under the age of one.
Pertussis can cause a severe, persistent cough. Historically, unvaccinated children with pertussis would cough hard enough to cause vomiting or a "whooping" breath after a coughing spell.
Symptoms of pertussis vary widely by age and vaccination history. Young infants may not have typical pertussis symptoms and may not appear to cough. Instead, they may have difficulty breathing, episodes in which they stop breathing, or their faces turn purple.
CDPH is working closely with local health departments, schools, media outlets and other partners to inform providers and the public about the importance of vaccination against pertussis, especially for pregnant women during the third trimester of every pregnancy. CDPH also reminds parents that Tdap vaccination is a requirement for advancement into the 7th grade.
Pertussis data, including the number of cases in each county, can be found on the CDPH website.
By Gazette Staff Writer — Wednesday, August 5th, 2015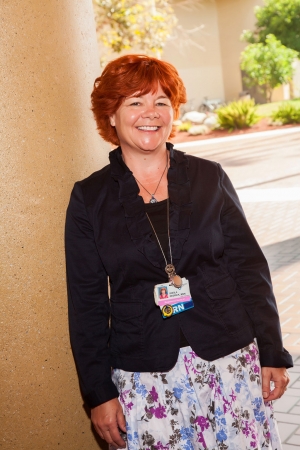 CMH's New Parent Resource Center Coordinator, Sheila Dedrick recently recognized by the Breastfeeding Coalition of Ventura County (BCVC).
Ventura, CA - Community Memorial Hospital's new Parent Resource Center Coordinator Sheila Dedrick has been recognized as a professional in the community working to support breastfeeding families by the Breastfeeding Coalition of Ventura County.
The BCVC honored Dedrick with its 2015 Liquid Gold Award during an award ceremony held at the Ventura County Board of Supervisors meeting on July 28. The award was conceptualized in 2014 and presented to Dr. Abhay Vaidya of West Coast Ear, Nose and Throat. The Liquid Gold Award is an annual recognition by the Breastfeeding Coalition of Ventura County to an individual who has made a difference in the lives of families and our community by supporting breastfeeding through resources, education, services and networking.
"We are extremely proud of Sheila for this achievement, hard work, dedication in serving the needs of our patients," said Megan Meeker, Director of Maternal Child Health.
Dedrick brings a wealth of knowledge to her role and a warm, caring compassion and dedication. She helps hundreds of new moms and babies each year discover the joy of breastfeeding. She has championed the evolution of lactation care at CMH and has supported and mentored countless nurses in their pursuit of lactation certification. Dedrick provided leadership and expertise to the Breastfeeding Coalition of Ventura County from 2006-2014. Sheila is a champion and advocate for breastfeeding and works tirelessly to envision the goal of "Every Baby Breastfed."
For more information about the New Parent Resource Center at Community Memorial Hospital visit www.cmhshealth.org/mch.
Community Memorial Hospital is a member of Community Memorial Health System, a not-for-profit health system, which is comprised of Community Memorial Hospital, Ojai Valley Community Hospital, and 12 family-practice health centers entitled Centers for Family Health. The health system is located in Ventura County, California.
By Gazette Staff Writer — Wednesday, July 29th, 2015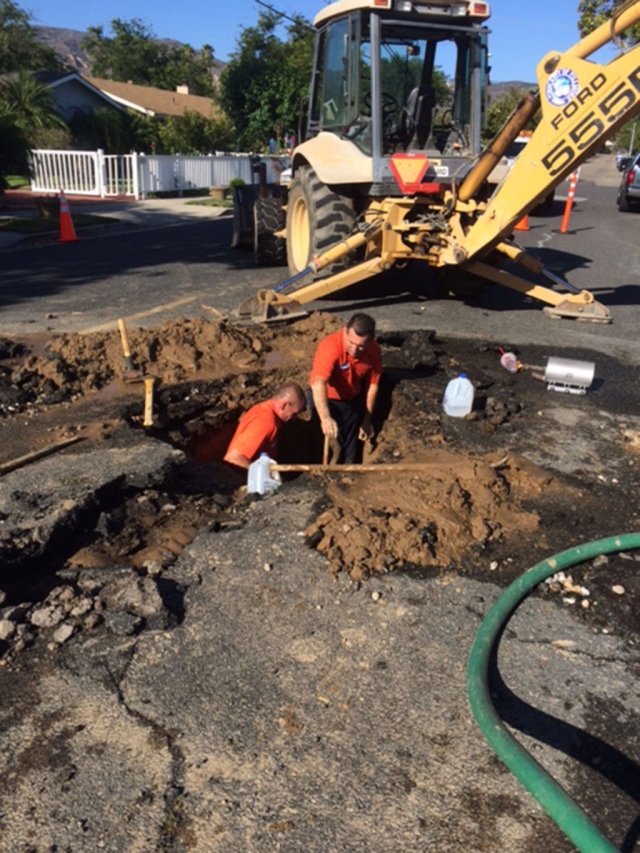 On Sunday, July 26th, Fillmore's Public works crew responded to a water main leak on the 900 Block of Sespe Avenue. It took over 8 hours to repair the stubborn water leak and get water back on in the neighborhood. Hats off to the great work done by Fillmore's finest Public Works crew who always work hard behind the scenes making sure that our city's infrastructure is kept up and running smooth.
Enlarge Photo
By Gazette Staff Writer — Monday, July 27th, 2015
Ventura, CA - Doctors at Community Memorial Hospital, home to the most comprehensive robotic surgery program on the Central Coast, have now performed over 1,500 surgical cases, offering urology, gynecology, cardiology and general surgery procedures. The hospital's surgeons have performed more robotic surgeries in the region than anyone else. Dr. Marc Beaghler, urologist and board certified surgeon, leads the hospital's Robotics program, along with a diverse group of specialized robotically trained surgeons.
"CMH has made a consistent commitment to our community to invest in the best technology and patient care," Dr. Beaghler said. "The Da Vinci Robot is one such technology."
The Da Vinci robotic device is considered one of the most advanced platforms for minimally invasive surgery, providing opportunities to replace high-impact open cavity surgeries with nerve-sparing procedures. Such procedures are a growing percentage of all surgeries because they tend to be much less traumatic for patients, with fewer complications (smaller incisions equal fewer chances of infection) and faster recovery.
For more information on the Robotics program at Community Memorial Hospital please visit www.cmhshealth.org/robotic.
Community Memorial Health System is a not-for-profit health system, which is comprised of Community Memorial Hospital, Ojai Valley Community Hospital, and 12 family-practice health centers entitled Centers for Family Health. The health system is located in Ventura County, California.
By Gazette Staff Writer — Wednesday, July 22nd, 2015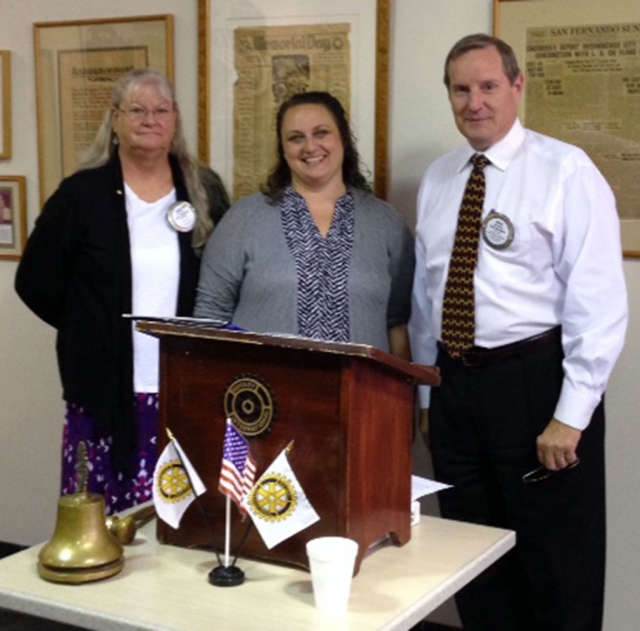 (l-r) Cindy Blatt sponsor, Kate English new Rotary member, and Kyle Wilson President.
Enlarge Photo
By Gazette Staff Writer — Wednesday, July 22nd, 2015
The Boys & Girls Club of Santa Clara Valley is excited to announce Seneca Resources Corporationawarded our organization a $15,000 grant in support of STEM opportunities for our youth. Hands-on science, technology, engineering and math learning has become a fundamental part of club programming and helps our members acquire skills to be successful in life. Programs, like our First Lego League Robotics Program, get our youth excited about science, technology and learning. Thanks to partners, such as Seneca Resources Corporation, who recognize the importance of STEM education we can continue to grow these essential programs.
Seneca Resources Corporation, the exploration and production segment of National Fuel Gas Company explores for and develops natural gas and oil reserves in California, Kansas and Appalachia. Additional information about Seneca and National Fuel Gas Company is available at http://www.nationalfuelgas.com or through the Company's investor information service at 1-800-334-2188.
By Gazette Staff Writer — Monday, July 20th, 2015
On Saturday, the California Department of Veterans Affairs (CalVet) and Habitat for Humanity, San Fernando / Santa Clarita Valleys (SF/SCV) hold a public ceremony where 26 Veterans and their families will be presented with keys to their new homes.
"Saturday's wonderful key presentation ceremony is for our 26 Veterans and their families who worked very hard to help build their new homes. Each Veteran is taking on a new responsibility with the purchase of a new home in this beautiful new community providing a modern place to live as well as services unique to our Veterans' needs," said Debbie Endsley, CalVet's Acting Secretary.
"Homeownership is a vital resource that can be leveraged along with wraparound services to move today's Veterans into the middle class, creating tomorrow's civic leaders," said Donna E. Deutchman, Chief Executive Officer, Habitat for Humanity, SF/SDV.
The CalVet REN (Residential Enriched Neighborhood) Program offers permanent, affordable home ownership with manageable loan payments and family enrichment services to California Veterans and their families. CalVet, in partnership with Homes for Families, continues working with Habitat for Humanity, SF/SCV on three Veterans housing projects.
The CalVet REN projects include 12 homes in Sylmar, 50 homes in Palmdale, and 78 homes in Santa Clarita. The key ceremony event begins at 10:00 a.m. at 21550 Center Pointe Parkway, Santa Clarita, CA 91350. The event is free and open to the public.
By Gazette Staff Writer — Monday, July 20th, 2015
Sierra Bancorp (Nasdaq:BSRR), parent of Bank of the Sierra, today announced that its Board of Directors has declared a regular quarterly cash dividend of $0.11 per share. This is 10% higher than the Company's previous quarterly dividend per share, and represents a 22% increase relative to the dividend paid a year ago. The dividend was approved subsequent to the Board's review of the Company's financial results for the quarter and the six months ended June 30, 2015, which reflect continued capital strength, consistent operating results, robust loan and deposit growth, and a sustained favorable trend in credit quality. The dividend will be paid on August 13, 2015 to shareholders of record as of July 30, 2015. Including dividends paid by Bank of the Sierra prior to the formation of Sierra Bancorp, the Company has paid regular cash dividends to shareholders every year since 1987, comprised of annual dividends from 1987 through 1998 and quarterly dividends since then. The dividend noted in today's announcement marks the Company's 66th consecutive regular quarterly cash dividend.
Sierra Bancorp is the holding company for Bank of the Sierra (www.bankofthesierra.com), which is in its 38th year of operations and at over $1.7 billion in assets is the largest independent bank headquartered in the South San Joaquin Valley. The Company has over 400 employees and conducts business through 28 full-service branches, a loan production office, an online branch, a real estate industries center, an agricultural credit center, and an SBA center.
The statements contained in this release that are not historical facts are forward-looking statements based on management's current expectations and beliefs concerning future developments and their potential effects on the Company. Readers are cautioned not to unduly rely on forward looking statements. Actual results may differ from those projected. These forward-looking statements involve risks and uncertainties including but not limited to the bank's ability to maintain current dividend payments or increase dividend payouts to shareholder, its ability to continue to generate record financial results, changes in economic conditions, interest rates and loan portfolio performance, and other factors detailed in the Company's SEC filings. Sierra Bancorp undertakes no responsibility to update or revise any forward-looking statements.
By Mark Ortega — Tuesday, July 14th, 2015
This Friday, July 17th, 5:00pm to 9:00pm
By Gazette Staff Writer — Tuesday, July 14th, 2015
There will be a book signing at the Fillmore Historical Museum Depot on July 23rd at 3pm.
Evie Ybarra will be signing her book, LEGENDARY LOCALS OF FILLMORE. Stop by and say hello!
Questions, call 805-524-0948.
By Gazette Staff Writer — Tuesday, July 14th, 2015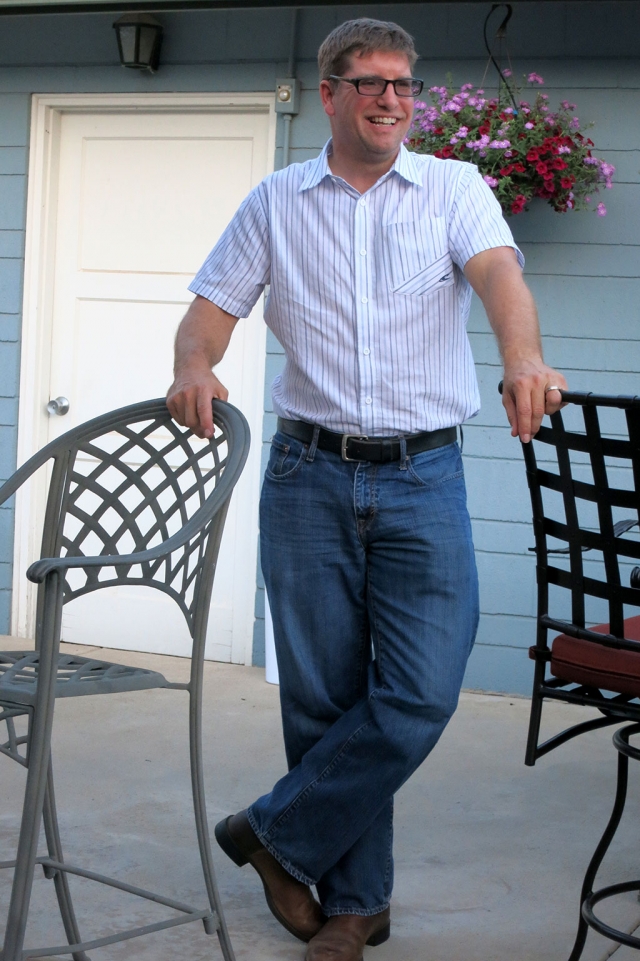 The Fillmore Rotary Club celebrated the end of Sean Morris's term as President this past year. The new President will be Kyle Wilson.
Enlarge Photo
By Gazette Staff Writer — Monday, July 13th, 2015
New Effort Benefits Area Seniors and Meals on Wheels
Laurie Reid from the Ventura County area is on a mission to see more families share sit-down Sunday dinners with their senior loved ones. The reason? New research shows that 50 percent of surveyed families living near senior relatives feel they do not share enough meals with older loved ones, losing an important family connection.*
"For seniors, it's not what's on their plate that matters most at mealtime – it's who is at the table with them," said Reid, owner of the local Home Instead Senior Care® office. "When seniors share meals with a companion, they have a better mealtime experience – both nutritionally and emotionally."
Almost 75 percent of the people surveyed said they only sit down for a family meal with senior loved ones for special occasions, events or holidays. They say a big part of the problem is time – both not having enough of it and conflicting schedules.
To encourage families to make time for these meals, the Home Instead Senior Care Foundation® will donate $1 to Meals on Wheels America (up to $20,000 total through July 31, 2015) for each person that commits to regularly scheduling family dinners at SundayDinnerPledge.com. Pledging to have a sit-down dinner with loved ones will help to ensure other seniors will have a quality meal through the Meals on Wheels program.
"We hope families will make the pledge to either revive or begin new mealtime traditions with their senior loved ones," Reid said. "This small commitment can have a big impact on a senior's well-being."
To help families across the country host their own Sunday dinner, Home Instead Senior Care has partnered with celebrity chef and mother of four Melissa d'Arabian to develop easy, nutritious recipes. Additional resources include tips for how to involve seniors in meal planning and preparation, pre- and post-dinner activities and meal plans for healthy, inexpensive meals that all generations can enjoy.
For these free resources and more information on how you can bring back the Sunday dinner and reconnect with your senior loved ones, visit www.SundayDinnerPledge.com or call Home Instead Senior Care at 805-577-0926.
*Home Instead, Inc. completed surveys with a random sample of 1,000 households in U.S. and Canada between February 10 and 15, 2015. Participants were 50 percent male and 50 percent female, with 900 households in U.S. and 100 in Canada.
About Home Instead Senior Care®
Founded in 1994 in Omaha, Nebraska, by Lori and Paul Hogan, the Home Instead Senior Care® network provides personalized care, support and education to help enhance the lives of aging adults and their families. Today, this network is the world's leading provider of in-home care services for seniors, with more than 1,000 independently owned and operated franchises that are estimated to annually provide more than 50 million hours of care throughout the United States and 15 other countries. Local Home Instead Senior Care offices employ approximately 65,000 CAREGivers? worldwide who provide basic support services that enable seniors to live safely and comfortably in their own homes for as long as possible. The Home Instead Senior Care network strives to partner with each client and his or her family members to help meet that individual's needs. Services span the care continuum – from providing companionship and personal care to specialized Alzheimer's care and hospice support. Also available are family caregiver education and support resources. At Home Instead Senior Care, it's relationship before task, while striving to provide superior quality service.
About Meals on Wheels America
Meals on Wheels America is the oldest and largest national organization supporting the more than 5,000 community-based senior nutrition programs across the country that are dedicated to addressing senior hunger and isolation. This network exists in virtually every community in America and, along with more than two million volunteers, delivers the nutritious meals, friendly visits and safety checks that enable America's seniors to live nourished lives with independence and dignity. By providing funding, leadership, education and advocacy support, Meals on Wheels America empowers its local member programs to strengthen their communities, one senior at a time.
About Melissa d'Arabian
Food Network star, best-selling author, writer and mom of four Melissa d'Arabian is an expert on affordable and healthy family home cooking. Well known for her "Ten Dollar Dinners" show and best-selling cookbook, she also hosts Food Network web series "The Picky Eaters Project" and serves as a lead judge on "Guy's Grocery Games." Her new "Supermarket Healthy" cookbook is available now. www.melissadarabian.net.
By Gazette Staff Writer — Monday, July 13th, 2015
Ventura, CA - Our 18th Annual Pooch Parade Dog Walk & Pet Expo has been scheduled for Sunday, July 19th, 2015, from 9:00 AM to 4:00 PM at the San Buenaventura State Beach Park. Our theme this year is "Seniors Need Second Chances Too!" We will be raising awareness for all of the senior dogs that end up abandoned and overlooked in the shelter system. C.A.R.L. has started Sam's Senior Dog Rescue Project to help place these deserving dogs in forever homes where they can live out the rest of their lives being loved and cared for. It's a fun filled day great for the entire family. The Pooch Parade draws approximately 2,000 people and their pets from Los Angeles, Santa Barbara and Ventura counties. The event itself is free and open to the public.
The morning parade/walk donations start at $40.00 and participants receive a t-shirt and/or a bag of dog goodies, plus the opportunity to enter our Canine Contests with their pet. Walkers can find registration information on our website at www.poochparade.org/register.html. Walker registration forms should be mailed or registered online by Saturday, July 11th in order to guarantee a shirt.
There are also approximately fifty vendor stations, food trucks and a huge silent auction tent that attendees can enjoy throughout the day. Vendors can find registration information on our website at www.poochparade.org/vendors.html. The last day to sign up is close of business on Monday, July 6th. Vendor questions can be emailed to irra_s@yahoo.com.
These past years have been very difficult for many families, forcing them to give up their pets. As a result, Canine Adoption and Rescue League currently has over eightyfive dogs in our program. We hope to provide a second chance and find a forever home for each and every one of them. Funds raised from this event will help offset the cost of supplies, boarding, medical expenses, and obedience training for the dogs in our care.
Canine Adoption and Rescue League is a Ventura County based IRC 501(c) (3) private nonprofit, no kill dog rescue organization.
Donations are tax deductible!
For more information visit our website: www.poochparade.org.
By Gazette Staff Writer — Wednesday, July 8th, 2015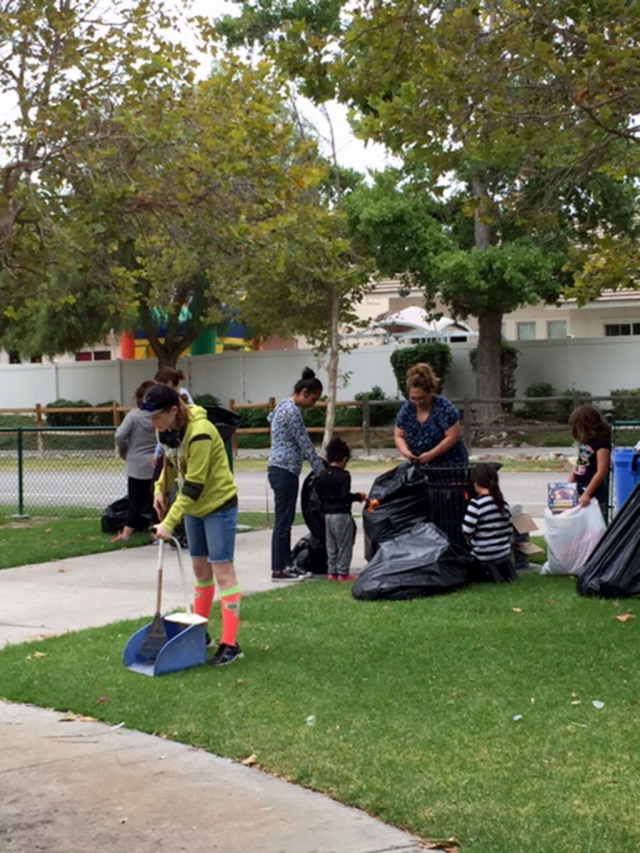 SoCal Bears Cheer would like to thank all who supported their organization by purchasing fireworks at their booth this year. (above & below) Girls showing their community spirit early Sunday morning, July 5, cleaning all the debris from Doris Day Park. Photo by R. Andrino
Enlarge Photo
By Gazette Staff Writer — Tuesday, July 7th, 2015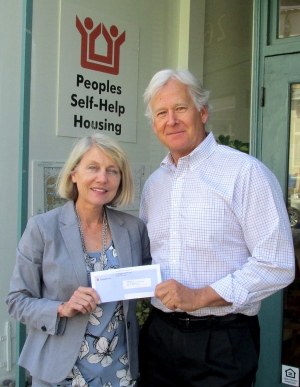 (l-r) Peoples' Self-Help Housing Development & Communications Director Rochelle Rose CFRE and Randy Weiss, Union Bank Corporate Social Responsibility Officer.
Union Bank recently presented Peoples' Self-Help Housing with a $10,000 check in recognition of the award winning nonprofit's 45th Anniversary in 2015.
Founded in San Luis Obispo in 1970, Peoples' Self-Help Housing has over the years expanded to Santa Barbara and Ventura counties, with more than 1,100 self-help homes completed and nearly 1,600 rental units developed. PSHH has been working to provide affordable housing and programs leading to self-sufficiency for low-income families, seniors and other special needs groups.
"Peoples' Self-Help Housing was founded with a mission to provide affordable housing and programs to those most vulnerable in our communities, the working poor, seniors, veterans, and people with disabilities. It is community partners like Union Bank that have allowed us to fulfill this mission for 45 years and counting," said PSHH CEO/President John Fowler.
PSHH kicked off its 45th Anniversary year on April 23 with a luncheon at the Madonna Inn in San Luis Obispo. The festivities continue through Nov. 13 with the PSHH 45th Anniversary Gala Dinner & Auction, the Central Coast Taste of Hope, at the Santa Barbara Historical Museum. For more, visit http://www.pshhc.org/
About PSHH
Founded in 1970, PSHH is an award winning non-profit organization that develops affordable housing and community facilities for low-income households and homeownership opportunities for working families and special needs populations, such as seniors, veterans, the disabled, and the formerly homeless. With more than 1,100 self-help homes completed and nearly 1,600 rental units developed, PSHH is the largest affordable housing developer on the Central Coast, with offices in Santa Barbara and San Luis Obispo. For more information on Peoples' Self-Help Housing, visit www.pshhc.org, email info@pshhc.org or phone (805) 781-3088.
By Gazette Staff Writer — Tuesday, July 7th, 2015
As a fundraiser for the Y's Open Doors program, the YMCA Run or Walk 5K event will begin at 8 a.m. on Saturday Aug. 15, 2015 at the Ventura Family YMCA. Participants may register on-line, in person at the Ventura Family YMCA or on the morning of the race.
The Y works to ensure that everyone is given an equal opportunity at having membership regardless of income. With the help of the community, the YMCA Run or Walk 5K fundraiser will give others that opportunity, allowing them to participate in the Y's membership programs such as child care, summer camps and swim lessons. To apply for financial assistance, the Open Doors Scholarship Application can be found on-line.
The financial assistance comes from community members, donors and fundraisers like the YMCA Run or Walk 5K event. At approximately 3.1 miles, this event not only raises money for the Open Doors program, but is also a great form of exercise. Marketing and Communications Director, Alicia Cattoni, says "We love our community so we're encouraging people of all ages, backgrounds, and walks of life to join us. This is a great way to stay healthy, while also considering the importance of helping others because every donation goes back into the community. So bring your family, friends, and even your dog!"
Participants have the option of signing up individually or as a family, which would include two adults and any dependent children (up to six total). From now through August 1, the individual cost will be $35 and the family cost will be $75. However, from August 2 through August 14 the individual cost will be $40 and the family cost will be $85. The first 100 registrants will receive a T-shirt and goodie bag! There will also be over 20 raffle prizes, a breakfast, and live music. The race will start and end at the on-sight location of the Ventura Family YMCA and participants will be given a continental breakfast before the race begins.
Sponsors include: The Anchor Printing And Graphics Co., Union Bank, Pacific Western Bank, Barbarians, The Charles D. and Mary A. Bauer Foundation, Meridian Private Wealth Management, Inc., ProYo Frozen Yogurt, The River Community Church, Vendurance Sprots, and Ventura County Credit Union.
For more information about the YMCA Run or Walk 5K race, please contact Health and Wellness Director, Philipp Roye, at philipp.roye@ciymca.org or by calling 805.642.2131, ext. 20.
About the Y
The Y is one of the nation's leading nonprofits strengthening communities through youth development, healthy living and social responsibility. The Ventura Family YMCA serves over 20,000 individuals annually through facility memberships, before & after school childcare, day & resident camps, youth sports, swim lessons, teen programs, and many more healthy lifestyles and community enriching programs which nurture the potential of children and teens, improve the nation's health and well-being, and provide opportunities to give back and support neighbors. Through its' Open Doors program, the Y ensures that no one is ever turned away due to their inability to pay and facility memberships without contracts or join fees makes the Y accessible to all. The Ventura Family YMCA is located at 3760 Telegraph Rd., Ventura, CA 93003. Log on to ciymca.org/ventura.
By Kate English — Tuesday, July 7th, 2015
One Step a la Vez teen program continues to provide Santa Clara Valley teens with activities, trips and classes this summer. Summer hours at the center are 1pm - 6pm Monday through Friday. Upcoming special activities for July are noted below.
Friday July 10: trip to Cal Arts
Tuesday July 14: 1pm Sketching Art Class with artist Paul Benavidez
Thursday July 16: 1pm Watercolor Art Class with artist Wana Klasen
Friday July 17: 3pm trip to Piru for 126 Film Festival Family Movie night
Tuesday July 21: Hiking Trip
Friday July 31: Six Flags Trip
Tuesdays & Thursdays in July: Art classes at 1pm
Everyday at the center: Games, ping pong, video games, computer lab, and food
If you know a teen that is itching to give back to their community this summer they can volunteer to serve at One Step's Food Share food distribution program the 2nd and 4th Wednesday of each month. Volunteers are welcomed and needed at 3pm on these Wednesdays.
Membership at the teen center is free for 13-19 year olds and trips are free to members. The teen center is located at 421 Sespe Ave in Fillmore. Space on trips is sometimes limited and youth who participate daily in the program will receive priority registration for trips. Please call 805-625-7067 for more information.
By Gazette Staff Writer — Wednesday, July 1st, 2015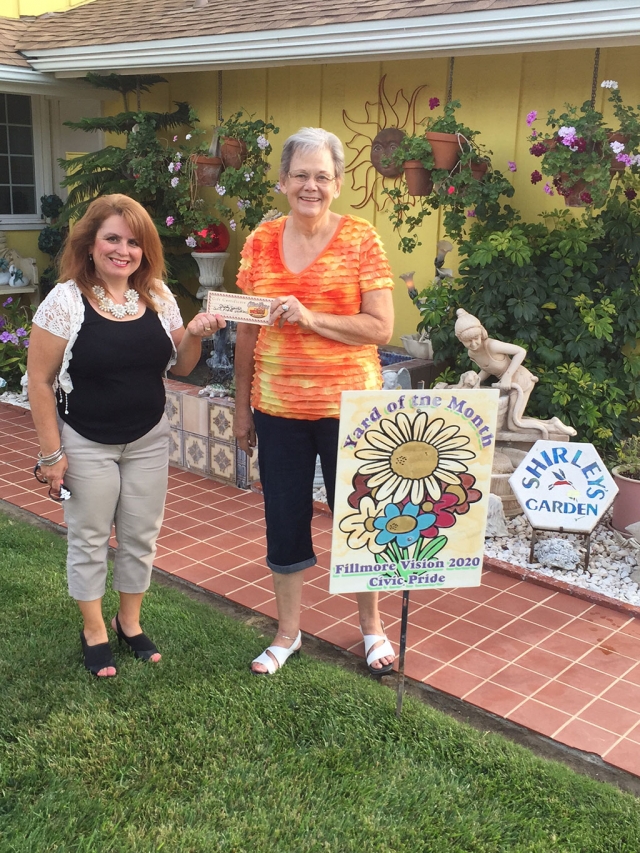 Theresa Robledo with Civic Pride Vision 2020 presents Yard of the Month to Shirley Spitler! Congratulations! Please drive by 850 Oliver Street to view her gorgeous yard! You will find at Shirley's home, roses, Christmas cactus, a lot of geraniums, succulents, and many beautiful garden statues. When I asked Shirley what inspires her to garden, she said, about 10 years ago her late husband, Bud Spitler, said do you want to trade grocery shopping for gardening? Obviously, Shirley accepted and has been gardening ever since! Thank you to Otto & Sons Nursery for their generous gift certificate, where she will enjoy finding more items for her yard!
Enlarge Photo
By Gazette Staff Writer — Wednesday, July 1st, 2015
Community Memorial Health System announced that effective July 1 Blue Shield Covered California has agreed to bring a limited number of CMHS physicians into its network at Blue Shield's standard commercial rates.
The decision to complete this network participation reflects the health system's commitment to provide Ventura County residents access to high quality and affordable care. Blue Shield agreed to include physicians based on clinical integration criteria including: integrated electronic health record, quality, patient experience and cost leadership and participation in the Accountable Care Alliance of Ventura (ACAV) ACO. This is an important milestone as CMHS furthers its alignment with community physicians to meet the needs of their patients.
Blue Shield will take several months to add the physicians to its Exclusive Provider Network (EPN) network. For physicians already participating in the EPN at a reduced rate, Blue Shield will change their reimbursement rates as physicians renew Blue Shield contracts.
"We are grateful that the community's support has enabled CMHS to reinvest in the community with a replacement hospital," said Gary Wilde, CMHS President and CEO. "It is important to us that the new Community Memorial Hospital of San Buenaventura is available to all residents of Ventura County when it opens in 2016."
For more information on CMHS payer contracts visit www.cmhshealth.org.
Community Memorial Health System is a not-for-profit health system, which is comprised of Community Memorial Hospital, Ojai Valley Community Hospital, and twelve family-practice health centers entitled Centers for Family Health. The health system is located in Ventura County, California.