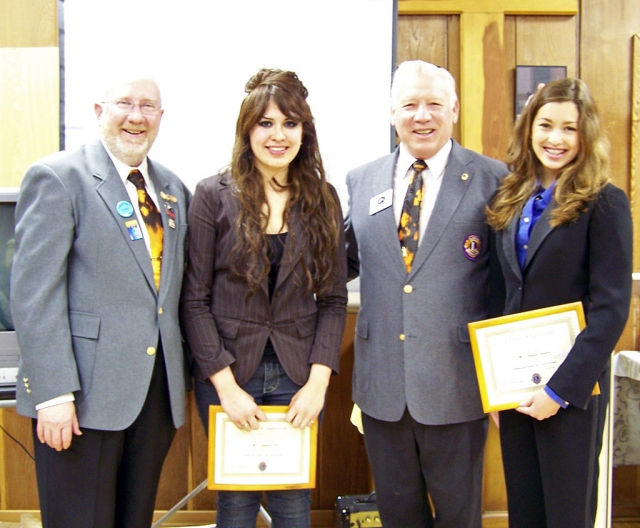 Pictured above Natalie Garnica (Fillmore), Olympia Tril (Oxnard), Lion Jim Austin and District Governor Bill Dunlevy. Garnica and Tril are the Lions Club student speaker contest winners. The contest was held on Wednesday April 2 at the Trinity Episcopal Church.
Enlarge Photo
By Anonymous — Wednesday, April 9th, 2008
By Anonymous — Wednesday, April 9th, 2008
Boys & Girls Clubs of the Santa Clara Valley held their annual spring break talent show at the Fillmore First St. clubhouse. There were 16 children and youth groups from Fillmore & Piru who participated. The Boys & Girls Club is a safe haven for many in our community. A positive place for children when they get out of school. A place where they can receive help with their homework and participate in the many programs the Club has to offer. Mayor Pro Team Cecilia Cuevas was honored to serve as a judge for the spring break talent contest. "We have true, confident and talented youngsters from both Fillmore & Piru," remarked council member Cuevas. "It was a real joy to watch!" Santa Clara Valley Boys & Girls Club board member Angelica Richardson returned for the third time as a judge. "I thoroughly enjoy watching these talented kids representing Fillmore & Piru" First place went to Blanca & Nitzeth for their dance routine. Lindsay, Jatziri, Lupita, Natali, Alexis, Yaneli, Baneli and Laura from Piru with their matching costumes and dance skills moved the crowd to receive second place. At the young age of 9 Viviana showed her vocal skills to a standing ovation.
The Boys & Girls Club is always busy. Saturday, March 29th the First Street clubhouse also hosted a garage sale and raised over $200. Club members woke at 5am to help set up for the big event. Another fundraiser coming up Friday, April 25th from 4-7pm will be our first annual Taco Sale to raise money for our summer field trips. We hope to see you here! For more information please call 805-524-0456.