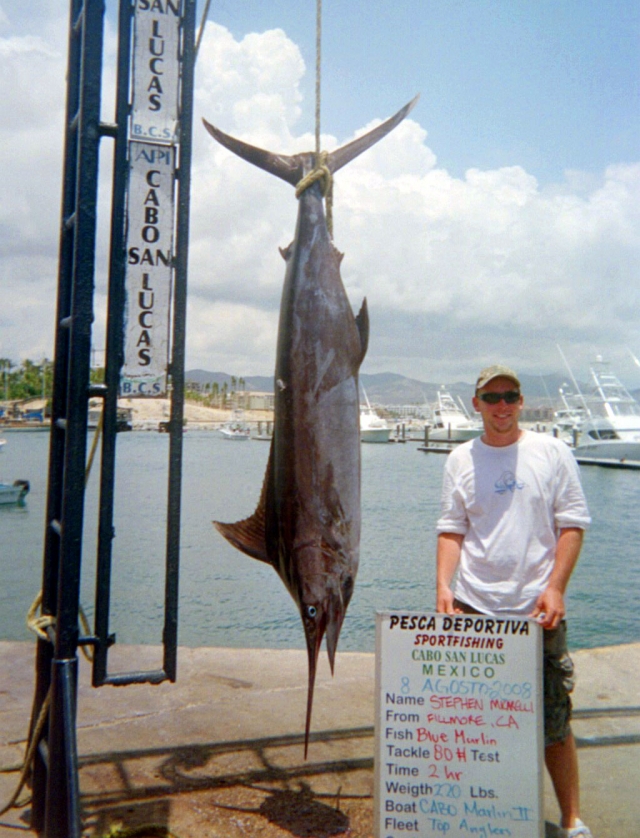 This 220 lb. Blue Marlin was caught by Fillmore native Steve Micarelli off the coast of Cabo San Lucas while on vacation August 8, 2008 with no help from Rex Wilson or Ray Hoover.
Enlarge Photo
By Gazette Staff Writer — Wednesday, August 27th, 2008
By Conway Spitler — Wednesday, August 27th, 2008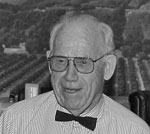 Conway Spitler
In 2001, Denmark elected the most conservative government in some 70 years—one that had some decidedly non-generous ideas about liberal unfettered immigration. Today Denmark has the strictest immigration policies in Europe.
Today Denmark has the strictest immigration policies in Europe. (Its effort to protect itself has been met with accusations of "racism" by liberal media across Europe—even as other governments struggle to right the social problems wrought by years of too-lax immigration.
If you wish to become Danish, you must attend three years of language classes. You must pass a test on Denmark's history, culture, and a Danish language test. You must live in Denmark for seven years before applying for citizenship. You must demonstrate intent to work, and have a job waiting. If you wish to bring a spouse into Denmark, you must both be over 24 years of age, and you won't find it so easy anymore to move your friends and family to Denmark with you.
My prayers go out to those of us who live on River Street!
Central Avenue and River Street have been closed so we now have to go east on River Street to get to the city.
Then we put our lives in jeopardy crossing the highway. The autos coming from the east just speed along and then you watch the ones coming from the west which are going at a better pace since they had the stop light at Central Avenue. In fact it is putting anyone in jeopardy just to join the fast moving vehicles going east and west on the highway.
Perhaps we need a highway patrol vehicle sitting in the area--this would at least slow them down a bit.
It is realized that we need the sewer, but couldn't more thought be given to the people who live in the area and something worked out to make driving safe in the area?
The big question is: "How long is it going to take to get all this done so life can return to normal, especially in the Central and River Street areas?
By Gazette Staff Writer — Wednesday, August 27th, 2008
On September 2, United Water Conservation District will begin its annual fall release of water held behind Santa Felicia Dam in Lake Piru. From September 2 into early November, United will release 48,400 acre-feet of water -an acre-foot represents the amount of water sufficient to cover an acre of land to a depth of one foot and is the amount generally used by two average households in one year. This annual operation, representing the primary reason for the dam's construction in the 1950s, is essential for providing for the water needs of the Santa Clara River Valley and the Oxnard Plain.
This year's release, the largest since 1995, will lower the lake level approximately 60 feet from its current level. About half of the water will recharge groundwater supplies between the dam and United's Vern Freeman Diversion Dam at Saticoy, and the other half will supply surface water to agriculture on the Oxnard Plain and will be spread to replenish coastal groundwater supplies.
The release will provide a welcome supply of water to the ecology of the Santa Clara River Valley during a time of year when the river would otherwise naturally be dry. It will also provide United staff the opportunity to conduct studies relative to fish passage, percolation rates of groundwater basins and river channel cutting.
In speaking about the release United's General Manager, Dana Wisehart, noted, "Water supplies in Ventura County are currently sufficient to provide for our needs, but if this next winter is another dry one our supplies will begin to be seriously strained. It is important to do what we can to conserve now. We need to be sure that we continue to have enough water to provide for people and the environment in our area."
By Gazette Staff Writer — Wednesday, August 27th, 2008
By Gazette Staff Writer — Wednesday, August 27th, 2008
The Ventura County Library Commission met in their regular session on Thursday August 21, 2008.
Among the agenda items approved by the commission was one which directed the Library Director, Jackie Griffin, to work with the County Executive Office and the City of Thousand Oaks to look into the possibilities of ending library fees between districts in the county.
The fourteen libraries of Ventura County give free library service to anyone in the state of California, as do the cities of Oxnard, Moorpark and Santa Paula. The City of Thousand Oaks charges most residents of Ventura County, outside the city limits, $80.00 annually for a library card. In addition, the County Library also pays the City of Thousand Oaks approximately $187,000 annually to provide library service to residents of Ventu Park, Newbury Park and Lynn Ranch.
In the last two years, 1,578 residents of the unincorporated areas have used the Thousand Oaks Library, while 2,600 Thousand Oaks residents have used the Ventura County Library.
In 1998 when Ventura County agreed to pay Thousand Oaks for unincorporated residents to use Thousand Oaks libraries, the Ventura County Library was unable to provide adequate library service in those areas. In recent years, Ventura County has built a new community library in Oak Park and the new Camarillo Library has opened. In addition, the Ventura County Library offers many online services that all residents of Ventura County (including residents of the City of Thousand Oaks) can access online for free including e-books, homework help and 47 databases.
"We appreciate the service that the City of Thousand Oaks offered unincorporated residents when there were no other libraries in the area" said Director Griffin, "but times have changed and we're all on a level playing field with library service wide-spread throughout the county. It would be great if Thousand Oaks would join the rest of the libraries in Ventura County in providing free library services to all residents."
By Gazette Staff Writer — Wednesday, August 27th, 2008
VENTURA, CA - On September 6th 2008, from 2:00 – 5:00 pm, the Ventura Family YMCA will host its 2nd Annual Back to School Backyard Bash to promote a safe and healthy 2008-2009 school year.
School may be back in session but that doesn't mean the fun has to stop. The Backyard Bash will feature activities for the whole family including jolly jumps, games, aquatics and sports activities, FREE food, music, special educational guests and a healthy recipe contest.
The Back to School Backyard Bash will also feature an array of special guests like Sandy Curwood, Nutritional Director for the Ventura Unified School District; Mike and Traci Lamm, owners of Channel Islands Kayak, who will provide a kayak demonstration in the YMCA pool and educate children on water safety; Game Crazy, a local video game distributor who will educate children and parents on the rating system and provide information on how video games can be a great source of exercise; Rabobank will be educating parents on the importance of saving for college and providing information to establish the right type of savings account for their family; Valerie Zeko owner of VenturaParent.com will provide information about their online guide to family resources and activities in Ventura, Oxnard, Ojai and Camarillo. Representatives from the Ventura Family YMCA will also be available to discuss the YMCA's No Join Fee for all new members as well as scholarship options for individuals and families in the area. Plus, the Ventura Police and Fire Department will make a special appearance to educate children on back to school safety.
The event will also feature a "Healthy Recipe Contest" where participants have the opportunity to bring their favorite healthy dish to share and event attendees vote on the evening's best dish. The contest winner will enjoy a FREE 6 month family membership to the YMCA (a $500.00 value) and dish recipes will be available for all food dishes that are entered. For more information on how to enter visit www.venturaymca.org.
Come see how we've been building strong kids, strong families and strong communities for Ventura since 1887 and join us in a new generation of health, family and friendship at the YMCA!
About the Ventura Family YMCA
The Ventura Family YMCA serves over 20,000 individuals annually through facility memberships, before & after school childcare, day & resident camps, youth sports, swim lessons, teen programs, and many more healthy lifestyles and community enriching programs throughout Ventura, Oxnard, Ojai, Santa Paula, and Saticoy. The Ventura Family YMCA is located at 3760 Telegraph Rd., Ventura, CA 93003. Visit www.venturaymca.org or call (805) 642-2131 ext 24 for more information.
Warning
: MySQL server has gone away query: INSERT INTO watchdog (uid, type, message, severity, link, location, referer, hostname, timestamp) VALUES (0, 'php', '<em>MySQL server has gone away\nquery: SELECT n.nid, n.vid, n.type, n.status, n.created, n.changed, n.comment, n.promote, n.sticky, r.timestamp AS revision_timestamp, r.title, r.body, r.teaser, r.log, r.format, u.uid, u.name, u.picture, u.data FROM node n INNER JOIN users u ON u.uid = n.uid INNER JOIN node_revisions r ON r.vid = n.vid WHERE n.nid = 0</em> in <em>/home/fgazette/public_html/includes/database.mysql.inc</em> on line <em>172</em>.', 2, '', 'http://www.fillmoregazette.com/community?page=196', '', '34.236.190.216', 1566806265) in
/home/fgazette/public_html/includes/database.mysql.inc
on line
172
Afternoon Patrol With Oranges, color photograph by John Fielder.
Enlarge Photo
By Gazette Staff Writer — Wednesday, August 27th, 2008
Located at the City of Santa Paula's California Oil Museum

Warning: MySQL server has gone away query: INSERT INTO watchdog (uid, type, message, severity, link, location, referer, hostname, timestamp) VALUES (0, 'php', '<em>MySQL server has gone away\nquery: SELECT n.nid, n.vid, n.type, n.status, n.created, n.changed, n.comment, n.promote, n.sticky, r.timestamp AS revision_timestamp, r.title, r.body, r.teaser, r.log, r.format, u.uid, u.name, u.picture, u.data FROM node n INNER JOIN users u ON u.uid = n.uid INNER JOIN node_revisions r ON r.vid = n.vid WHERE n.nid = 0</em> in <em>/home/fgazette/public_html/includes/database.mysql.inc</em> on line <em>172</em>.', 2, '', 'http://www.fillmoregazette.com/community?page=196', '', '34.236.190.216', 1566806265) in /home/fgazette/public_html/includes/database.mysql.inc on line 172
"Art About Agriculture" is an agricultural art exhibit which will be held September 6th through November 16th at the City of Santa Paula's California Oil Museum, 1001 E. Main Street in historic downtown Santa Paula. The purpose of the exhibit is to promote Art About Agriculture by exploring all the facets of agriculture from workers to water, from machinery to soil and to the food that goes on our plates. The public is cordially invited to the opening reception on Saturday, September 6 from 4 to 7 p.m. with music and refreshments for your enjoyment. All work in the exhibit will be for sale. Art About Agriculture features art by 35 artists working in both two and three-dimensional media who create art that in some way draws its inspiration from our agricultural heritage and/or contemporary agriculture. That inspiration includes, but is not limited to, depictions of rural landscape, farm animals, farm products, rural life, and art that in a more abstract way deals with issues and ideas related to agriculture. In addition to the first, second and third prizes there will be the prestigious Limoneira Purchase Award of $1,000. The Ag Art Alliance was formed in 2007 by Gail Pidduck and John Nichols. Jennifer Heighton joined them recently. For more information on the exhibit and future activities visit www.agartalliance.com. WHAT: Ag Art Alliance 2nd Annual Exhibit "Art About Agriculture" WHERE: California Oil Museum, 1001 E. Main St. Santa Paula, CA OPENING RECEPTION: Saturday, September 6th from 4 to 7 PM EXHIBIT DATES: September 6 - November 16, 2008