Yard of the Month Offers Holiday Cheer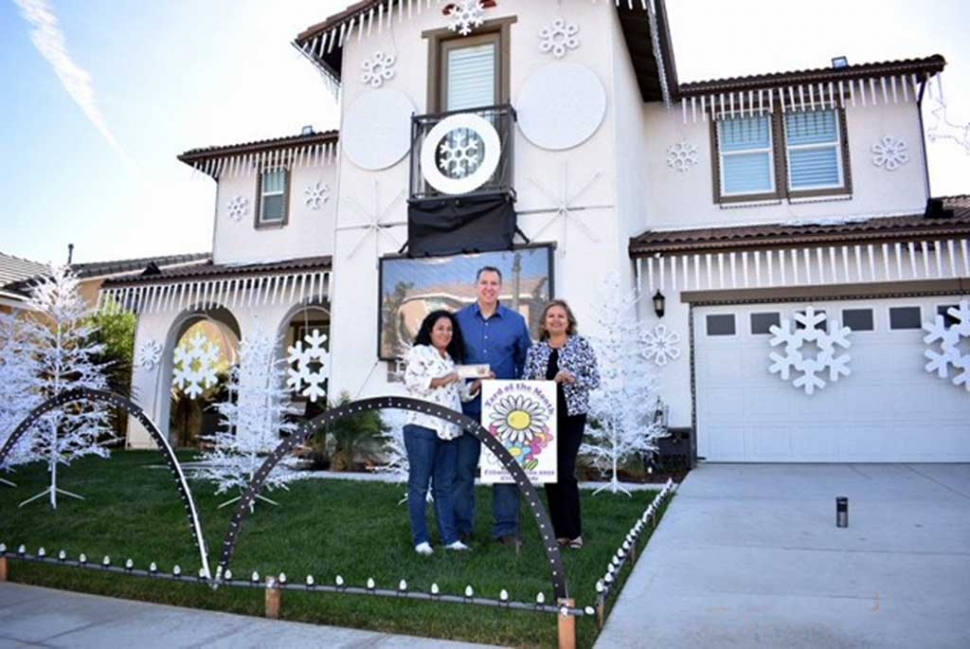 Ari Larson from Fillmore Civic Pride (right) presenting Rosa and Ron Howard with a $40 gift certificate to Otto & Sons Nursery, for being the 2017 December Yard of the Month.
By Ari Larson — Wednesday, November 29th, 2017
Perfect for the holidays, the Fillmore Civic Pride December 2017 Yard of the Month offers lots of beautiful lights and sounds! Ron and Rosa Howard, the owners of the home, would like to invite the community on Saturday, December 9th, to their 2nd Annual Toy Drive at their home (408 Edgewood Drive) starting at 6:00pm. Then, the Fillmore Fire Department will make their way to the festivities at around 7:00pm for photos and to shed some light on the Luv2Dance group, who will be dancing to a favorite Christmas hit. Join them for some hot cocoa and cookies with Santa! They recommend dressing warmly!
Says Ron Howard: "The show consists of over 49,000 RGB lights. 28,672 are used in our P10 Panel Matrix that looks like a TV. Each pixel is capable of millions of colors. There are 22 power supplies, 6 RGB Pixel controllers, and many cables to tie it all together. Our Mega Tree is 20 feet tall and uses 2,600 RGB pixels with fascinating designs and movement to complement each song. I use xLights to sequence the show for all songs. With 27 songs, there is a variety: some classics, some upbeat, and a few surprise songs you would never expect. 'Despacito' has been a crowd favorite!" The show runs Sunday through Thursday (5:30pm to 9:30pm), and Friday and Saturday (5:30pm to 10:30pm).
When asked what their motivation was for all the work and effort they put into the decorations, Ron and Rosa said they wanted to give back to the community. They said Fillmore is a special place for them, and they wanted to thank all of the community, municipal, and local business support they received to make the event possible. Special thanks to: Fillmore Rental, Fillmore Building Supply, Fillmore Fire Department, Fillmore Sheriff and Explorers, and the City of Fillmore.