By Gazette Staff Writer — Wednesday, September 10th, 2008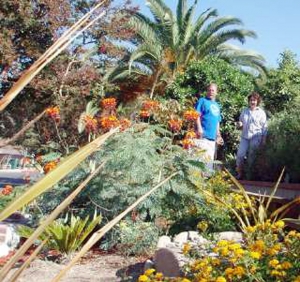 Irma and Greg Murray's yard of the month.
Irma and Greg Murray, of 914 Central, Fillmore, have been chosen to receive the Civic Pride Vision 2020 "Yard of the Month" award for September which includes a donated Otto & Sons Nursery gift certificate.
According to Irma, Greg does all the work and the beautifully kept yard is a showcase for the successful use of drought resistant plantings and water saving practices.
The yard's elevated planters were cleared after the Murray's moved in 4 years ago and additional railroad ties were added to divide the area further, keeping mulch and water from running away. A drip watering system and decomposed granite walkway were added, as well as a windmill sculpture and a blue glass globe for accent.
Greg said that he chose plants that would attract butterflies and hummingbirds to the garden. While we were admiring the yard a large moth was helping "himself" to the Lantana nectar and hummingbirds zipped & darted all around. The yard was vibrant with Mexican Bird of Paradise, Salvia plants in red, hot pink, and purple, yellow Lantana, bronze & pink Flax, while purple Nightshade(Solanum), roses and redbud trees added vertical dimension. The redbud varieties were Oklahoma and Forest Pansy. Fragrance filled the air as leaves were brushed in passing along the walkway.
Greg said that many of his trees & roses were from Otto & Sons and was very pleased to receive the gift certificate.