VONS employees wish Candi Tovar well at retirement party
By Gazette Staff Writer — Wednesday, September 3rd, 2008
175 present and retired employees of VONS market attended a gala retirement party for Candi Tovar, Saturday, August 23rd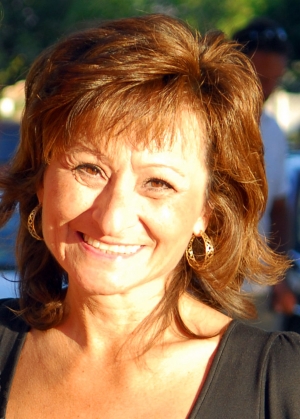 Candi Tovar
They came from as far away as Sparks, Nevada and Auburn, California to what was a reunion of many close friends celebrating Candi's 33 years with VONS.
"It was better than a class reunion!" Candi said. Union Local 1036 members joined in the fun, as well as representatives from the corporate office. "Everyone was so happy to see each other after many years of no contact", said Candy. "We've always been like family, and many went in different directions through the years." Friends and family also attended.
Among those in attendance were past managers, Jim Buress (who originally hired Candi), Curt Underwood, Dennis Padgett, Mike Ayerle, Frank Ybarra, Mike Chapman, and 1st meat mgr. Bob McCary.
Several spoke well-wishes to Candi and talked about the special friendship they had with her. A slide show was produced, and many memory boards with photos of years past were a great hit.
Candi started as a checker in Newhall, California, and was transferred to Fillmore after only a month. She worked as a checker in Fillmore for a year before being transferred to the meat department where she worked for 28 years.
Later, Candi worked at the union office for a year, in 2001, on a special SPUR assignment to organize Wal-Mart.
After the strike Candi came back as a Supervisor and worked for 5 years in Santa Paula, which she describes as a "great experience." Candi's last year was spent at the Fillmore store.
The party included great food, the slide show, music, dancing, and Barry Thompson sang a special song to Candi.
Candi looks upon the festivity more as a reunion of friends rather than a tribute to herself. Addressing those friends in attendance she stated "I honor you for what you have brought to my life."
But this was hardly a true retirement party for Candi. For the past 8 years she has been a volunteer for foster children, and severely neglected and abused children through Royal Family Kids Camp, ages 6-12, and Teen Reach Adventure Camp, ages 13-15 (all kids from Ventura County) and plans to pursue her career in social service to foster kids and youth.