Ventura County Joins National Campaign in Recognizing September as National Preparedness Month
By Ventura County Sheriff Department — Wednesday, September 3rd, 2008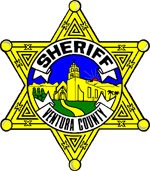 Ventura County Sheriff's Department
The County of Ventura is taking part in a nationwide coordinated effort to encourage individuals, families and organizations to take simple steps to prepare for emergencies in their homes, businesses and schools. September is National Preparedness Month and the County of Ventura will be joining a wide variety of national, state and local organizations, including the U.S. Department of Homeland Security, in educating the public about preparing for emergencies.
The County of Ventura has continued its commitment to educating residents and improving operations during a disaster. In September, the Ventura County Sheriff's Office of Emergency Services has partnered with the Ventura County School Districts and will be hosting four disaster preparedness multi-media art contests to educate students of all ages on how to be prepared at home. In addition, County of Ventura employees will also be participating in voluntary American Red Cross training and completing a survey to measure their level of personal preparedness in the event of a disaster.
Knowing what to do during an emergency is an important part of being prepared and may make all the difference when seconds count. Some simple steps residents can do to prepare for the unexpected include making an emergency supply kit, developing a family communications plan and staying informed on the local hazards in our community.
By taking some simple steps now, we can protect our family, community and ourselves. As a community, all residents are welcomed on the front line of this effort and in observing September as National Preparedness Month.
For more information, please visit the County of Ventura website at www.countyofventura.org and click on the Disaster Information link. This website will display current information in the event of an emergency, educate residents on the hazards in our area, and provide a resource on how to prepare, respond and recover from a disaster in our area.