Ventura County Announces REVERSE 911® Implementation
By Gazette Staff Writer — Wednesday, June 25th, 2008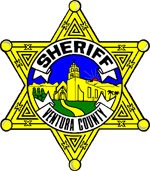 Ventura County Sheriff's Department
The County of Ventura has announced the official launch of the REVERSE 911® Interactive
Community Notification System. The system may be used to deliver alerts when there is a threat to the health or safety of residents in the cities of Camarillo, Fillmore, Moorpark, Ojai, Oxnard, Port Hueneme, Santa Paula, and the unincorporated areas of Ventura County.
REVERSE 911® is a telephonic community notification system which may be used for time-sensitive, mass distribution of emergency messages. The system is particularly effective in times of crisis when rapid communication to a targeted group of citizens or emergency responders is critical. Citizens may be given information regarding evacuation notices, hazardous material releases, community-policing activities or alerts to boil water if necessary. Therefore, when residents receive a REVERSE 911® message, it is important to listen carefully and follow all instructions provided in the alert.
It is also important for residents not to rely on REVERSE 911® notifications as their only means of emergency information. The system may be used in conjunction with information provided to the media, directions given by emergency responders, and information posted on official city, county and government websites.
The REVERSE 911® system is able to send notifications to landline telephones, TTY phones, cellular phones, Voice Over Internet Protocol phones, and e-mail / text addresses. Currently, the Ventura County REVERSE 911® database includes both listed and unlisted landline phone numbers for AT&T and Verizon customers. Residents who want to receive notifications on their cellular, TTY or VoIP phones will need to register online or call the Ventura County Sheriff's Office of Emergency Services at (805) 648-9283.
For more information on REVERSE 911® in Ventura County or to register phone numbers online, residents can click on the "Disaster Information" link on the County of Ventura homepage
(www.countyofventura.org) and select the REVERSE 911® icon.