Ventura County Animal Services invites public, offers discounted adoptions at annual Pet Adopt-a-thon, July 28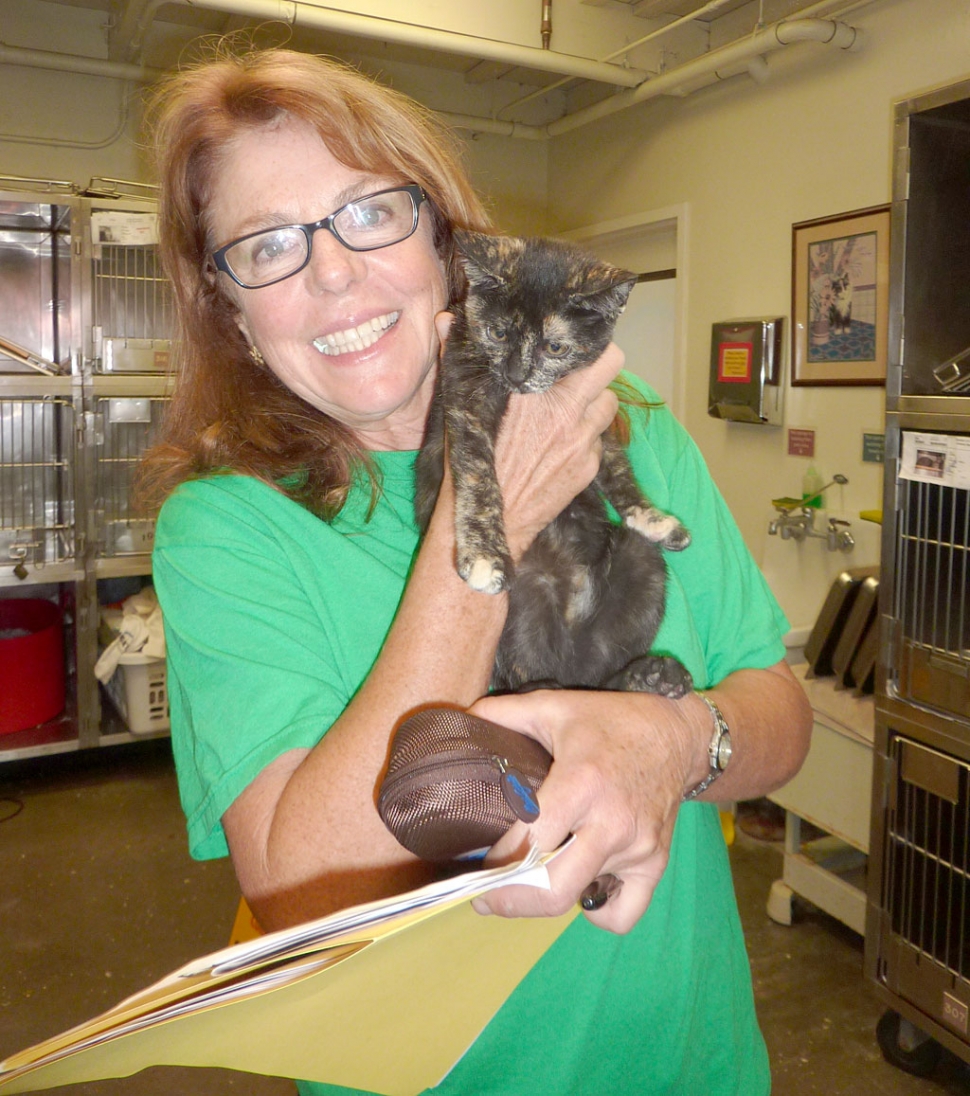 Nancy Vaniotis, VCAS Volunteer and former County of Ventura employee, shows off a kitten available for adoption at the Camarillo animal shelter.
By Gazette Staff Writer — Tuesday, July 16th, 2013
Preview event on Saturday, July 27 to feature live radio broadcast by Warren Eckstein, national radio talk show host and pet expert
VENTURA COUNTY, CA - On Sunday, July 28, Ventura County Animal Services, in partnership with Rescue Me, Inc., will host the 9th Annual Dog-Gone Cat-a-Strophic Hugs, Slurps and Slobbers Pet Adopt-a-Thon.
This free family-friendly event will take place from 9 a.m. – 4 p.m. at the Camarillo Animal Shelter, 600 Aviation Way, and will feature fun, food, live music, entertainment, vendors and the chance to adopt a furry or feathered best friend at 50% off the regular adoption rate.
Sponsored by Rescue Me, Inc., an organization dedicated to rescuing, rehabilitating and finding homes for orphaned animals, the adopt-a-thon is a fun way for the public to visit the Ventura County animal shelter, meet the caring staff and volunteers and be introduced to the wide array of cats, dogs, rabbits and reptiles available for adoption.
"Each year, we welcome the public to the shelter during the adopt-a-thon and introduce them to the hundreds of animals that wait patiently for a loving family to call their own," said Donna Gillesby, VCAS interim director. "Our goal is to empty the shelter of every adoptable animal. Many currently housed with us ran away from home on the 4th of July and have not been reclaimed by their owners."
On the Saturday before the adopt-a-thon, Warren Eckstein, host of the nationally syndicated radio talk show, The Pet Show, will broadcast live from the Camarillo animal shelter from 11 a.m. – 3 p.m. Eckstein will preview many of the animals that will be available for adoption on the following day.
For more information, call VCAS at 1-888-223-PETS (7387), 805-388-4341 or go to www.vcas.us.