The Tom McGrath Teen Study Room is Now Open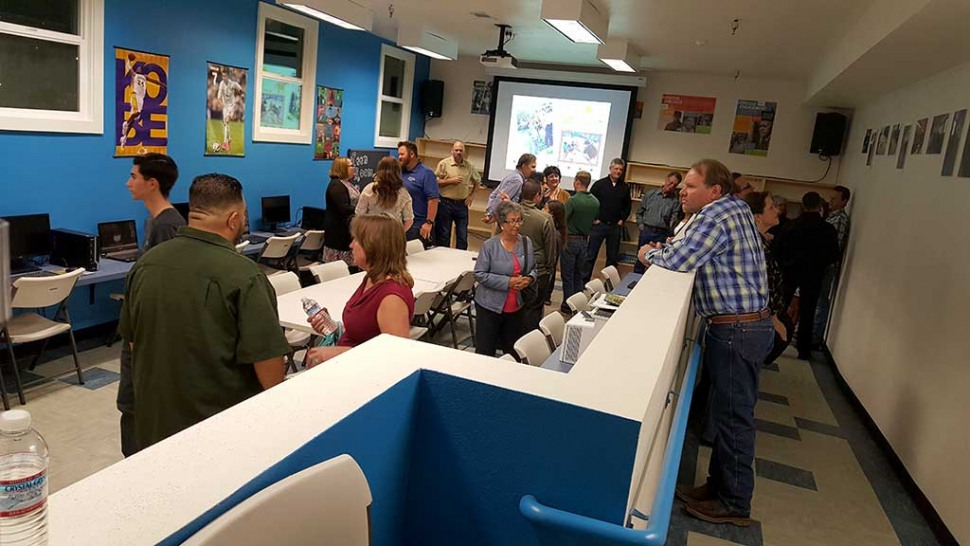 Guest's first look at the new Tom McGrath Teen Study Room.
By Gazette Staff Writer — Wednesday, March 2nd, 2016
After six years of a vision and the past 18 months on the job, the new Tom McGrath Teen Study Room at the Boys & Girls Club in Fillmore is now open for teens. Years ago Board Member Tom McGrath had a vision to change the old girls shower room (The Fillmore Club used to be the old girls' gym from Fillmore High School) into a room for teens to study and do their school work. The Fillmore Club has a daily attendance of 120-165 youth and no place for teens. Tom was able to begin the project about six years ago when he arranged to have the Seabees come in and demolish the shower stalls. They cleared away some of the rubble, but then due to a lack of funding the room sat. Unfortunately in the following years Tom passed away and the room still sat. About 18 months ago the project came alive again and County Supervisor Kathy Long gave now CEO Jan Marholin $25,000 to restart the project and also introduced her to the men and women of IBEW 952 and also Local 150. These wonderful people donated their time and labor on the weekends to help build this room. The project also involved the Tom McGrath family who ran a matching funds campaign targeting friends and family. Jan Marholin was also able to secure donated materials such as drywall, concrete, rebar, etc to help cut building expenses.
The room has cutting edge technology and will soon have maker space platforms. Also, by having this new room , it will be the first time that the Club has been able to house a reading library for kids. The teens will be able to have lessons in financial literacy and instructions on filling out job applications and how to interview for a job. This truly is a team effort of support and a win win for our local teens.