Sespe Players Announce Alice in Wonderland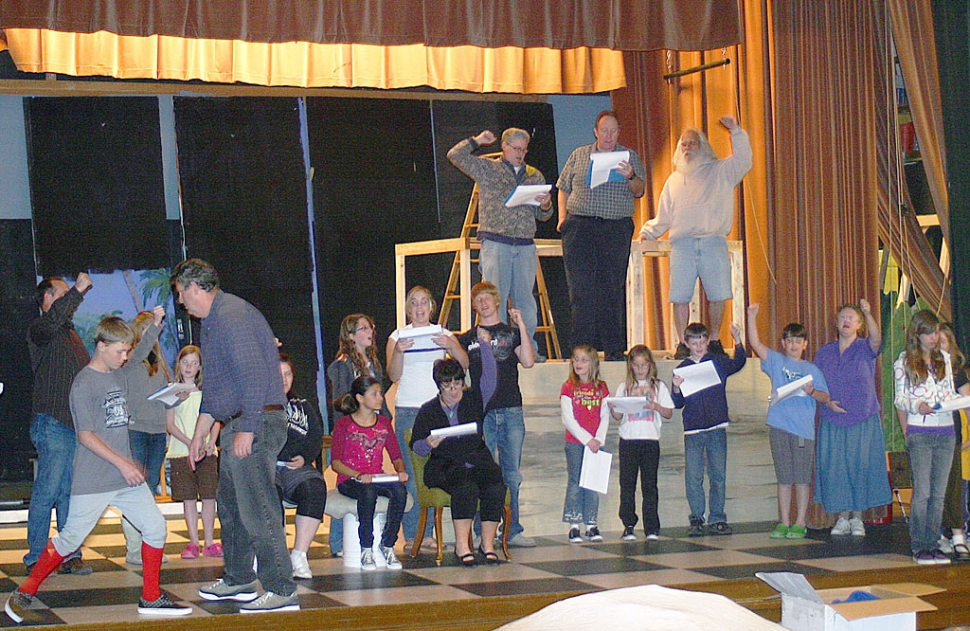 Matthew Lindsey and the cast of Alice in Wonderland take direction from Stephen Burhoe for Sespe Players' next production in the Sespe Auditorium to begin April 23rd.
By Gazette Staff Writer — Wednesday, April 14th, 2010
The curtain for Alice in Wonderland will open Friday, April 23 at 7:30P.M., and runs two weekends, at The Sespe School Auditorium 627 Sespe Ave. Fillmore, Saturday April 24 at 7:30P.M., Sunday April 25 at 2:00P.M., Friday April 30 at 7:30P.M., Saturday May 1 at 7:30P.M., and Sunday May 2 at 2:00P.M.
Alice in Wonderland is a journey into a world of complete illusion. The Director, Stephen Burhoe in his Sespe Players Directorial Debut has taken this Lewis Carol play, set in the 1800s, and added his own flair for comedy. It is a combination of Lewis Carol's two books, Through the Looking Glass and Alice in Wonderland, adapted for the stage by Eve La Gallienne and Forida Freibus. Using magic secrets and puppetry, Stephen Burhoe has set the stage for a very entertaining experience in live community theater. Stephen is an acting coach and teaches Theater Workshops in Ventura County for over ten years.
Alice in Wonderland will be the largest production Sespe Players, Inc. (Fillmore's own Community Theater group), has produced since restarting in 2004.
With a cast of 35, ages ranging from 6 to 60, this delightful classic has truly captured the community spirit with rehearsals taking place in the Historical Society's Old Train Depot, using painters, set designers, and costume directors from within the small town, school district teachers and students, and many others from the local community and Ventura County.
Tickets for Alice in Wonderland, Adults $15, Seniors $12, Students $10, children 3-6 years are free with a paying adult. Tickets can be purchased from cast members, Mirage Clothing located at 508 Santa Clara St. Fillmore, and at the door.
Sespe Players, Inc. is dedicated to providing quality live theater for the community of Fillmore and offers free tickets to the senior living facilities, the Boy's and Girl's Club and the Big Brother Big Sister's Mentoring programs of Fillmore.
Sespe Auditorium is located within the Fillmore School District's main office building 627 Sespe Avenue. The District and Sespe Players, Inc. would love to see this beautiful building retrofitted, making the rooms usable as classrooms once again. Sespe Players, Inc. will use proceeds from their productions to purchase theatrical lighting for the stage. Future productions will help pay for new curtains, a sound system and new seats.
Join Alice for an adventure of entertainment in Fillmore, April 23, 24, 25, 30 May 1or 2.