September 2017 Yard of the Month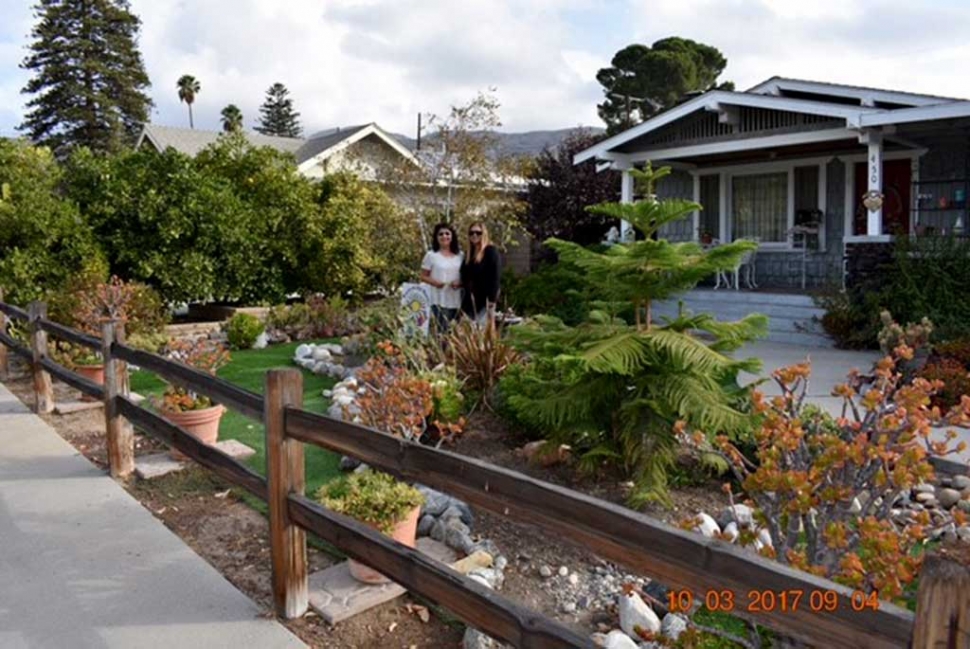 Pictured (l-r) is Mimi Burns and Civic Pride representative Ari Larson standing in the "Friendship Garden," which was awarded Fillmore Civic Pride's Yard of the Month for September 2017.
By Gazette Staff Writer — Wednesday, October 4th, 2017
Mimi Burns' was awarded the September 2017 Yard of the Month by Civic Pride representative Ari Larson. Mimi was presented with a $40 gift certificate courtesy of Otto & Sons Nursery.
When asked about the inspiration for her yard, Mimi said, "I wanted to have a yard that was low maintenance and didn't need much watering. My friends Kim and Wade started by putting up the split rail fence. They then leveled the yard and put the extra dirt in the center making the planter for the flower bed. Kim then put the grass turf down for me. I got the rocks from my friend Susan and my daughter Carina."
"I haven't bought a single plant for my yard - everything comes from friends and family. The pine tree was a Christmas present from Carina. The white birch and the purple plum tree were replants from a neighbor that Wade planted for me. The succulents, geraniums and everything else in the yard come from friends who have given me clippings from their plants," says Mimi when asked about the types of plants featured in her yard.
Regarding the design of the garden, Mimi stated, "I have taken these clippings and randomly planted them throughout and it is surprising how they have taken hold and flourished. I want to thank everyone who has contributed to my 'friendship garden.' It is still a work in progress and a true reflection of 'all things are possible.' Thank you."
The house is located at 450 Fillmore St. If you would like to nominate a yard in the Fillmore area please email Ari Larson at petenari55@hotmail.com or call 805.794.7590.