Santa Paula Historic Ranches Tour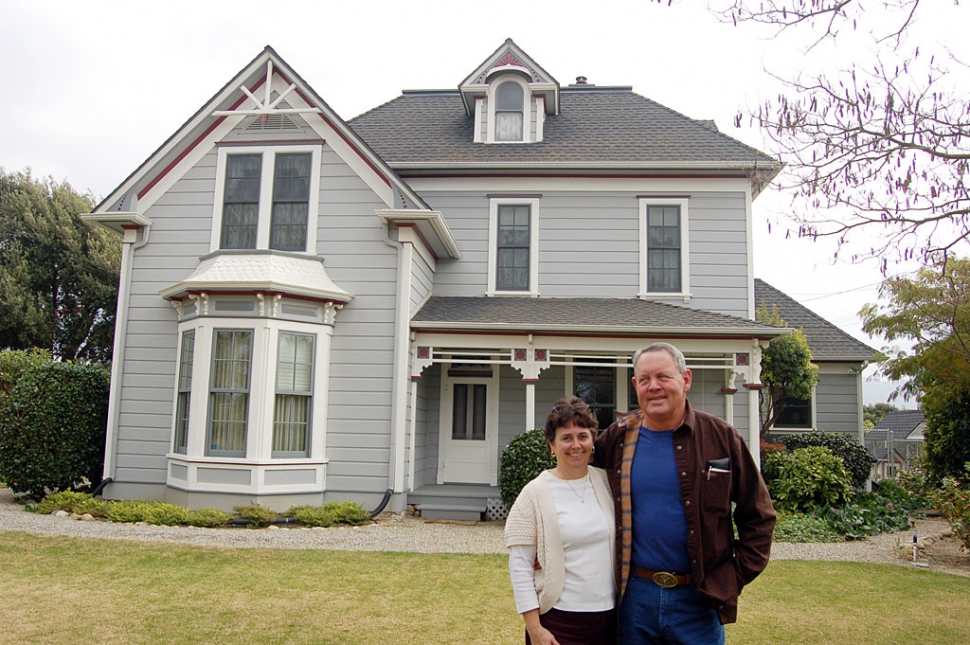 Joanna and Randy Axell on the front porch of their Santa Paula house, built in 1867. Rancho Rodoro is one of four stops on the Barns, Ranches and Homes tour to benefit Santa Clara Vally Hospice on March 12, 2011.
By Gazette Staff Writer — Wednesday, March 2nd, 2011
March 12, 2011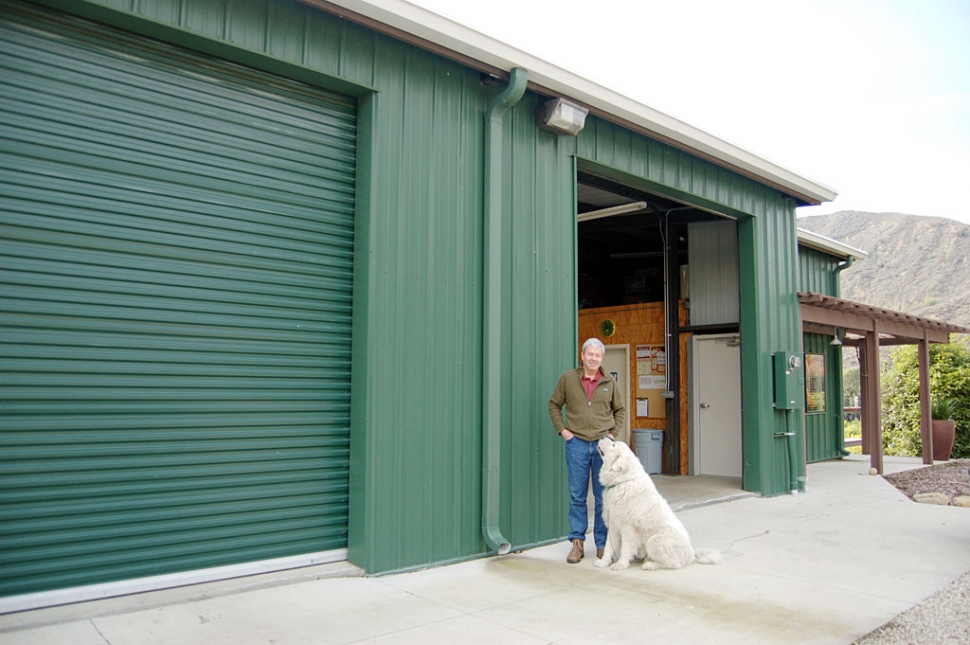 Richard Pidduck's barn on Santa Paula Creek Ranch, guarded here by Cosmo, is on the Santa Clara Valley Hospice Barns, Ranches and Home Tour on March 12, 2011. Gail Pidduck's art studio is also on the tour.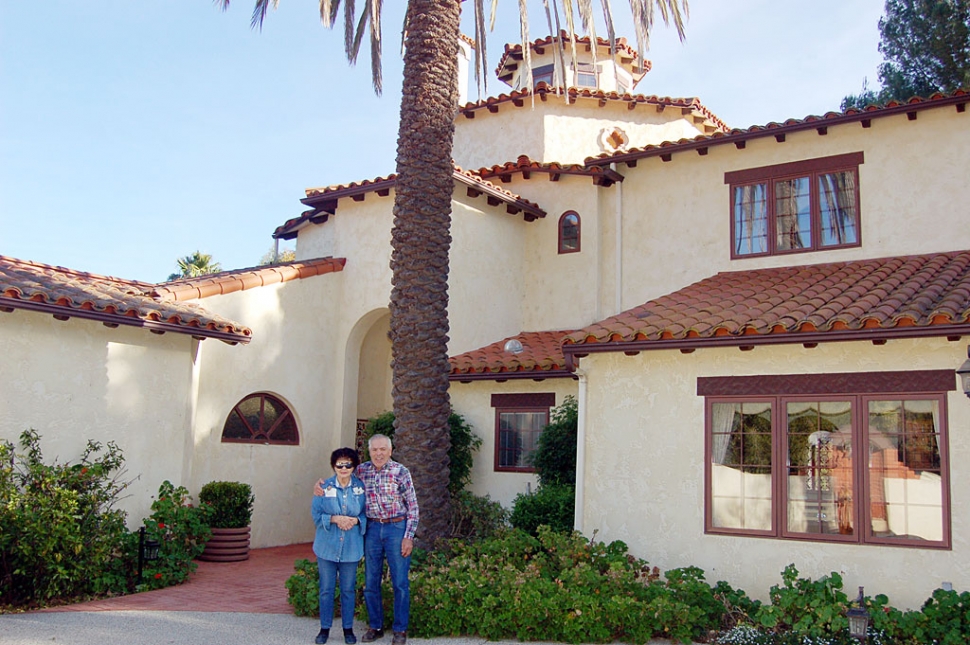 Esther and George Tamayo stand in front of their 8,000-square-foot house they built 19 years ago on Lingdooley Ranch in Santa Paula. Their home and barn are among four stops on the Barns, Ranches and Homes tour to benefit Santa Clara Vally Hospice on March 12, 2011.
Three historic Santa Paula ranches, three barns, two homes, an art studio and barbecue at Limoneira Ranch are the scheduled stops on March 12, from 10 a.m. to 4 p.m., as part of the Barns, Ranches and Homes tour of Santa Clara Valley Hospice/Home Support Group Inc. The hospice serves Fillmore and Piru. The $25 cost of the tour includes a barbecue from noon to 2 p.m. at the picnic area of Limoneira Co., 1141 Cummings Road. While there, visitors will have a chance to visit the historic Limoneira general store, which is now a visitor center. (Cost is $30 the day of the tour.) Ventura County Farm Bureau Young Farmers and Ranchers will be barbecuing.
On the tour are Esther and George Tamayo's home and barn off Foothill Road. A shuttle will take visitors there from Limoneira ranch. Gail and Richard Pidduck's ranch is on Rafferty Road, off Santa Paula-Ojai Road. The Axell ranch is at 14732 W. Telegraph Road. Scores of tractors belonging to members of the Topa Topa Flywheelers Antique Gas Engine and Tractor Club will also be on show at each of the ranches.
Tour sponsors are Calavo Growers Inc.; Santa Paula Chevrolet; Ben Curtis; Fallini Graphics; Santa Paula Times; and Enterprise Car Rentals.
In Fillmore, tickets may be purchased at Mimstar, 358 Central Ave., and Up in Arms, 328 Central Ave. In Santa Paula: Brownie's Basement, 866 E. Main St.; the Santa Paula Chamber of Commerce at the Santa Paula Depot, 200 N. 10th St.; the Santa Paula Times, 944 E. Main St.; and Santa Clara Valley Hospice, 133 N. Mill St. In Ventura: Hallmark Shop Lautzenhiser's, 1730 S. Victoria Ave. Or send a check and self-addressed, stamped envelope to P.O. Box 365, Santa Paula, CA 93061. Make checks payable to SCV Hospice.
Walking shoes are recommended; no high heels. For more information, call 525-1333.