Santa Paula Art Museum Grand Opening Nears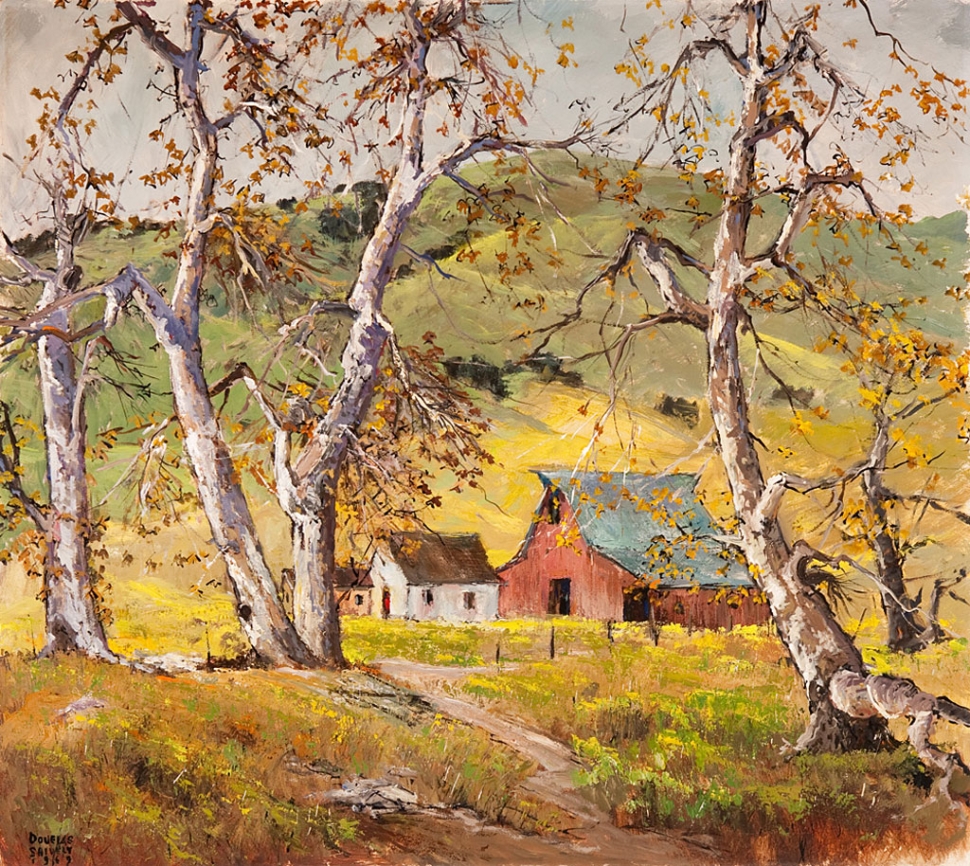 "Sycamores" by Douglas Shivley, who started the Santa Paula Art Show.
By Gazette Staff Writer — Tuesday, February 2nd, 2010
SANTA PAULA, CA - A ten-year effort to establish a permanent home for Santa Paula's renowned art collection is about to succeed, as the sparkling new Santa Paula Art Museum is set to open its doors. The opening exhibit, Celebrating the Founders: Organizers of the Santa Paula Art Show, will showcase the artists who started the Santa Paula Art Show in 1937, and which resulted in Santa Paula's amazing collection.
The Grand Opening will be held on Sunday, February 14th , from 1:00 – 5:00pm, at the Museum's new home in the historic Limoneira Building on 10th Street. A traditional ribbon-cutting ceremony will take place at 1:00pm, attended by the Museum's Board of Directors, dignitaries from City Hall and friends and supporters of the Museum from all over southern California. The public is encouraged to come and share in the excitement.
"We finally did it!" exclaimed an exuberant Mary Alice Henderson, Chair of the Museum's board. "We've come so far, and we have so many people to thank for making this dream come true. The biggest thank you goes to the Limoneira Company, whose vision and generosity have allowed us to transform their magnificent building into a showplace for great art."
The iconic Limoneira Building, designed by celebrated Santa Paula architect Roy C. Wilson, Sr. in 1924, has undergone an amazing facelift, performed lovingly by contractors Chris Wilson, of Colborn & Associates, and Chuck Teague, of Teague Construction. "It's an amazing space", marveled Jennifer Heighton, Museum Executive Director, as she surveyed the new galleries and browsed in the Museum Store. "At long last the paintings in the wonderful Santa Paula Collection, and artworks acquired in the future for the new De Colores Collection, will have a permanent home where they can be properly cared for, displayed and enjoyed for generations to come."
In addition to the ribbon-cutting ceremony, music will be provided by Santa Paula's own Xavier Montes, playing his Latin American harp, and Robert Ramirez, who will be playing classical guitar. Admission is free and refreshments will be served.
The opening reception would not be possible without the dedication and hard work of the Museum's Special Events Committee. Committee Chair is Joan Kus, and she is assisted by Laura Araiza, Randy Axell, Yvonne Babcock, Jeanette Cole, Bob Colvin, Joanne Cummings, Shirley Diamond, Michele Johns, Karl Krause, Susan Medina, Linda McLeland, Shelley Rounds, Deborah Sparkuhl and Jeanne Warren.