Santa Clara Valley Hospice Gives $300 to Key Club
By Gazette Staff Writer — Wednesday, August 8th, 2018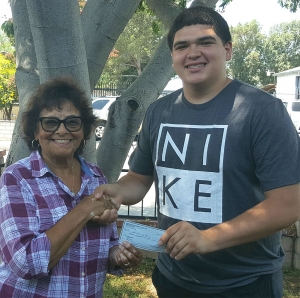 On Thursday, August 2nd President of the Santa Clara Valley Hospice Board of Director Rachel Bustillos presenting a check of $300 to Alejandro Arana, President of the Santa Paula High School Key Club.
Submitted by Santa Clara Valley Hospice
Rachel Bustillos, President of the Santa Clara Valley Hospice Board of Director, presented Alejandro Arana with a check for $300 in support of the Santa Paula High School Key Club. Alejandro, President of Club, accepted the check and said that the money will help the club offset the cost of the bus taking them to the Fall Rally South event in Six Flags this November.
President Bustillos said, "We, at Hospice are very appreciative of the many volunteer hours that these fine young students have given to our organization and to the community", "there are so many instances when their help has been invaluable!". For the past months, Key Club members helped Hospice in large events like the Night of Elegant Nostalgia, the Man Cave Tour, Cinco de Mayo, the Hawaiian Casino Night, and the most recent Santa Paula Senior Festival.
The club has also provided student-interns to Hospice, Lizette Cornejo and Emily Chavez. Lizette and Emily, now Seniors, helped the Hospice's office for several months while gaining professional office skills.
"Helping Hospice is very aligned with our Club's mission", said Alejandro. "Key Club and Hospice are all about helping the people in our community!"
"Key Club International is the oldest, largest, and most successful non-profit student-led organization for high school students. Through community service students learn about caring, character-building, inclusiveness, and leadership. Members of Key Club, a part of the community-service based Kiwanis International Family, develop themselves into young leaders as they positively impact their schools and communities."
The Santa Clara Valley Hospice is a community volunteer, 501(c) 3 nonprofit organization serving older adults and people with disabilities. They also offer support and programs for those experiencing short or long term illnesses in the cities of Santa Paula and Fillmore and the non incorporated areas of Piru and Saticoy. Their office is located at 217 N. Tenth St. in Santa Paula. All their programs are free of charge and they can be reached at 805-525-1333 M-F from 9 am to 1 pm.