Rotary, Serving the Community
By Gazette Staff Writer — Wednesday, March 16th, 2016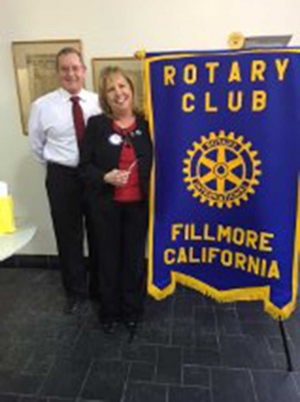 Rotary President Kyle Wilson welcomes Councilmember Carrie Broggie to Fillmore Rotary.
Born and raised in the San Fernando Valley, Carrie and her husband, Scott, moved to Ventura in 1987 where they raised their three children, Amanda, Matthew, and Kevin. In 2010, when they became "empty-nesters," they sold their home and moved to Fillmore. Carrie became active in the community initially be being appointed to the Film Commission. In 2014, she ran for and won a seat on the city council, and is now mayor pro tem. When Carrie is not busy with city council matters, she works at the Ventura County District Attorney's Office where she has been a legal assistant since 1993.
While campaigning for City Council, Carrie was invited to a Rotary meeting by Cindy Blat, a long-time Rotarian. At the time, Carrie knew little about Rotary, but she had somehow conceived the idea that it was really an organization made up of older, retired men. Nevertheless, since Carrie had only lived in Fillmore for a mere four years, she thought attending a Rotary meeting would allow her the opportunity to meet more Fillmorians – not a bad thing to do when one is campaigning for votes!
At that first meeting, Carrie realized she'd had a misconception as to what Rotary was really all about. She learned quickly about the work they do for the local community, their efforts to battle polio worldwide, and their genuine friendship and comradery for one another. (Not to mention that the members turned out to be a diverse group of men and women of all ages!) From that very first meeting, Carrie has experienced the welcoming spirit and kindness by this group of early Wednesday morning risers, and she has witnessed many other guests treated likewise.
So what started out to be a breakfast to meet potential voters has become an integral part of Carrie's life. She has forged lifetime friendships, and she knows that long after she retires from her day job at the District Attorney's Office and her city council seat, she will be rising early on Wednesdays to join her fellow Rotarians for breakfast.