Request for Public Assistance in Identifying Potential Arson Activity
By Ventura County Sheriff Department — Wednesday, October 15th, 2008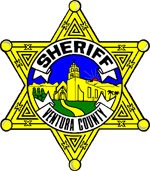 Ventura County Sheriff's Department
California wildfires pose a year-round threat to lives and property. It is everyone's responsibility to do his or her part in helping to mitigate the death and destruction these fires cause. As we enter a particularly volatile time of year for wildfires, the Ventura County Sheriff's Department would like to remind the public to be extra vigilant in looking for suspicious activity related to arson. Arson is an extremely serious offense that can result in the loss of life as well as millions of dollars in property.
If you see suspicious activity, it is important to realize that specific details often quickly fade from memory. Suspect and vehicle descriptions should be written down quickly. Camera phones (when safe to use) are another way to possibly document what is taking place. In addition to license plates and generic vehicle and suspect descriptions, law enforcement is helped tremendously when unique characteristics of a person or vehicle are noted.
Other things to look for related to arson activity are individuals loitering and vehicles parked in areas where they don't belong, particularly if there is a lot of fuel (dry grass, brush, etc.) in the area. Your awareness should be increased whenever Santa Ana conditions exist or you become aware of a Red Flag Warning.
If the activity appears to be an arson in-progress, call 9-1-1. For non-emergency reporting in the Sheriff's jurisdiction, call (805) 654-9511.