Rene & Yesenia Perez' Holiday Home Yard of the Month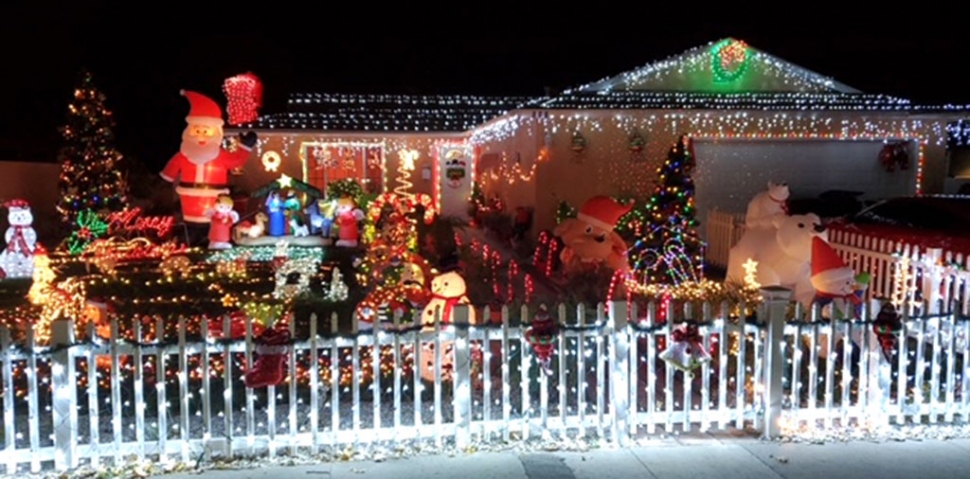 Fillmore Civic Pride awarded this year's December Holiday Yard of the Month to the Perez Family. Their home is located at 910 Sespe Avenue. They have penguins, polar bears and more decorating the yard. The Perez family will receive a $40 gift certificate from Fillmore's Otto & Sons.
By Anonymous — Wednesday, December 23rd, 2020
Congratulations to Rene and Yesenia Perez. Their yard was selected as the Holiday Yard of the month of December, located at 910 Sespe Ave. They will receive a gift certificate from Otto & Sons Nursery for $40. Ari Larson from Fillmore Civic Pride and Fillmore City Council Member was on hand to surprise and congratulate Rene. He said they have never won anything before, and he was very grateful and excited to receive the honor.
They have lived in Fillmore since 2005, and they began to decorate about ten years ago. They try to add to their décor every year. There is a large Santa, a large Christmas tree, a nativity, penguins, polar bears, and lots of both white and colorful bulbs to give the home a festive atmosphere.
Rene said that because of COVID it was more important than ever to decorate and give families something bright and fun to take their mind off everyday worries. They enjoy seeing children smile and point at the décor.
The Perez' family brings their inspiration from Mexico where family's use this time of the year to visit with family via a tradition called Las Posadas.
Rene and Yesenia are passionate about their yard all year long and enjoy working outdoors as a team when deciding what to add and how to arrange the decorations.
The public is encouraged to take a ride and look at the house and the many others that have been decorated around town.
If you have any questions about Fillmore Civic Pride please contact Ari Larson 805.794.7590.