Relay for Life Fillmore-Piru Summer Forums Announced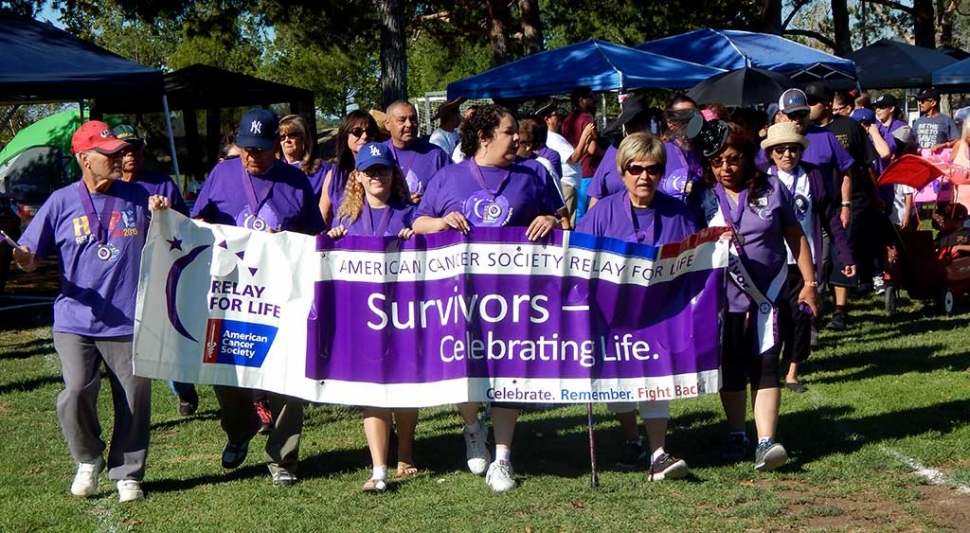 Pictured is a group from Relay for Life 2016 starting the Survivor lap, which kicked-off last year's relay. Photo Courtesy Relay for Life Fillmore-Piru.
By Gazette Staff Writer — Wednesday, June 14th, 2017
The Relay for Life of Fillmore-Piru would like to welcome the community to come participate in a series of forums over this summer for the Fillmore-Piru communities to learn more about the American Cancer Society and Relay for Life.
Over the Summer we will be hosting three community forums: free and open to anyone!
1. Hotel Partnerships- June 19th, 2017
2. National Cancer Information Center/ Cancer.org- July 24th, 2017
3. Survivor Speaker Kymmer Crookston- August 21st, 2017
All forums will begin promptly at 7pm and will end around 8pm at the Active Adult Center in Fillmore. (533 Santa Clara St, Fillmore CA)
On June 19th, the American Cancer Society representative Caitlin Barringer will be speaking on our local hotel partnership agreement with Brighton Management. Where local hotels partner with the American Cancer Society by providing complimentary rooms for visiting cancer patients utilizing our incredible local doctors, hospitals, and treatment centers. We will discuss qualifications, and how to use these services.
American Cancer Society would like to give a special thanks to the following hotel management firm and hotels for joining us in the fight against cancer and providing one less thing that a patient needs to worry about! Brighton Management, Ventura Beach Marriott, Sheraton Four Points Ventura Harbor, Holiday Inn Express Ventura Harbor, Courtyard Oxnard, Residence Inn Oxnard, Holiday Inn Express Port Hueneme, Hampton Inn Channel Islands.
Relay for life of Fillmore-Piru will be happening September 23rd-24th, 2017 from 9am-9am at Shiells Park in Fillmore. For more information on the Relay for life of Fillmore-Piru, please visit www.relayforlife.org/fillmoreca, or contact Caitlin Barringer (805)644-4237.
Relay for Life of Fillmore-Piru will also be holding their first ever corn hole tournament at the Relay for Life event; from 12pm-5pm Saturday September 23rd. For more questions or to register please email Charissa McLain at charissa.mclain@gmail.com. First place prize will be (4) Southwest One Way Domestic Flight E-Passes.