Pumpkin Patch & Fall Harvest Festival, Faulkner Farm
By Gazette Staff Writer — Wednesday, August 20th, 2008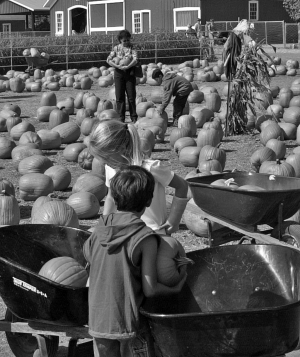 Picking pumpkins at Faulkner Farms.
Picking pumpkins, hayrides, a petting zoo, mini train rides, and live entertainment are just some of activities planned for the Pumpkin Patch & Harvest Festival at Faulkner Farm in Santa Paula. For four weekends in October, the historic Ventura County farm, nestled in a beautiful country setting, offers a bounty of delightful family activities. The month-long celebration is sponsored by the Santa Paula Rotary.
New this year is a giant trebuchet. Trebuchets were used in the Middle Ages to fling canon balls into or over walls surrounding towns. Instead of canon balls, the Pumpkin Patch trebuchet will launch pumpkins 150 to 200 feet in the air, landing with a splat in a designated area. "It should be quite a sight," says Mike Mobley, Santa Paula Rotary president.
A trip to the Faulkner Farm pumpkin patch will also provide plenty to eat: barbequed tri-tip, country chicken sandwiches, whole and slices of fresh baked pies, kettlecorn, caramel apples and lemonade will be served during the festival.
"Many long-time residents of Southern California have wonderful memories of picking pumpkins at Faulkner Farms," says Mobley. "It's been a tradition for more than 30 years. There's nothing like picking pumpkins on an actual farm surrounded by acres of open fields."
George and Roda Faulkner built their large Victorian era farmhouse and barn in 1894. Both buildings remain on the 27-acre property. The Hansen Agricultural Trust now owns the site.
This is the second year that the Santa Paula Rotary Club is sponsoring the pumpkin patch. Also lending support and volunteering are members of Future Farmers of America, 4-H, Youth Football, Isbell Jr. Condor Cancer Crushers, Latino Town Hall and others. "The Rotary is involved in many community activities," says Otto Schimmel, a Santa Paula Rotarian and harvest festival organizer. "Proceeds from the festival will go toward scholarships, junior achievement, Christmas baskets for the needy, Christmas stockings for convalescent home residents and ongoing financial support for healthcare, youth organizations, the arts and international projects."
The festival takes place from 10 a.m. to 5 p.m. on October 4 and 5, 11 and 12, 18 and 19 and 25 and 26. Faulkner Farm is at 14292 W. Telegraph. For more information and directions, call 888-522-1884 or go to www.faulknerfarmpumpkinpatch.com.