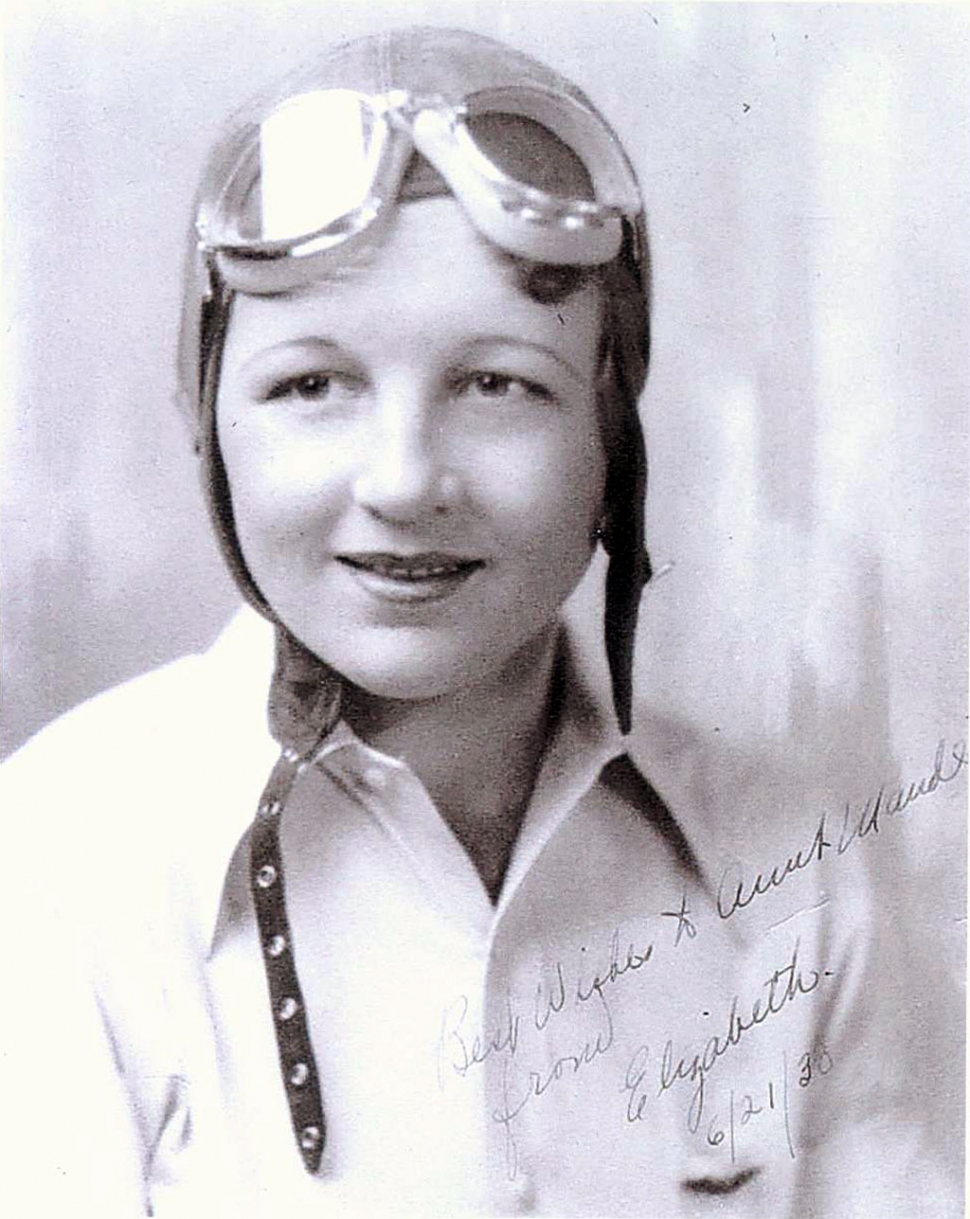 Elizabeth Leeanne Elkins
By Tom Pedersen — Wednesday, May 21st, 2008
Bettie Elkins Lund
Elizabeth Leeanne Elkins, known as Bettie, was born on June 6, 1906 in Fillmore, California. She was the daughter of Caswell Carl Elkins, Jr. and Amy Fay Anderson Elkins. She and her older brothers, Herbert and Caswell, and a younger sister Roberta, spent their childhood on the family's citrus farm in the Santa Clarita Valley. She became interested in aviation at the age of nine when she won a ride in a Curtiss Jenny by selling magazine subscriptions. But it wasn't until after her marriage in 1929 to the famous stunt pilot Frederick M. Lund that her own career in aviation began.
Frederick was born in Alexandria Township, Minnesota and also grew up on a farm. He left home to become a mechanic and soon thereafter World War I commenced. He joined the Air Service and was sent to Texas for training and then on to serve in the 4th Pursuit Squadron at Toul, France. While there he was exposed to mustard gas and nearly died. He contracted tuberculosis following the war and returned home to the United States where he was not expected to survive.
Lund ultimately overcame the disease and hired on with the Gates Flying Circus as a stunt pilot, working for a while in Hollywood, where he picked up the nickname of "Fearless Freddie." He then hired on with the Waco Aircraft Company as a test pilot and traveled around the country performing in stunt exhibitions. It was during one of those barnstorming circuses that Bettie and Freddie met and developed a romance that in 1929 led to marriage.
Bettie followed him around the country to air meets during the depression between 1929 and 1931. In his red, white and blue Waco Taperwing airplane, Freddie Lund was well known throughout the nation for his daring aerobatics. Freddie performed the first outside loop ever accomplished in a commercial airplane. He was the World Aerobatic Champion in 1930. Between performances he taught Bettie how to fly. Because their schedule required them to travel so much, Bettie learned to fly in thirteen hours at thirteen different airfields using thirteen different airplanes.
Bettie's first solo flight occurred in Miami, Florida in 1930 in a Curtiss Fledgling. Because her flying lessons had taken place at busy airfields, usually during air meets, she had virtually no taxi instruction, so she was told after her first solo flight to just roll to a stop and not move until Freddie got there.
After she completed just three solo flights for a combined twenty minutes, Freddie thought it was time for her to attempt her first record. She responded by setting a new women's barrel roll record of sixty-seven in just twenty-eight minutes. In addition to her aerobatics, Bettie competed in air races and dead stick landing contests. Thereafter, Bettie and Freddie Lund became one of the most famous husband and wife flying teams of the era.
On October 3, 1932, Bettie watched as her husband competed in a pylon race in Lexington, Kentucky. As he was turning around one of the pylons, Freddie was leading another plane when its propeller hit the tail of Freddie's plane cutting off it's stabilizers. He crashed to the ground in seconds and was killed instantly.
The Smithsonian Institute records show that Bettie had little time to realize what had happened when she received a call from the airport manager of Charlotte, North Carolina, inquiring about a contract Freddie had with them to appear at an air show. She replied, "I'll fly in his place."
She eventually flew two more air shows to fulfill Freddie's contracts and then retired for a number of weeks to ponder her future. She then went out and bought herself a Waco Taperwing, painted it red, white and blue like Freddie's, and started out on her own solo career. By the late 1930's she was one of the country's top stunt pilots.
During her career, Bettie would meet and become friends with both Eddie Rickenbacker and Jimmy Doolittle. She also served as a WAF during World War II and transported airplanes from the manufacturing plants on the west coast to the east coast where they were later transported to Europe for use against the Axis powers.