One Step A La Vez to Host MMA Athlete Jose "Froggy" Estrada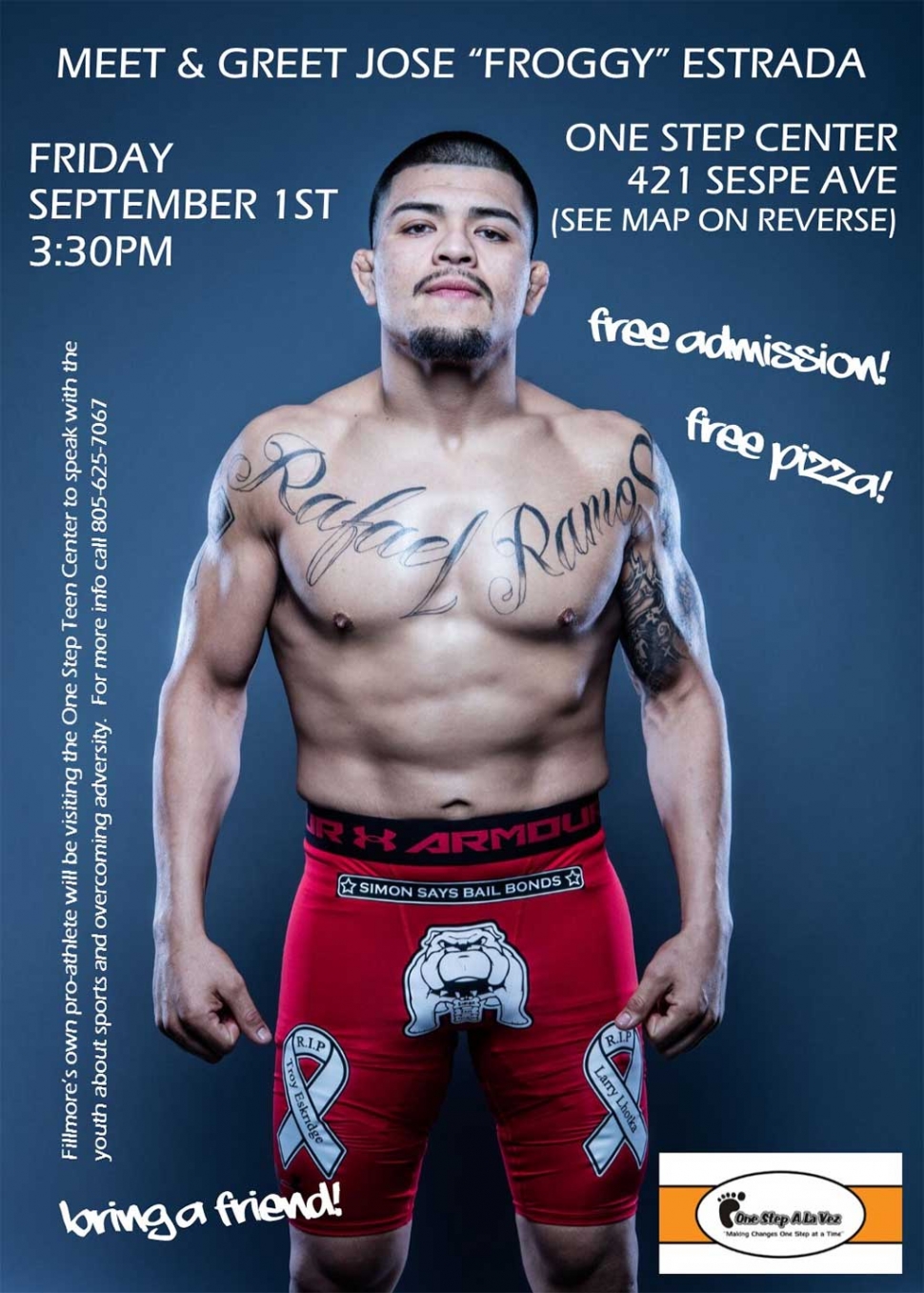 By Gazette Staff Writer — Wednesday, August 23rd, 2017
One Step A La Vez Teen Advocacy Center and MMA athlete "Froggy" recognize the importance of a positive role model
Fillmore, CA - One Step A La Vez (OSALV) Teen Advocacy Center invites and welcomes hometown hero/MMA athlete Jose "Froggy" Estrada. As he will be conducting a motivational speech about how he overcame adversity and stayed on the right path by keeping himself busy by participating in wrestling and mixed martial arts. Froggy will also take the time to do a meet and greet with the opportunity to get an autograph and a picture. Froggy's visit will be a part of a back to school open house at OSALV on September 1, 2017, to welcome our returning teens and hopefully to reach out to new teens interested in being a part of our center. OSALV is located at 421 Sespe Ave. in Fillmore, CA. As the event was briefly described at the beginning, the importance for a teen to have a positive role model in their lives is critical in this life stage.
Froggy understands the importance of giving back to his community and loves to lead by example to show that hard work, sacrifice, dedication, and discipline were important in the pursuit of his goals and dreams. His love for his family, friends, and beloved grandpa up in heaven in his hometown of Fillmore and all around Ventura County is the driving force that runs through his veins which motivate him to give his all in the octagon. When I interviewed "Froggy" he would always reiterate that he loved making his family and friends proud of him, which is important to him. In Froggy's own words, he told me that he is "always down to give back to the kids" and excited "to teach them that hard work pays off". With "Froggy's visit to One Step A La Vez, it reinforces our center's mission and shows our community that there are people in our community that want to give back.
Our mission at OSALV is to serve the communities of Santa Clarita Valley, specifically the communities of Fillmore, Piru and Santa Paula, by providing a safe environment for 13-19-year old's and preparing informed, empowered youth who are equipped with the tools to lead, cultivate cultural awareness, bridge the gaps of inequality and advocate for fair, just and healthy individuals and communities.