Ojai International City of Peace sign welcomes you to Ojai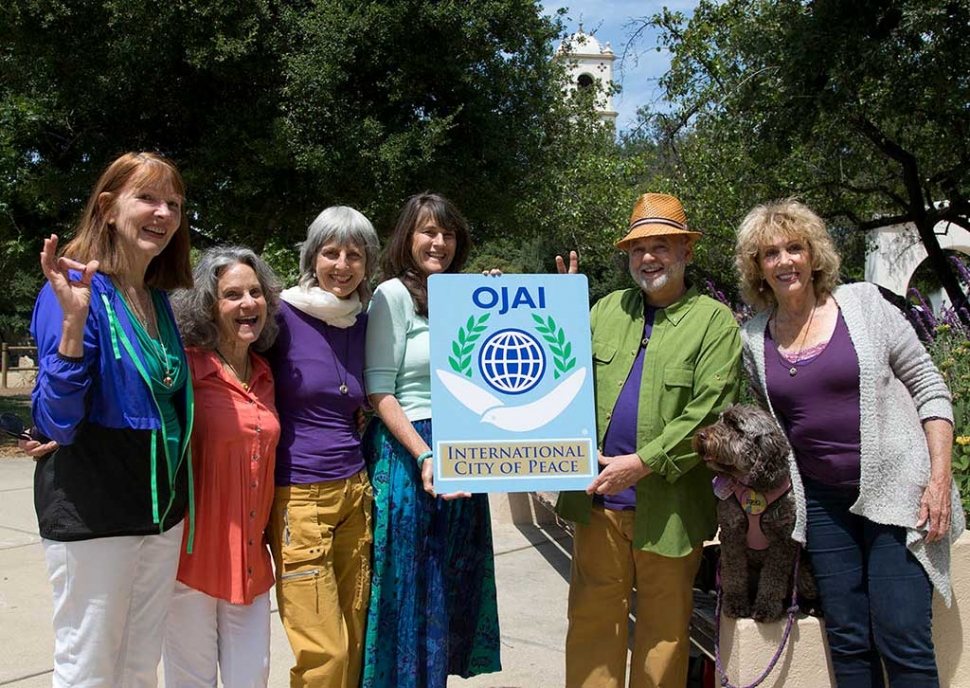 Ojai Peace Pod. Participants from Left to Right: Anahata Pomeroy, Julie Heyman, Lisa Berman, Kathy Nolan, Brian Berman, Dianne McCourtney with Lucy. Photographer David Baker.
By Gazette Staff Writer — Monday, June 13th, 2016
OJAI, CA - The Ojai International City of Peace team is pleased to announce that Ojai will be the first City of Peace in the world to install a welcome sign at the entrance to a community. It will be located at the "Y" intersection of Ojai Avenue and Maricopa Highway, just south of Rotary Park, adjacent to the bus stop and south of the flagpole.
A ribbon cutting ceremony will take place on Thursday, June 16, at 10:00 a.m., with Paul Blatz, Mayor of Ojai, doing the honors, and Greg Grant, City of Ojai Public Works Director, also in attendance. Everyone is invited to come share this historic moment for the Ojai community.
A local group, known as the "Peace Pod," created the sign's beautiful design, along with Todd Chandler, owner of Chandler Design, incorporating the International Cities of Peace logo. This sign will be offered as a template, to not only the current 134 International Cities of Peace, but to future cities as well.
International Cities of Peace began in 2009, with the vision to foster peace as a consensus value in cities around the world - bringing peace consciousness into all aspects of a community. Ojai received official status in April 2015, becoming the 99th city. ICP has the goal of having 1000 Cities of Peace by the year 2020.
Parking is available at the Park & Ride on Ojai Avenue on the north side of Rotary Park. Carpooling is encouraged, or ride your bike!
For questions about Ojai ICP contact Julie Heyman: jheyman1@roadrunner.com or Brian Berman: Brian@BermanSculpture.com
Additional information available at: http://www.internationalcitiesofpeace.org/cities/ojai/ojai.html