Nova Storage Enhances its Historic Building With a Touch of Art & History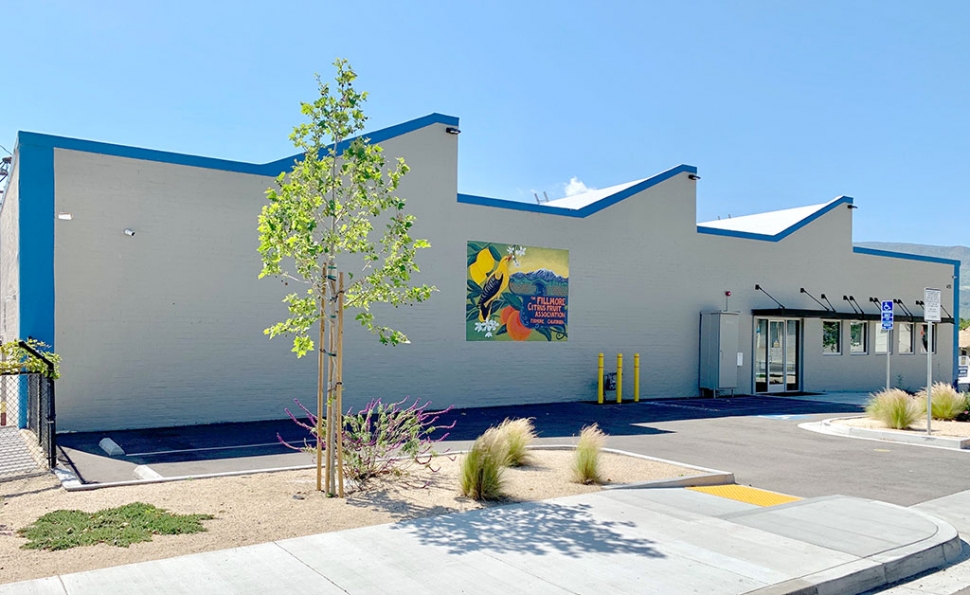 By Anonymous — Wednesday, April 22nd, 2020
Fillmore's Nova Storage added a new mural to the front entrance of their building pictured above is the new mural which was done by a Fillmore local artist Gabriel Cardenas. Photos courtesy Nova Storage.
Nova Storage purchased the historic building located at 455 A St in 2016. Since then, Nova has invested over $1.2 million into the property. Built in 1946 for the Fillmore Citrus Association, the building was known as Packing Plant #2. The building served the citrus farmers around Fillmore until 1994 when earthquake damages closed the building and packing operations moved to a facility in Piru. The building sat abandoned until 2004.
This historic building now features safe and secure self-storage and RV parking on the property for the Fillmore community at large.
To enhance the appearance of the historic building, an 8 by 10-foot mural now adorns the front wall. The mural, painted by local Fillmore artist Gabriel Cardenas, honors, respects and preserves Fillmore's great agricultural heritage. The mural was approved by the Art Commission of Fillmore on December 11, 2019. It is the first approved mural in the city!
Larry Layne, the principal owner of Nova Storage, believes that "being part of the communities we serve is important and something we embrace as policy." Larry found Fillmore charming; a town where he wanted to do business. Fillmore reminds him of growing up in San Fernando, where once the area had farms and farmers markets to buy fresh produce.
Upon learning about the Fillmore Citrus Association packing house history, Layne embraced the idea of presenting crate label artwork. Crate label art is displayed in the entrance foyer and on the office walls and now, with a beautiful mural on the building frontage. History is on display at Nova Storage, Fillmore! Nova has had a great response from our customers so far, receiving several compliments about the work of art provided to our community.
Talented local Fillmore artist, musician, and "artivist" Gabriel Cardenas was brought in to bring this idea to life. Cardenas is currently a Master's graduate student at Cal State University, Northridge (CSUN) where he is pursuing research in Chicano Art politics and Muralism. Previously, Gabriel exhibited his art in and around Santa Barbara where he received his bachelor's degree from UCSB. As a teacher and mentor to youth in the community, Gabriel has led various mural installation projects, and his hope is to teach, mentor and foster a generation of critical thinkers through the practice of art.
"It's an honor and privilege to be able to paint a mural in my home town, my mother used to work in these packing houses way before I was born". - Gabriel Cardenas
Nova storage has been in the industry since 1978 and continues to be active in the communities they serve, providing Ventura County, the San Fernando Valley, High Desert and South Los Angeles with superior customer service and offering clean and secure facilities at the lowest rate. Stop by one of their nine storage locations, or find them on Facebook, Instagram, or on their website NovaStorage.com.