Miss Southern California USA Pageants - Scholarship & Ambassador Opportunity for Young Women
By Gazette Staff Writer — Wednesday, October 8th, 2008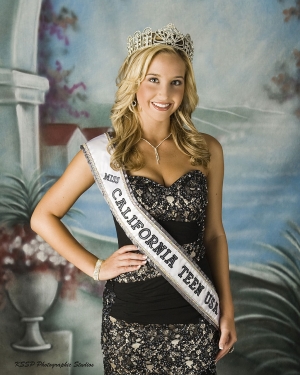 Taylor Atkins
The annual Miss Southern California USA® Pageant is now accepting applications. This year the pageant is geared toward giving young women a choice to compete at a state pageant or receive a cash scholarship. The theme of the pageant is Character Counts teaching young women self-respect and ambition towards their future.
This is a preliminary pageant, which can lead to other state pageants or a cash scholarship of $500.00, and is open to Teen applicants ranging from ages 13 to 17 and Miss applicants 17-25.
Applicants must be a U.S. citizen never married or pregnant must be a resident of California for the past 6 months. Applicants attending college out of state may enter if their primary residence is in California.
The practices for the pageant will begin on October 9th, 2008 at 6:30 p.m. at Brekke Elementary School, 1400 Martin Luther King Jr. Dr. Oxnard, CA. The participants will be taught communication skills, the importance of character, walking techniques and stage presence.
The pageant will be on November 30, 2008 and held at the Pacifica Performing Arts Center, 600 West Gonzales, Oxnard, CA. Tickets will be available at the door for $15 the night of the competition. This pageant encourages young women that would like to make a positive impact in their community, and to be motivated to achieve their educational and career goals.
This year we are extremely excited to have the reining Miss California Teen USA 2008, Taylor Atkins. She will open our show with a dance performance as well as be our guest Mistress of Ceremonies. Marley Gordon, Miss Greater Ventura County USA and Liz Anderson, Miss Greater Ventura County Teen USA will be showcased in the dance performance and production of the pageant.
The Oxnard Auto Center, California Peace Officers Association, Mary Kay Cosmetics Princess Bridal and California & Main are sponsors for this competition.
If you are interested in participating or you know someone that is please contact Martha Foster at 983-3237/512-6214 or toayproductions@yahoo.com.