Local Rotary club collects books for world record attempt during the Rotary International Convention in Los Angeles
By Anonymous — Wednesday, June 25th, 2008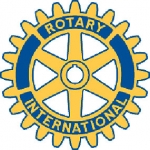 Rotary International
The Rotary Club of Fillmore Sun Risers did its part to make sure the Wide World of Books project sets a world record for the largest book drive ever during the Rotary International convention June 15-18 at the Los Angeles Convention Center.
Club President Ken Smedley says the club gathered 200 children's books in the weeks leading up to the Convention in preparation for the drive.
"We're thrilled to be a part of this very special project that benefits our children by promoting literacy and cross-cultural awareness," President Ken says.
At the invitation of the Southern California and Southern Nevada Rotary clubs hosting the convention, many of the nearly 20,000 registrants from more than 140 countries brought children's books representing their home cultures and languages for the Wide World of Books project. This international book drive, co-sponsored by the Los Angeles Times' Reading by 9 program, gathered 242,624 books to be donated to public school students in grades K-3 throughout the region, where studies show too many children read below grade level.
An adjudicator from Guinness World Records was present to certify that the project was the largest book drive ever completed in one week. Even Rotary members unable to make the trip to Los Angeles were involved, either by shipping books directly to the convention or by contributing through a "virtual book drive".
During the convention, a symbolic "mountain of books" welcomed convention registrants and members of the public in the atrium of the Los Angeles Convention Center, where Rotary members read to local schoolchildren.
"It is symbolic that the mountain of books aas built atop the world map in the atrium's floor design," says local Rotary leader Ingo Werk, who chairs the project, noting that nearly 100 languages are spoken throughout the diverse Los Angeles Unified School District.
The book drive is just one example of the hundreds of literacy-related projects supported by Rotary clubs worldwide. "Literacy is crucial in determining a person's overall academic, professional, and personal success," says Werk.
The Rotary convention is the humanitarian service organization's most important meeting of the year, giving members from around the world an opportunity to plan service projects, share success stories and renew acquaintances. It is often described as a "mini-United Nations" due to its international and cultural diversity.