The Little House That Grew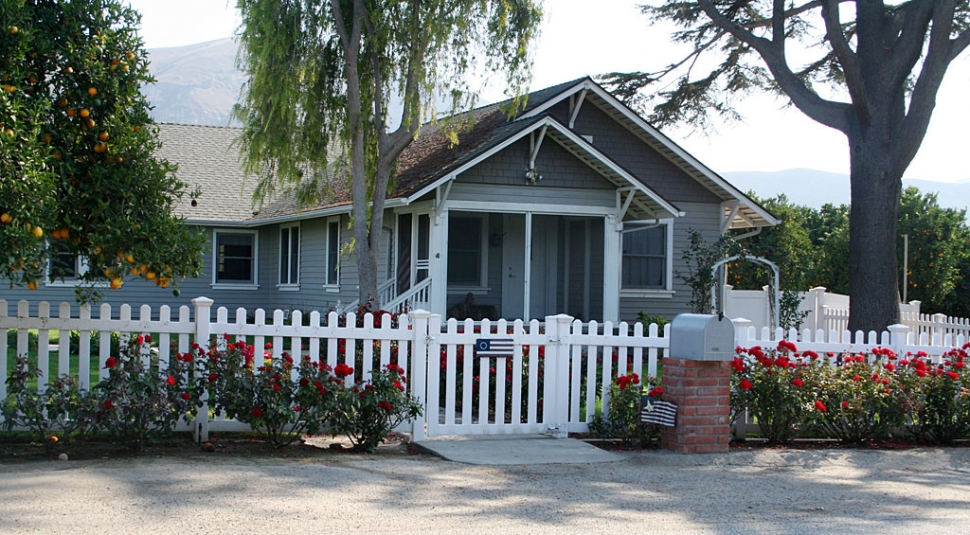 The home of Brandon and Adrienne Theising on Los Angeles Ave in Bardsdale.
By Gazette Staff Writer — Wednesday, October 22nd, 2008
The warm family home of Brandon and Adrienne Theising on Los Angeles Ave. in Bardsdale actually began its life in 1910 a mile away on Pasadena Ave. as a one bedroom, one bath home of another young couple, Harry and Katie Gage. They and their two sons lived happily in the country until March of 1928 when they were driven from their home by flood waters from the St. Francis Dam. Everyone escaped safely and the house was rebuilt and rented. Again it was flooded in 1943 and the Gages decided to move their home away from the rampaging river to a quieter location on Los Angeles Ave. Eventually their youngest son, Dick and his wife Beverly lived there until Dick's death.
The Theisings, seeking a quiet place in the country to raise their family, bought the small home and have expanded it to include four bedrooms, a large welcoming family room and kitchen, screened porch, and a play yard that is every child's dream. Beautifully restored antiques decorate the living area and an arbor covered with red roses leads you to their front door.
This house has quite a history and may be seen during the Fillmore Historical Museum Annual Fall Home Tour. This year the tour will highlight four homes in Bardsdale. The date is Sunday, Nov. 9th from 12:00 to 4:00. The Heritage Valley Fine Arts Sale will take place on the Museum grounds from 11:00 to 4:00 on the same day. Tickets are $20.00 advance sale and $25.00 the day of the tour. They may be purchased through the Museum (524-0948) or at Coffeeboy or Mirage in town, or at any home the day of the tour.