Junior Livestock Auction Returns to the Ventura County Fair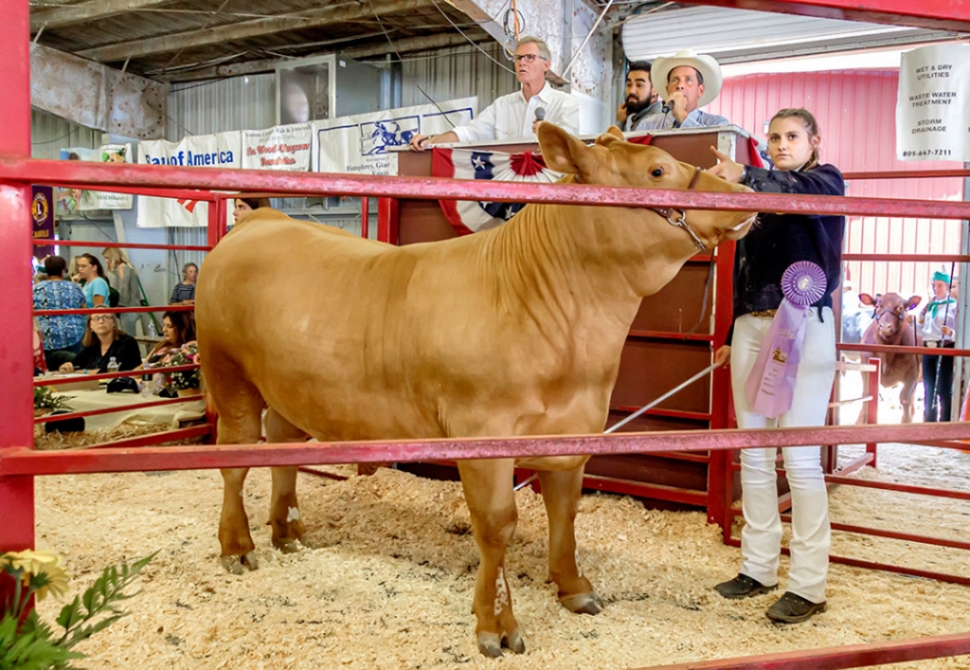 Pictured is Erin Berrington from Fillmore, who raised a 1,252 pound FFA Reserve Champion steer named Keegan, that fetched $5.00 a pound at the 2019 auction. Photo Courtesy Bob Crum.
By Gazette Staff Writers — Thursday, August 4th, 2022
Ventura County Fair 2022 Up-and-coming ranchers and future farmers in the Ventura County 4-H, Grange, FFA and individual youth programs have spent the better part of a year raising, grazing and tending to market animals for exhibition and sale in the Toyota Livestock Area at the 2022 Ventura County Fair, August 3-14.
Everyone including community members and businesses are encouraged to bid on and buy the locally raised lambs, hogs, goats, poultry and beef in support of local youth at the Ventura County Fair Junior Livestock Auction, Friday, August 12.
If you have never attended an auction, we encourage you to attend, The expert auction staff will be on hand to answer any questions you may have and walk you through the process.
When you buy an animal, you can stock your home freezer with top-quality meat, great to have for that backyard barbecue or block party, you can share it or give a one-of-a-kind gift to a friend, family member or to FOOD Share to show your community support.
Participants follow quality production practices in nutrition, health, care and handling of their livestock to assure the meat meets high quality standards. The 4H, Grange, FFA and individual livestock projects are valuable tools for teaching life skills and responsibility to youth, who dedicate their own time and resources to care for an animal and learn a sustainable business practice. As exhibitors graduate and conclude their livestock showing careers, they use the skills learned and the connections made at the show into college and their professional careers.
Interested bidders can register at the auction. There will be a new buyer registration table in front of the Clark Pavilion. There is no registration fee. Once registered, you are given a buyer card. All buyers can park in the main lot and there will be shuttles to take eyou to livestock. The auction begins at 9am with lunch being served from 11am-2pm. All champions will be auctioned at noon.
To bid, simply raise your hand as the exhibitor leads their animal into the auction arenaand a spotter will call on you. The spotter will go back to them and ask if you want to raise the bid if another buyer is bidding against you.The highest bidder buys the animal.
The Ventura County Fair Junior Livestock Auction, presented by Gold Coast Toyota Dealers, will begin at 9AM on Friday, August 12. For more information visit www.venturacountyfair.org