June 2016 Yard of the Month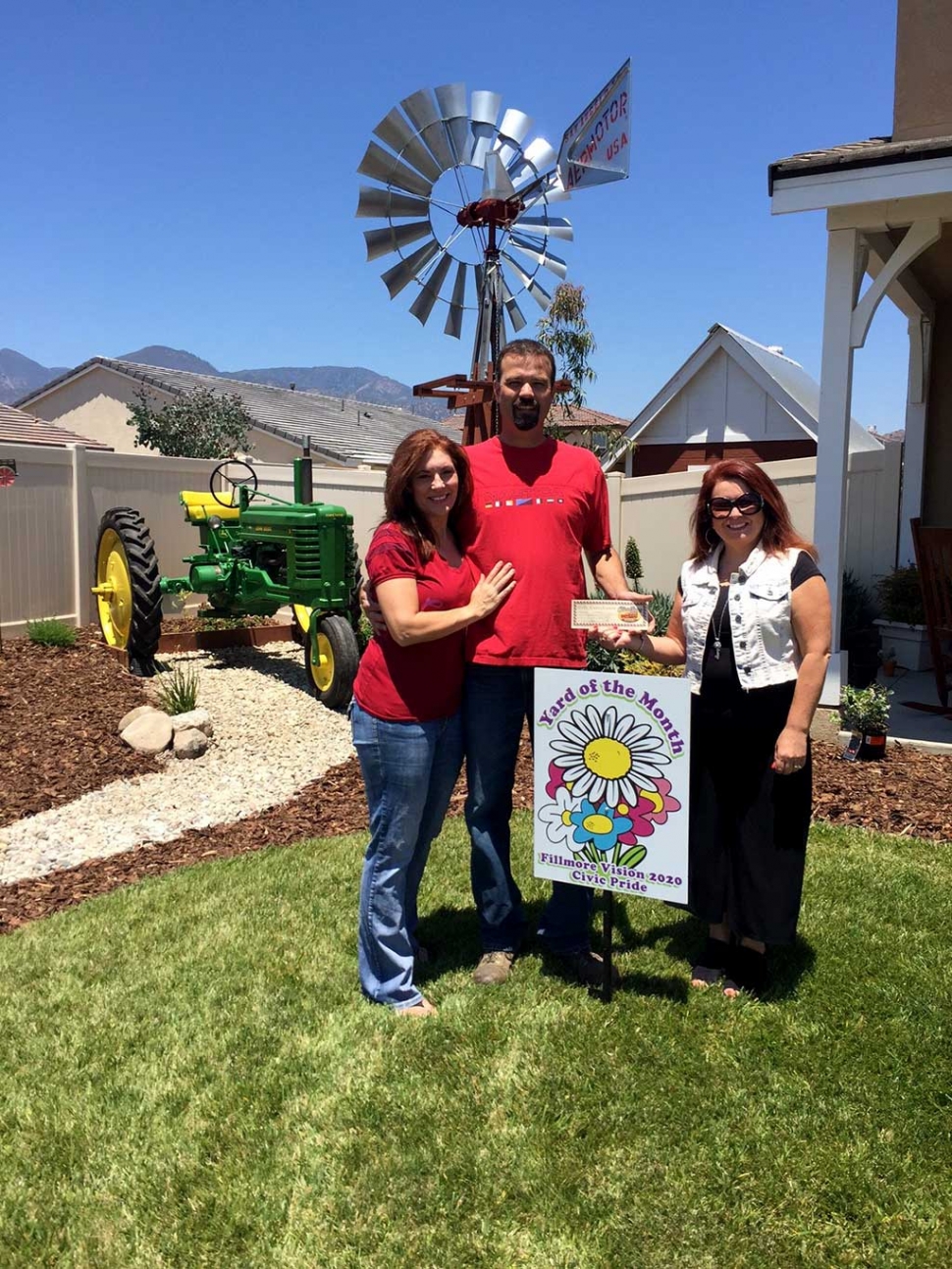 Yard of the Month winners Kevin and Sheryl with Theresa Robledo.
By Gazette Staff Writer — Wednesday, June 8th, 2016
Theresa Robledo with Civic Pride Vision 2020 presents Yard of the Month to Kevin & Sheryl. Congratulations! " A little over a year ago my fiancée and I started looking for a home to buy. After many months of looking, our search led us to Fillmore. We were drawn in by the beautiful mountain views and the warm, small-town feel; and, let us not forget … the housing prices. We visited the Bridges track by Williams Homes and fell in love with their model three floor plan, and the bungalow style exterior. After settling on one home, my fiancée, Sheryl, convinced me that we would be happier in a different model three on a specific lot within the track. Well, that lot was to have a farmhouse exterior, and not only that, but a red farmhouse exterior. After realizing we just bought a barn to live in I decided to fully embrace the theme the City was trying to convey. After many months of staring at our new barn and thinking, "what is missing," it came to me, "this barn needs a windmill!" So the hunt for the perfect windmill began. After many days of research I found the Aermotor Windmill Company. For over 125 years they have been making windmills for ranchers and they are still running strong to this day in San Angelo, Texas. So on the return from a road trip to Texas to visit my parents I swung by their factory. There I picked up the first addition to our little ranch in Fillmore, that beautiful Aermotor 702 in our front yard. The windmill gave the house a great little ranch appeal as it spun around and around and around. However, on one of Fillmore's amazing evenings while watching the windmill just quietly spinning and turning, it seemed to me like the windmill was lonely; tirelessly looking for a long lost partner to share its life. So, yet another hunt began … the hunt for the perfect tractor! After many months of searching I found it, a 1949 John Deere BN tractor. This little tractor was hidden away in a garage in the outskirts of Barstow, California. It was restored several years ago and very well taken care of. Now, the windmill has a friend with which it can share those amazing evenings. So far, aside from the windmill and the tractor, we have planted over 20 trees on the property, built a custom shed that matches the house, added garden bridges and brick pathways meandering throughout the backyard. We have many years to come and many more projects planned, including another tractor for the backyard garden area, assuming I can get Sheryl to agree. If you ever see an old green tractor putting down Central, it's just me having fun bringing back a little historic, old-town feel to Fillmore. " Drive by 357 Edgewood Drive. Thank you Otto & Sons Nursery for the generous gift certificate to Kevin & Sheryl.