By Anonymous — Wednesday, June 11th, 2008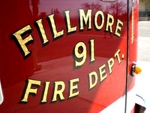 Fillmore Fire Department
The City of Fillmore Fire Department in conjunction with the Ventura County Sheriffs Department would like to remind citizens of our Illegal Fireworks Ordinance.
In 2006 the Fillmore City Council adopted ordinance 15.39.010 of the Fillmore Municipal code making it illegal to possess, discharge, or sell any type of non-approved firework within City of Fillmore city limits. The fine imposed upon violators is $1,000.00.
It is the goal of the City of Fillmore to eliminate any unnecessary hazards generated by the use of illegal fireworks. By enforcing this ordinance the City of Fillmore hopes to curtail the widespread problem. Citizens are reminded that there will be zero tolerance for subjects found in violation of this law.
Citizens should expect to see increased patrol efforts by Deputies and Fire Department Personnel beginning the first week of June continuing through the Fourth of July Holiday Season. A fireworks task force has been established and will be responsible for the investigation and enforcement pertaining to fireworks related activities in Fillmore. In addition to increased patrol, illuminated sign boards will be placed alongside highway
126 as well as posters throughout the city, reminding citizens Fillmore is not the place to discharge illegal fireworks.
If you witness any illegal activity please call the Fillmore Police Department at (805) 524-1500 ext 350. All reports may remain anonymous.