Heritage Valley 5K-10K Race and Fitness Walk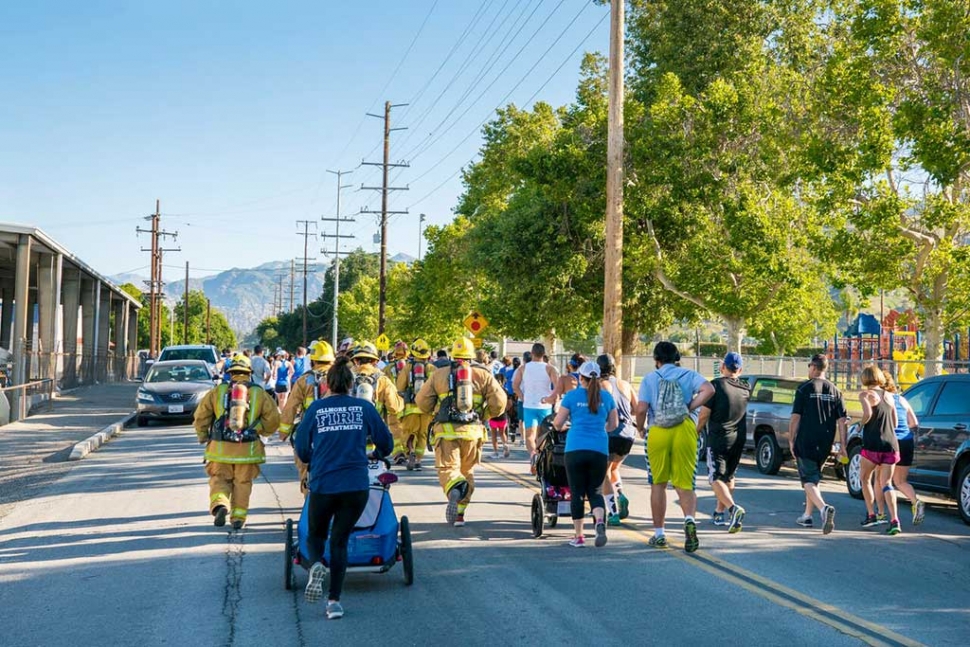 By Gazette Staff Writer — Wednesday, June 7th, 2017
Submitted By Rotary Club of Fillmore
The annual Heritage Valley 5k-10K Race, Fitness Walk, Fun Run was once again a success. Over 225 runners & walkers entries were received this year – up from 202. The race is sponsored by the Rotary Club of Fillmore with partners Fillmore Unified School District and Santa Clara Valley Explorer Post 2958. Runners & walkers of all ages enjoyed good weather. After the race the participants, family members and friends enjoyed the sunshine on the lawn of FUSD administration waiting for final results. Booths included Clinicas Del Camino Real and Norma Moreno, massage.
Overall female winner of the 5K was Kiana Hope in 19:50.3 and overall male winner was Everado Magana in 17:22. Overall female winner of the 10K was Niza Laureano, age 10, in time of 41:52.4 and overall male winner was Oscar Orozco in 35:55.7. These winners received a gift certificate from Inside Track in Ventura and local fruit bag. Medals were presented to the top three places in each age group/gender.
Teams participated for the opportunity to win funds for their favorite charity. The first place team in the 5k was FHS Cross Country Team and second place team was Condors Youth Cross Country. The first place team in the 10K was Santa Clarita Runners. They also were the team with the most participants.
The Rotary Club of Fillmore would like to thank all of those who participated and supported this event. We'd like to thank our sponsors and supporters with special acknowledgement to our Gold, Silver & Bronze Sponsors & Fitness Fans. Gold Sponsor: Union Bank. Silver Sponsors: Gold Coast Embroidery, Bank of the Sierra, Fillmore Piru Citrus Association. Bronze Sponsors: Dick & Martha Richardson, Edward Jones Financial, Fillmore Search & Rescue, HANDS-On Consultations, Heritage Valley Blazers, Piru Petroleum Club, Quality Ag, Inc., Western Yosemite Insurance Services. Fitness Fans sponsors: Ari Larson, Diamond Reality, Aguirre Financial, and Jan Marholin.
There were many, many donations of raffle items and in-kind donations: Water Store generously donated water and ice for our water stops for runners. 7-Eleven & Sparkletts & Julie Latshaw donated bottled water. Subway donated two sandwich trays. Super A donated boxes of fruit. Ed McFadden donated fruit for runners and raffle baskets. Additional raffle donations came from: Adrian Rangel Photography, Aguirre Financial, Andy Klittich, Ari Larson, Bank of the Sierra, Bennett's Honey Farm, Beylik Farms, Bright View Tree Company, Chivas Skin Care, Cindy Blatt, Martha Richardson, Don & Ruth Gunderson, Edward Jones, El Pescador Resturant, Elkins Ranch Golf Course, Fillmore & Western Golf Course, Fro-yo, Baskin Robbins, Inside Track, Jan Marholin, Kate English, Mountain View Golf Course, Norma Moreno, Renee Swenson, Rotary Club of Fillmore, Sandra Lupercio, Union Bank, Vallarta's.
Thank you to all our volunteers: Santa Clara Valley Explorers Post, Fillmore Search & Rescue, Epi Torres, Joe Martinez, Daisy Palma, Fernando Vancini (PYS), Stephen McKeown, Paige McKeown, Diane Wareham, Kim Tafoya and members of FHS cross-country, Josh Cox and members of the FHS Interact Club. (Our apologies to anyone we missed!).
Proceeds from this event help fund Fillmore/Piru Youth Programs, FHS Athletic programs and other Rotary projects like: FHS & Sierra H.S. scholarships, dictionaries to all third graders, RYLA (youth leadership camp), Condor Cross Country, Cub Scout Pack 3400, Piru Youth Sports, FHS X-country, FHS swim team, FHS Mock Trial, just to name a few.