Fillmore resident Felicity Pastrana, at age 10, was diagnosed with acute lymphoblastic leukemia
By Anonymous — Wednesday, October 30th, 2019
She is among many of children diagnosed with cancer who have benefited from services provided by Teddy Bear Cancer Foundation (TBCF)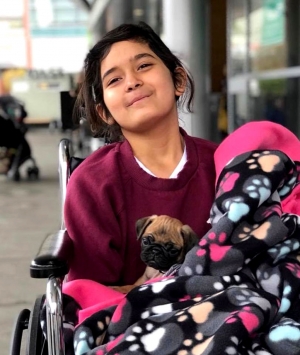 Fillmore resident Felicity Pastrana, at age 10, was diagnosed with acute lymphoblastic leukemia. She is among many of children diagnosed with cancer who have benefited from services provided by Teddy Bear Cancer Foundation (TBCF).
As the finale to Teddy Bear Cancer Foundation's incredibly successful Gold Ribbon Campaign held in September for National Childhood Cancer Awareness Month, we want to continue to raise awareness for children dealing with cancer by honoring special young heroes in your community who want to share their story about their personal journey with cancer.
Below is a personal story about Felicity Pastrana's journey:
When Fillmore 10-year-old, Felicity Pastrana walked out of her fifth-grade class in Ventura County one day in November 2015, she never imagined she wouldn't be returning to school for the next two years.
On Nov. 18, 2015, Felicity was diagnosed with leukemia and her daily routine quickly transitioned from sitting in class with her friends, to fighting for her life. Her studies consisted of working with a home hospital teacher on a weekly basis, provided she wasn't too sick to meet.
When she was well enough to return to school, TBCF was there to cover the cost of an in-depth neuropsychological test through its Educational Advocacy Program to assess the negative impact from chemotherapy treatments on her development and learning. The result of the test provided a case for an Individualized Education Plan to be developed so that she could receive special education classes.
As part of the Educational Advocacy Program, TBCF additionally covered the expenses of a state credentialed teacher to provide tutoring for Felicity.
"Despite the enduring trauma her body had been through, Felicity always showed up with a smile and excitement to see what new learning adventures awaited her. It was more than just assistance with the academic transition, it was a time to listen, guide and validate the multitude of feelings that surrounded her as she was trying to live life as a child again," Felicity's tutor Tyra shared.
"If she didn't receive that extra help, she would have had a much harder time. She is now in remission and receiving As and Bs in her 8th-grade classes in Middle School!" said Felicity's mom, Victoria.
Teddy Bear Cancer Foundation (TBCF) is a non-profit organization providing financial and emotional support to families of children with cancer living in Santa Barbara, Ventura, and San Luis Obispo counties. Services are providing to families that have a child diagnosed with cancer up to age 18 and continue until they reach 21 years of age. teddybearcancerfoundation.org