Fillmore Lions Club Parade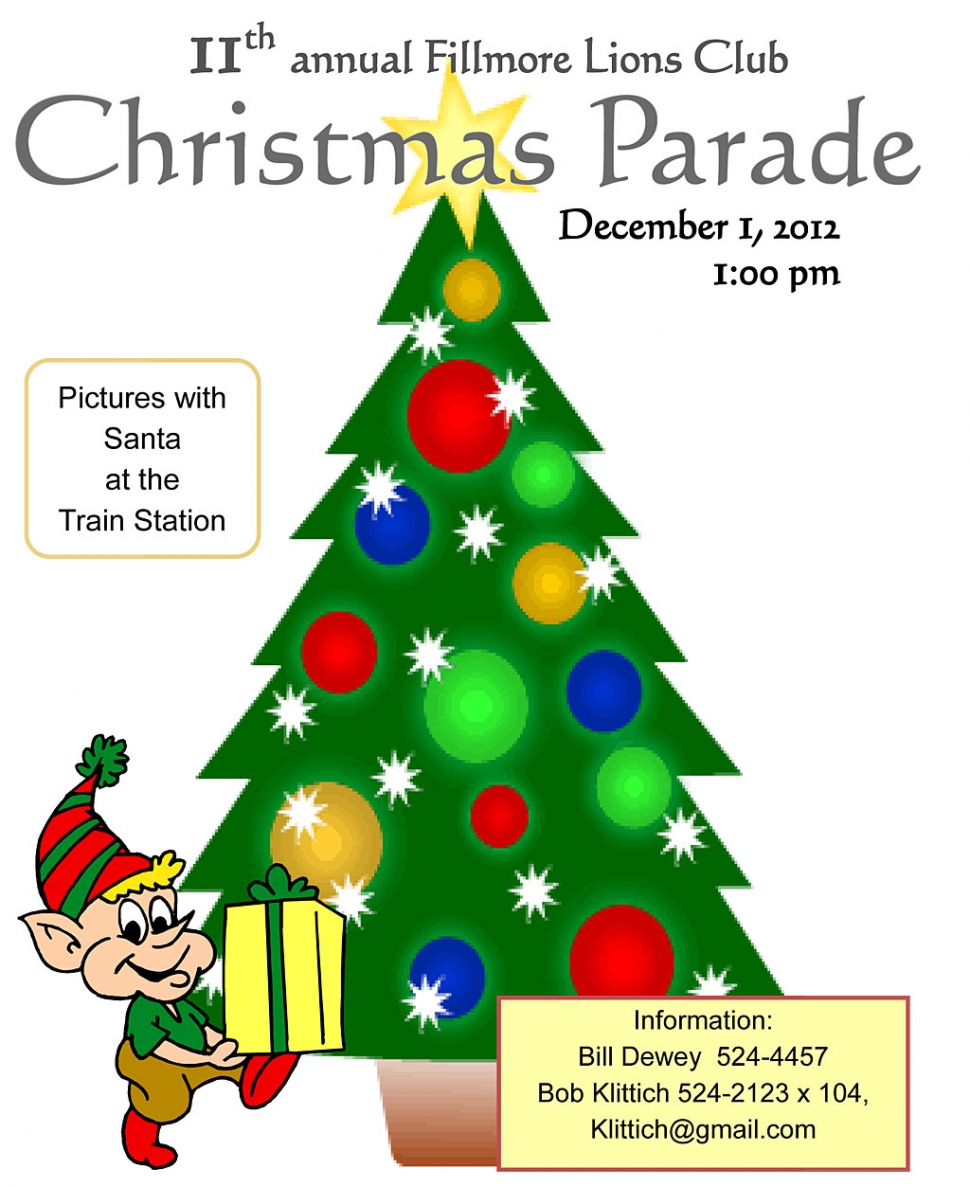 By Gazette Staff Writer — Tuesday, November 13th, 2012
Merry Christmas!
It's time again for the 2012 Annual Fillmore Christmas Parade sponsored by the Fillmore Lions Club.
On Saturday December 1st at 1:00 PM the parade will proceed south on Central Ave. from Second Street to Santa Clara Street.
The parade route will be posted with "No Parking Signs" from 11:00 AM to 3:00 PM the day of the parade. The Lions Club requests the cooperation and patience of Fillmore residents for this event to ensure the safety of all involved.
The Parade is open to all groups or persons wanting to celebrate the season with a "themed" entry.
Applications are available to print below and at several locations:
1. Walt's Jewelers in the Vons Shopping Center
2. The Fillmore Chamber of Commerce Office,
3. Lobby of City Hall
4. Bob Klittich, Parade Chairperson at 524-2123, or Klittich@gmail.com.
5. Bill Dewey, Parade Vice Chairperson @ 524-4457
There is no cost to enter the parade. Parade check-in is at 11:30 AM on Second Street, in front of the Memorial building.
This is the 11th year the Lions Club has sponsored the Annual Fillmore Christmas Parade. The Fillmore Lions Club's continues to sponsor the parade in honor of long time member, the late Henry "Hank" Carrillo. Hank urged the Club to assume the responsibility of the parade when it was in danger of losing sponsorship.
Santa Clause is expected to be in Fillmore to wish all a Merry Christmas in time for the Parade. Immediately after the parade Santa will be available for pictures, (if you bring your own camera), at the Fillmore Museum, near the train station.
See you all on December 1st!
Merry Christmas!
Bob
Bob Klittich
Christmas Parade Chairman
Fillmore Lions Club
http://www.scribd.com/doc/113137772/Parade-Application-2012
http://www.scribd.com/doc/113137741/Hold-Harmless-Parade
http://www.scribd.com/doc/113137733/FAQ-Frequently-Asked-Questions-2012