Fillmore Lions Club Donates $300 to Girl Scout Troop 65101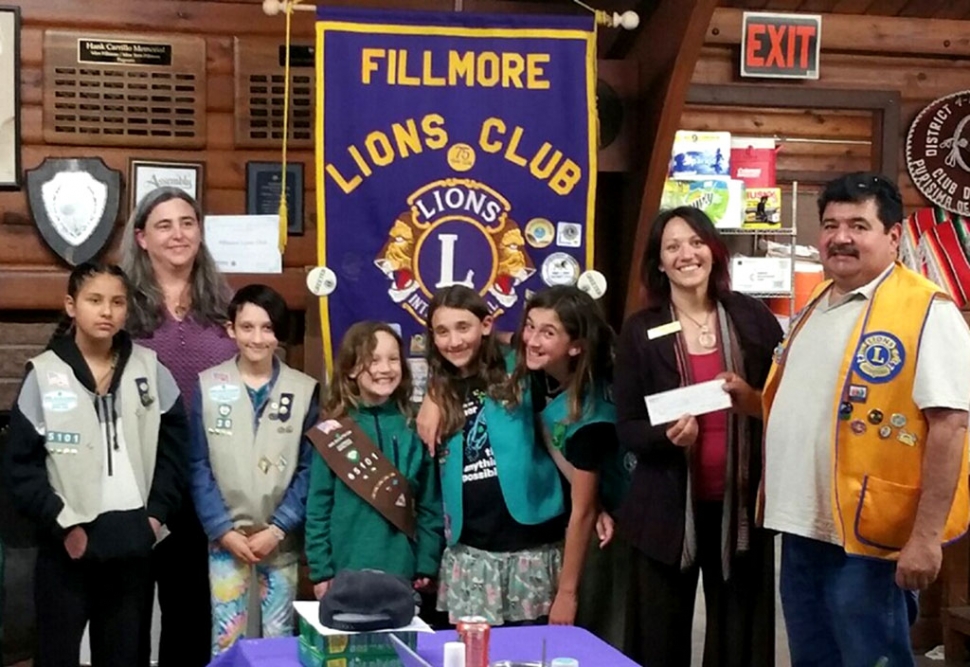 The Fillmore Lions Club presented a $300 check to Fillmore Girl Scout Troop 65101 to attend camp. Pictured left to right is Heather Merenda, Diamond Mendoza, Aurora LaRaia, Mable Lengning, Aine LaRaia, Rosetta Merenda, Brandy Lengning, and Ed Barajas of the Fillmore Lions Club. Courtesy Jan Lee.
By Anonymous — Wednesday, February 26th, 2020
Submitted by Jan Lee
The Fillmore Lion's Club has long supported the Girl Scout Organization. At a recent meeting, Girl Scout Troop 65101 of Fillmore presented a program to the Lions. They are the only troop in Fillmore. This is an "open troop" which means that members are welcome to join at any time. Girl Scouts focus on being good stewards of our community through service. The troop is girl led which means the girls vote on which ventures they choose to help our community. Their donation to the local library expansion is one troop project.
As most everyone knows, it is Girl Scout cookie sale season. The girls earn money to attend camp and other enterprises. So, if you get the opportunity to buy some of those delicious cookies, the funds earned will be used to help their various projects. Thank you Troop 65101 for helping our community.
The Fillmore Lion's Club donated $300 to the troop to help girls attend camp.