Fillmore Historical Museum Hosts Art Show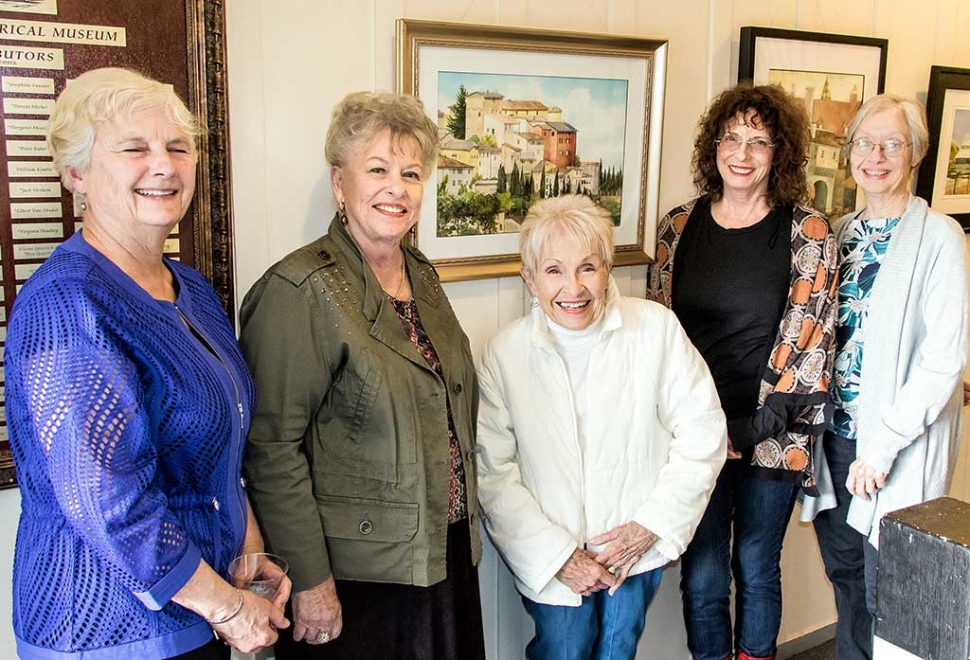 (l-r) Virginia Neuman, Luanne Hebner Perez, Judy Dressler, Lois Freeman-Fox, and Lady Jan Faulkner enjoying the art show at the Fillmore Historical Museum. Photo by Bob Crum.
By Gazette Staff Writer — Wednesday, May 10th, 2017
Story By Joanne King
Photos by Bob Crum
"A Sense of Place", an art show at the Fillmore Historical Museum, features a retrospective of the watercolor paintings by Luanne Hebner Perez.
Her work encompasses early design and exploration of watercolor techniques influenced by many travels to study and paint with plein air masters
in Europe and in the western United States. Her landscapes and cityscapes invite the viewer to see with new appreciation each place she found to paint.
Saturday's reception was enjoyed by the artist, Luanne Perez, Claudia and Thomas Ellison, Joanne King, Susan Hopkins, Martha Gentry,
Lois Freeman-Fox, Lady Jan Faulkner, Hillary Welreter, Gary Giesseman, Bob Crum, Stuart Fox, Mary Ford, Rae Bretzing, Judy Dressler, and
Doris Nichols.
Three paintings were sold as well as several art cards. The art show and sale will be open to the public during museum hours until June 16th, 2017.