Fillmore First Annual Art & Photography Exhibitiona Huge Success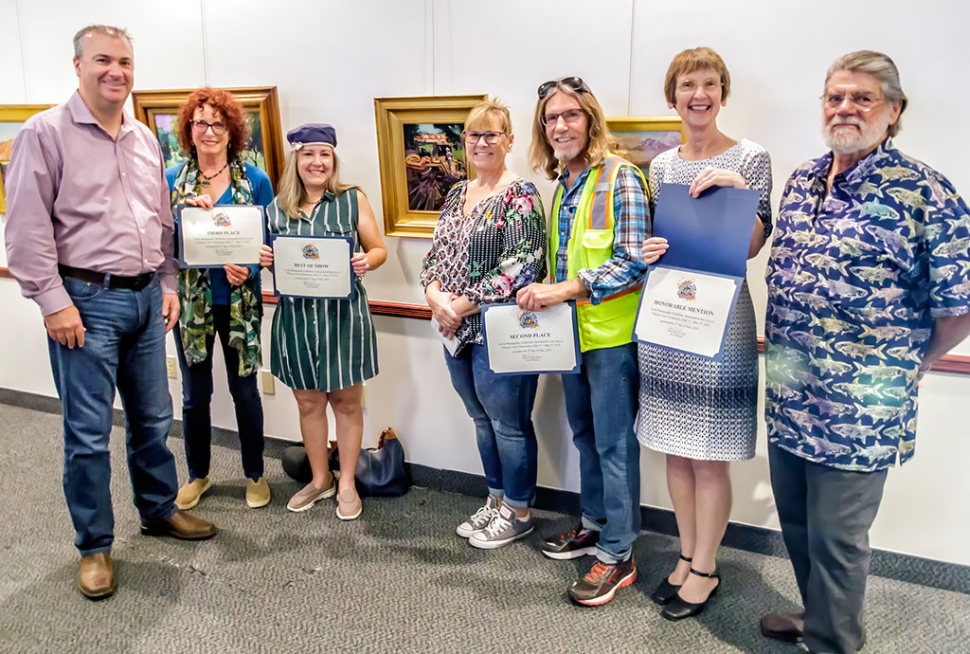 Pictured above are the Fillmore Art & Photography Exhibition Curator Award winners (l-r): Fillmore City Manager David Rowlands, Lois Freeman-Fox-3rd place, Lisa Manony-Best of Show winner, Mayor Diane McCall, Paul Benavidez-2nd place, Lia Verkade-honorable mention, Richard Franklin-show curator. Photos courtesy Bob Crum.
By David W. Rowlands — Wednesday, May 8th, 2019
By Fillmore City Manager Dave Rowlands
The City of Fillmore Art Commission held their first Art and Photography Exhibition Wednesday, May 1 thru Sunday, May 5 in the City Council Chambers. There was over fifty pieces of art and photography displayed from nineteen local artist. Several of the artist have shown their works in New York, Chicago, Los Angeles, and locally.
Richard Franklin, ceramicist, architect, educator, and member of Ojai Studio Artists curated the event and selected the exhibition winners. The winners were presented with certificates by Diane McCall, Mayor for the City of Fillmore, Friday evening at the artist reception.
Art & Photography Award Winners
Best in Show - The Collector by Lisa Mahony
2nd Place - Plein air study of Bardsdale Bridge Looking into the Sespe by Paul Benavidez
3rd Place - At the Bakery by Lois Freeman-Fox
Honorable Mention - Garden of Joy by Lia Verkade
In addition, several People's Choice Awards winners were announced. Over 180 ballots were submitted during the exhibition. The winners as chosen by the people include:
Photography
1st Place - 1913 Baldwin by Bob Crum
2nd Place - Dazzling Poppies by Bob Crum
3rd Place - Towne Theatre on Central Avenue by Phil Fewsmith
Art
1st Place - Portrait of Military Officer by Paul Benavidez
2nd Place - Morning with Sarah by Susan Hopkins
3rd Place - At the Bakery by Lois Freeman-Fox