Fillmore Chamber Welcomes Bike HUB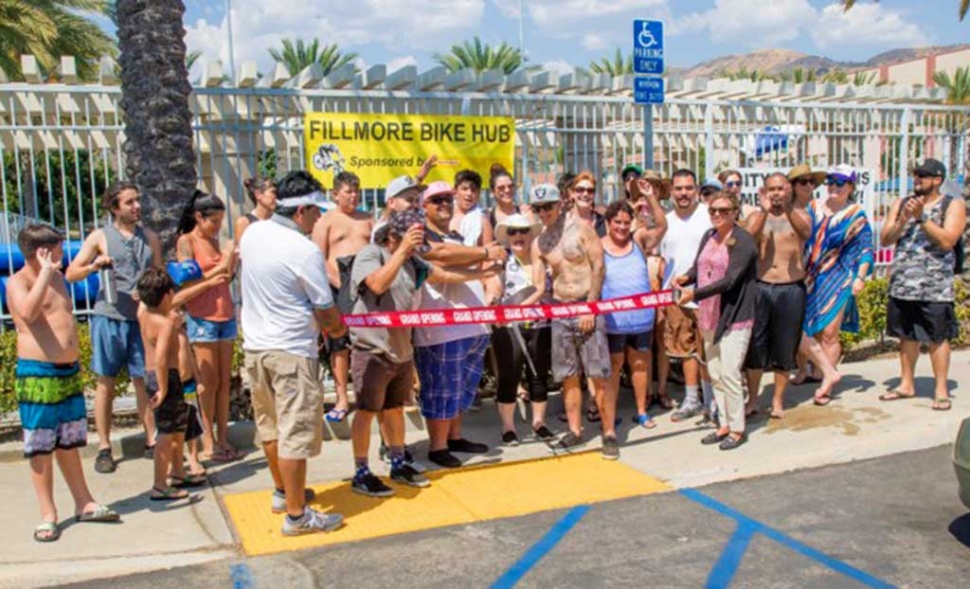 Fillmore Chamber of Commerce welcomed the Bike HUB by hosting a ribbon cutting ceremony. Pictured above are Ralph Jimenez (Pres. Fillmore Chamber), Jaime Ambriz (Bike HUB Project Mgr.), Ari Larson (Fillmore Chamber Board Dir.), Martha Espinoza, Michael Espinoza, Eric Maynard, Timothy Cox, Danny Meraz, Jena Branstetter (Bike HUB Board Secretary),Yvonne Adan (Bike HUB Board of Directors), John Vargas, Martin Gonzalez, Aaron Sandberg, Dulce Cox, Nathan Cox,Timmy Cox and Joshua Cox. Photo courtesy Ron Parker.
By Gazette Staff Writer — Wednesday, October 18th, 2017
Promoting exercise and fun, Bike HUB (a mobile unit) has a mission to foster a safe, healthy community through bicycle-centered education, empowerment and advocacy in Ventura County. They are now in Fillmore. On Sunday, September 2, 2017 they had a bike ride and swim event that included a ribbon-cutting by the Fillmore Chamber of Commerce. For information please contact Jaime Ambriz 805.421.9182 or Email: jambriz@bikeventura.org.