Fillmore Bicycle and Skateboard Safety Rodeo / Public Safety Day
By Ventura County Sheriff Department — Wednesday, September 28th, 2016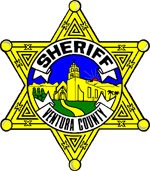 Ventura County Sheriff's Department
According to the Center for Disease Control, "Millions of Americans ride bicycles, but less than half wear bicycle helmets. For example, a national survey conducted in 2001-2003 found that only 48% of children ages 5-14 years wore bicycle helmets when riding. Further, older children were less likely to wear helmets than younger children. In 2010 in the U.S., 800 bicyclists were killed and an estimated 515,000 sustained bicycle-related injuries that required emergency department care. Roughly half of these cyclists were children and adolescents under the age of 20. Annually, 26,000 of these bicycle-related injuries to children and adolescents are traumatic brain injuries treated in emergency departments." (http://www.cdc.gov/healthcommunication/toolstemplates/entertainmented/ti...)
To promote safe riding and the wearing of safety equipment, the Fillmore Police Department held its Second Annual Bicycle and Skateboard Safety Rodeo this past Saturday, September 24th, at the Fillmore Middle School. The event, which was free to the public, featured safety instruction, an obstacle course, bicycle and skateboard safety inspections, and proper helmet fitting. New donated bicycles and skateboards were raffled to children at the event. California state law (21212 VC) requires all bicycle riders and skateboarders, under the age of 18, to wear helmets. 123 free helmets were given to children in need, 92 children completed the safety course, and 45 bicycles were registered with the Fillmore Police Department to help prevent theft and assist with the return of lost or stolen bicycles to their owners. The Fillmore Police Department and Ventura County Sheriff's Office will continue to register bicycles throughout the year for a $5.00 fee.
The event was combined with a Public Safety Day, allowing children and their parents to meet the first responders who protect Bardsdale, Fillmore, Piru, and the surrounding county and federal lands. Agencies on hand included American Medical Response, Fillmore Fire Department, Ventura County Fire Department, Fillmore Police Department, Ventura County Sheriff's Office, California Highway Patrol, California Fish and Wildlife, and Los Padres National Forest Fire Department and Law Enforcement.
This event was made possible by through the generous help of the Fillmore Fire Foundation, Fillmore Police Department's Citizen Patrol, First 5 Ventura County – Santa Clara Valley, Fillmore Lions Club, Fillmore Rotary Club, Ventura County Deputy Sheriff's Association, Baskin-Robbins, Mejia's Nursery, Ragatz Performance Bicycles of Santa Paula, and SkateLab of Simi Valley. FOOD Share and the Ventura County Health Care Agency provided additional support and resources to the attendees.
Nature of Incident: Fillmore Bicycle and Skateboard Safety Rodeo / Public Safety Day
Report Number:
Location: Fillmore Middle School, 543 A Street
Date & Time: September 24, 2016, 9:00 AM – 12:00 PM
Unit(s) Responsible: Fillmore Police Department
Prepared by: Sergeant Kevin Vaden
News Release Date: 9-26-16
Media Follow-Up Contact: Sergeant Kevin Vaden
805-524-2233 / kevin.vaden@ventura.org
Approved by: Captain Dave Wareham