Fillmore ArtHarvest Festival 2008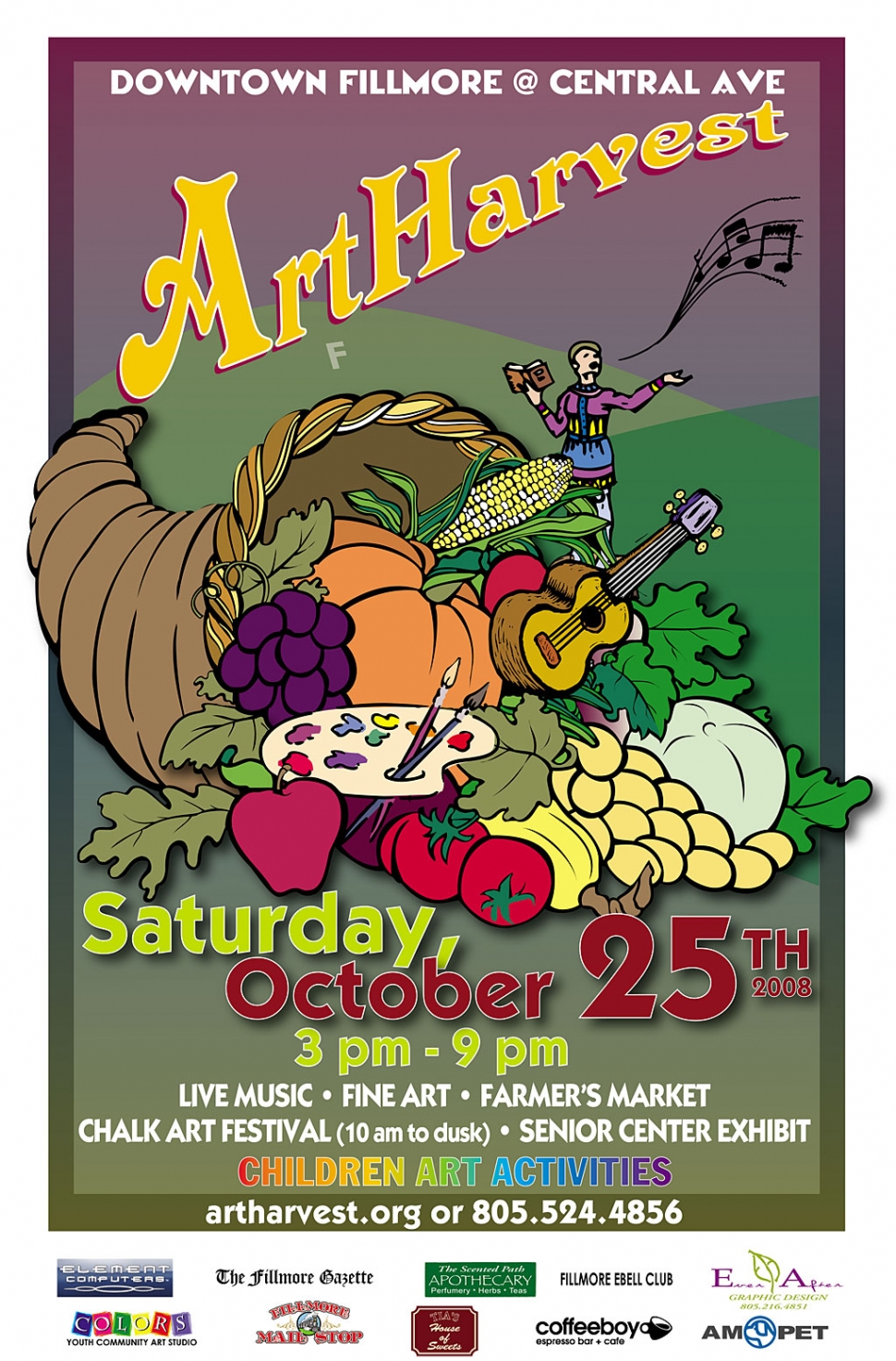 Fillmore ArtHarvest 2008 Poster
By Gazette Staff Writer — Wednesday, October 15th, 2008
Fillmore's annual art walk is growing! In its new incarnation as the Fillmore ArtHarvest, artists and performers will take to the streets, creating a festival atmosphere to showcase both local and regional talent.
Beginning at 3:00 p.m. on Saturday, October 25, 2008, downtown Fillmore merchants and artists will transform Central Avenue between Main and Sespe Avenues into a pedestrian-friendly art space for all to enjoy.
Musicians will be performing at sidewalk level to provide an intimate experience for all visitors.
Downtown businesses will also be opening their doors to sponsor fine artists, potters, sculptors, photographers, gourd artists and jewelers. There will be multiple opportunities for guests to meander in and out of
shops, sample artistic wares and refreshments, and to take advantage of the local shopping scene.
Concurrent with the fine arts displays is the Chalk Art Festival and a hands-on art center. Chalk artists are invited to demonstrate their talents on the beautifully laid out sidewalks in front of the Fillmore
City Hall at 250 Central Avenue. Registration starts at noon right in front of the Hall. Bring your own pastels (no oils or hairspray, please) or they can be purchased at the registration table for $10.00 a set. All
artists, young and old are invited to participate. Call Colors at 524-2200 for more information.
Just across the railroad tracks at the corner of Central and Main, all are invited to enter a hands on art space with booths offering art activities for only a dollar each. Kids and adults can learn how to weave "God's Eyes" or create a bashura banner among other activities.
Musicians will be performing at multiple locations up and down Central to add to the festive atmosphere. Performers will be announced at a later time.
One way or another, all guests can go home with beautiful artistic works, music CDs, tasty, local foods and goods, and with having had a satisfying, small-town "Fillmore experience."
Sponsored by the Fillmore Downtown Merchants Association.