Fillmore and Gold Coast Recycling Celebrate 25th Anniversary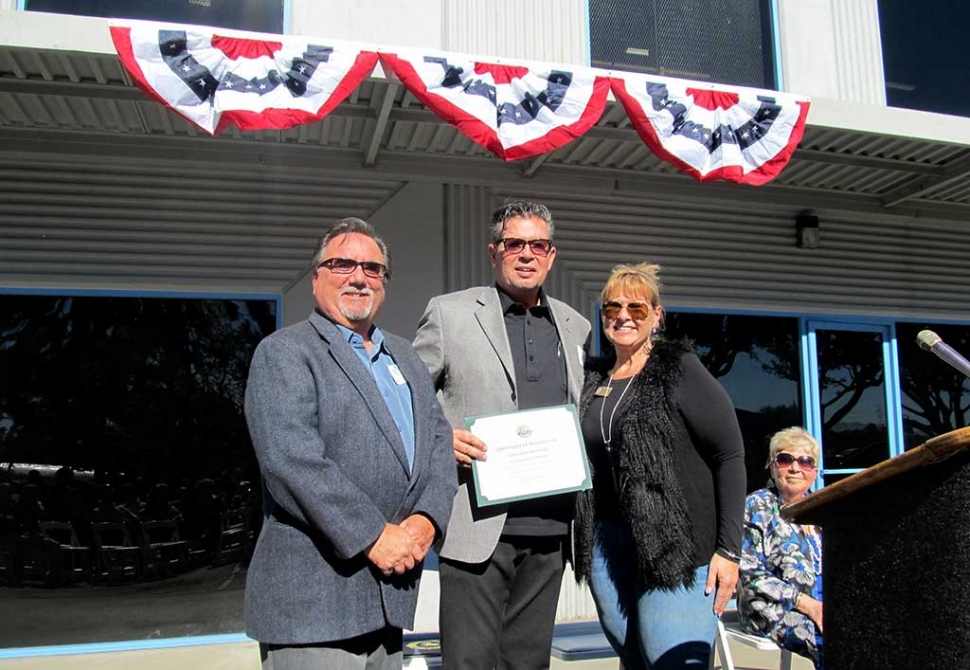 Fillmore City Councilwoman Daine McCall (right), with George Harrison, general manager of Gold Coast Recycling (center), and Lynn Harrison, general manager of Harrison Industries.
By Gazette Staff Writer — Tuesday, November 24th, 2015
Gold Coast Recycling and Transfer Station, established in 1990 to help local cities, including Fillmore, and the County of Ventura meet state mandates to cut the amount of trash they send to landfills in half, held a 25th anniversary celebration on Nov. 19.
Gold Coast Recycling and business partner Harrison Industries honored the cities they serve – also including Ventura, Thousand Oaks, Camarillo, Ojai and Carpinteria – as well the County of Ventura with Certificates of Appreciation during the event at the 75,000-square-foot facility in Ventura.
George Harrison, general manager of Gold Coast Recycling, presented certificates of appreciation to representatives of the cities, chambers and communities Harrison serves for helping the communities exceed the trash diversion goals of California Assembly Bill 939, passed in 1989.
"We couldn't have reached these state goals without the extraordinary commitment of the citizens, businesses and institutions of all of the jurisdictions, and for that we thank them also," Harrison said.
Working in conjunction with Harrison Industries, GCR established a three-barrel curbside program for trash, recycling and green waste for residents and a white recycling bin program for businesses as well as roll-off and Construction & Demolition programs for both businesses and residents, GCR processes over 90,000 tons of recyclable materials each year.
Government officials presenting GCR with certificates of congratulations included State Senator Hannah Beth Jackson, Ventura County Supervisor Peter Foy and Fillmore City Councilwoman Diane McCall. Representatives of the offices of Congresswoman Julia Brownley, State Senator Fran Pavley and Assemblyman Das Williams also presented certificates of congratulations.
In the future Harrison Industries and GCR will be adding green and food waste recycling bins for its business customers, in compliance with California Assembly Bill 1826, which takes effect in 2016. AB 1826 is designed to cut greenhouse gas emissions, reduce the use of chemical pesticides and fertilizers and create a source of green energy.