Council Approves Storm Drain Maintenance Assessment Public Hearing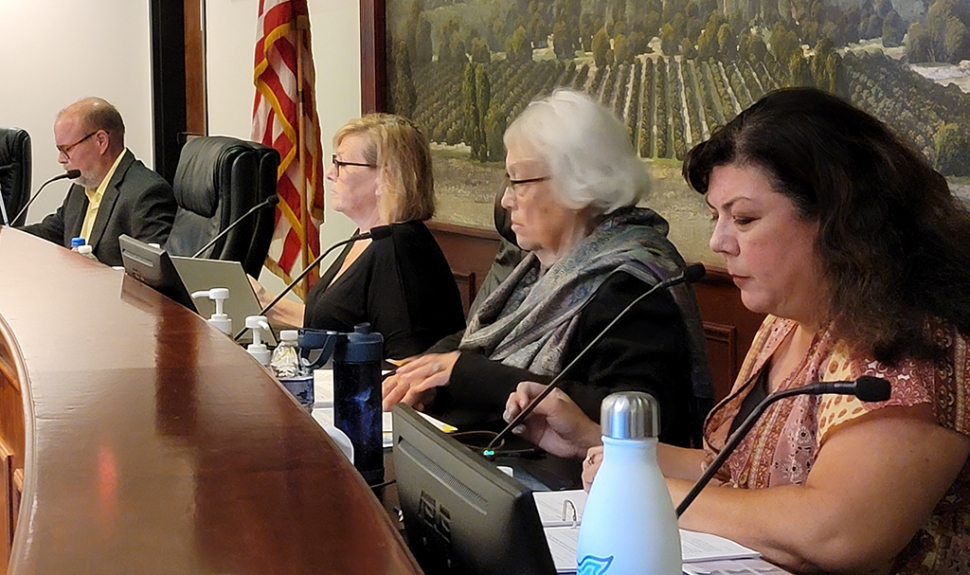 Fillmore City Council
By Gazette Staff Writers — Thursday, May 26th, 2022
All following items approved by unanimous voice vote:
6-C City Council, consistent with the recommendation from the Mayor, appointed Dr. Giselle Teller to fill the position on the Parks and Recreation Commission through June 30, 2026.
6-D The City Council memorialized the authorization to use electronic signatures when allowed by law.
6-E The Contract Services Agreement for 2022-23 Engineering Consultant Services with David Burkhart was approved.
6-F Council approved the second reading to adopt an Ordinance entitled "An Ordinance of the City Council of the City of Fillmore, California, Updating Portions of the City's Animal Control Regulations in Title 9 of the Fillmore Municipal Code."
New Business
7-A The attached Second Amendment to the Implementation Agreement for the NPDES Ventura Countywide Stormwater Quality Management Program Implementation Agreement was approved unanimously.
7-B Staff requested the City Council hold a Public Hearing and adopt the attached resolutions approving the Engineer's Annual Report for FY 2022-23 ("Engineer's Report") and ordering the levy and collection of annual assessments for the City of Fillmore Landscape and Lighting District No. 2 ("LLD 2") and Heritage Valley Landscape and Lighting District 2007-1 ("LLD 2007-1"), respectively. Council approved unanimously.
7-C Staff requested that the City Council conduct a Public Hearing and adopt Resolution No. 22-3884 Confirming the Annual Budget and Ordering the Levy and Collection of Assessments for the Storm Drain Maintenance Assessment Districts for FY 2022/23. Resolution approved unanimously.
7-D Staff requested that the City Council approve the third amendment to the contract with Willdan Engineering Services, Inc. (Willdan) for contract city engineering services. Approved unanimously.
7-E City Council approved a proposal for the preparation of plans, specifications and estimates for the FY2021/22 Annual Street Resurfacing project and authorize the City Manager to issue a task order to Willdan Engineering as authorized under the Third Amendment of the Contract Services Agreement for City Engineering Services. Approved unanimously.
7-F Staff requested that the City Council adopt Resolution Number 22-3889 setting the GANN Appropriation Limit for Fiscal Year 2022-23. Approved unanimously.
7-G Staff recommended that the City Council approve an amendment to Title 16 of the Fillmore Municipal Code ("FMC") to allow specified circumstances in which the Director of Finance, or in the Director of Finance's absence, the City Manager can allow payment plans for customers with overdue bills when those customers have household income which is less than 200% of the federal poverty line. Approved unanimously.