Come and open your own "Treasure Box"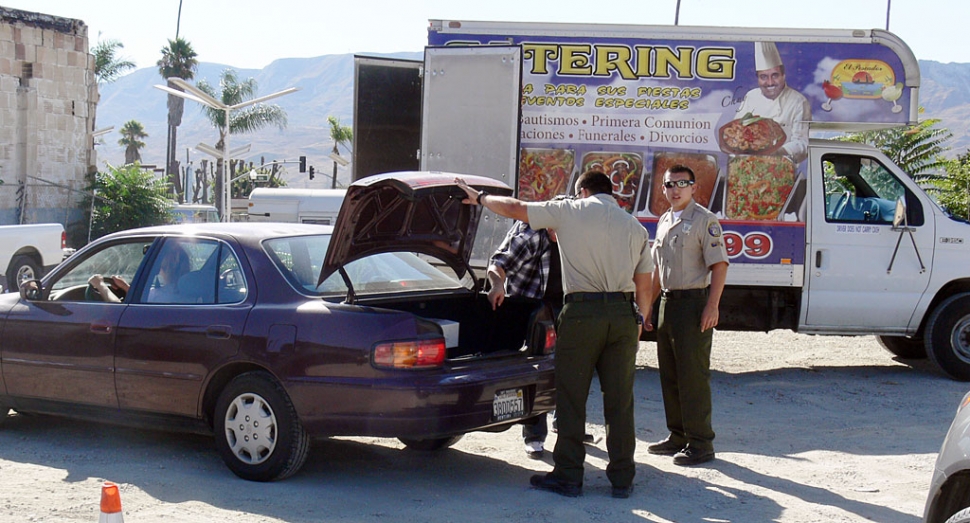 Fillmore Cadet Explorers help out with the Treasure Box.
By Gazette Staff Writer — Wednesday, October 20th, 2010
Welcome and join us in opening up YOUR own Fillmore Senior Center Treasure Box! This is a national affordable meal program available which assists not only those who are low income but ANYONE looking for a break in their grocery bills each month. Each month offers a different menu.
For those of you with kids away in college, this is an excellent way for you to order them a box in their city and have them enjoy nutritious, affordable meals!
Once a month, on the Third Saturday morning, a group of dedicated Fillmore Senior Center volunteers distribute "The Treasure Boxes". Marie Wren initially brought this wonderful affordable food program for Fillmore, Piru and Bardsale families to enjoy.
The month of September was the first successful trial run with delivery to recipients running smoothly. This was due to the assistance of the youth in the well-organized Fillmore Sheriff's Department Cadet Explorer Program who are supervised by School Resource Officer Leo Vasquez. Other TB volunteers included: Donna Voelker, Judy Fairall, Henry Santana, Miguel Zavala, Joanna Vargas, Marie Sandford and Norma Pérez-Sandford. We also thank Mr. Jesus "Chuy" Lopez, owner of El Pescador Restaurant, for the use of his delivery truck which allowed us to pick up the TB order in one run from Moorpark.
This November month, the "Holiday Box" is offered for popular $35 Holiday Treasure Box: includes turkey (14-16 lbs.), dressing, macaroni & cheese, carrots corn and sweet potatoes vegetables and dessert--YUM! For an additional $30, one may also order extra boxes: Regular November, Hearty Meat Protein, Quick & Healthy (10) Dinners or Kid's Boxes, respectively.
Please bring in your $30 cash or money order in person to the Fillmore Senior Center (524-4533) between 8 a.m. and 1 p.m., Monday thru Thursday. Lori Nunez is the Senior Center Staff member who will take the TB order or you may also pay online directly at www.thetreasurebox.org.
You, your church or business may also wish to donate, either directly or anonymously, a box or two to families going through tough times right now.
The Novemeber online order deadline is Sunday, November 7th and the distribution day is on Saturday, November 20th.
The October distribution will be Saturday, October 23, 2010 between 9:30 to 11 am at the Fillmore Senior Center parking lot.
Also, adult members of a church group or club are encouraged to join this friendly "good deeds" adult volunteer group just one Saturday morning a month.
Please stop by the Fillmore Senior Center and pick up volunteer forms.
This is a fabulous way to make a HUGE difference to families in Fillmore and Piru. DON'T MISS THE DEADLINE!