By Conway Spitler — Wednesday, June 18th, 2008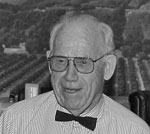 Conway Spitler
The 70th anniversary of graduation from Fillmore High was celebrated by the Class of 1938 with a luncheon at Mama Sue's Kitchen and attending the alumni dinner in the evening!
Besides getting to see each other and bringing all up-to-date on what has happened and is happening to each one there were a number of the next generation who came and worked like beavers assisting the "old" folk!
Mama Sue's Kitchen was a delightful place to have the reunion and we all recommend it very, very highly. The service was done with class.
The class was very sorry that the following classmates could not attend because of illness: Dora Siechert Hall, Barbara Hall Stillman, Evelyn Cozier Grove, Virginia Scott Edwards, Dr. Isabel Tavares and Jack Wilson. Greetings were received!
Special thanks go to Beverly McNair and Lisa Blackburn (daughters of Helen and Crowin McNair) for their outstanding assistance in decorating the room along with flowers of blue and white. Class members were right there assisting in getting the room to be very festive.
A quilt was made by John Couch's daughter. You must see it to believe this creation! The class photographs from the Copa de Oro were printed to cloth, along with the picture of the administration building, and then transferred to cloth. From there Fillmore High and Class of 1938 was added and it was then hand quilted. You have to see it to believe what a outstanding piece of art was made by this young lady for her father and John gave it to the class. He then decided to give it as gift by having classmates draw the one to receive this treasure. And, guess who got it legally? Conway Spitler!
It was decided this should be placed in the high school Hall of Fame. We hear rumors that the Hall of Fame has been taken over by the school store! But, will investigate.
John Couch presented each classmate with a 2008 Bald Eagle Commemorative Coin. What a beautiful coin! John has done this at each reunion we have had these past years.
John Corwin, husband of Helen Coleman Corwin, painted a beautiful painting of the administrative building. Remember the little coupe in the original picture? Well John put in his coupe into the picture! It is remarkable the talent these people have.
Luncheon was served by two very efficient young waitresses with selections made by each class member.
After luncheon the program began with a blessing by Trusten Hart. Betty Ann Kirkpatrick Hawk gave the class greetings followed by introduction of each class- mate and our two special guests Superintendent Jeff Sweeney and Bill Reaves '60 who comes each year from the State of Washington to help with the alumni dinner set up and take down.
Absent from the dinner because of illness was Dora Siechert Hall, Barbara Hall Stillman, Evelyn Cozier Grove, Jack Wilson, Virginia Scott Edwards, Virginia Ruthrauff Swaffield, and Dr. Isabel Tavares.
Classmates attending the dinner were: Priscilla Cobb Baker, Barbara Ellswroth Bates, Beverly Burke Thomas, George Stowell Burson, Helen Coleman, McNair, John Couch, Trusten Hart, Bette Kirkpatrick Hawk, Bernice LeBard Landers, Betty Pearson Tavaglione, Harry Peyton, R. Conway Spitler, Elton Wagner, and James Walker.
Remembrance of deceased class members was note by Trusten Hart.
A listing of the historical events of 1938 was given by Conway Spitler followed by the giving of the coin!
It was determined that this was would be our last reunion!