Civic Pride Volunteers Name October 2022 "Yard of the Month"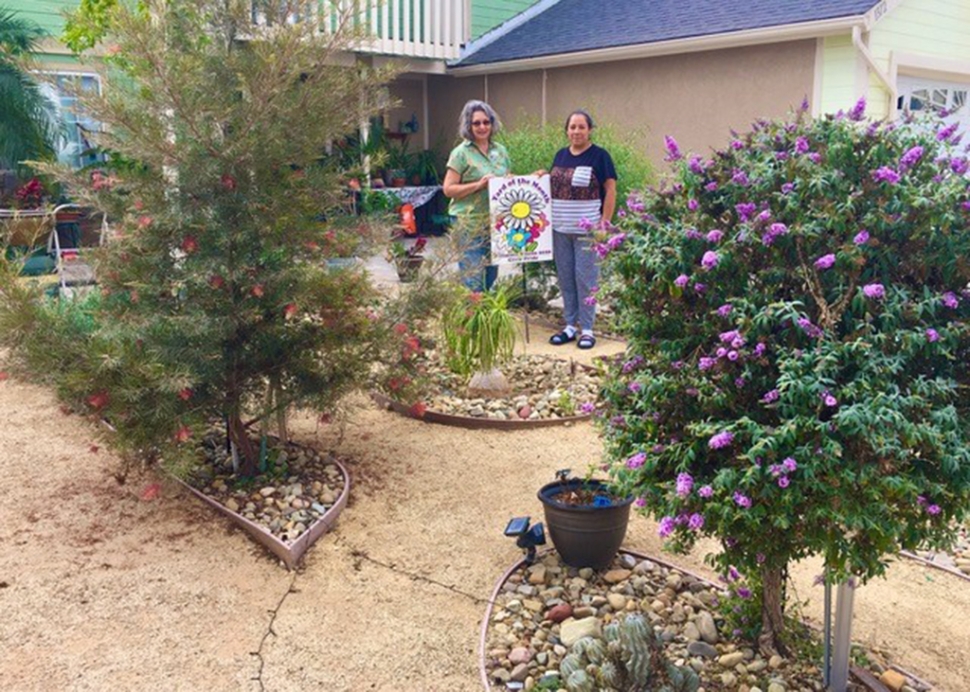 Fillmore Civic Pride named Lilia and Marco Martinez's yard on Waterford Lane as Yard of the Month for October. Photo credit Fillmore Civic Pride Volunteers.
By Gazette Staff Writers — Thursday, October 27th, 2022
By Linda Nunes
Civic Pride Volunteers have chosen Lilia and Marco Martinez's yard at 1372 Waterford to receive the $50 "Yard of the Month" award, generously given by Otto & Sons Nursery.
The family has lived at this location for about 20 years, but never had visited the nursery, so they will enjoy the amazing park-like setting while they shop.
Marco wisely designed and installed, a drought tolerant yard using decomposed granite pathways with weed barrier cloth and river pebbles in circles of varying sizes. They were planted with purple flowering, Buddleja davidii or Summer Lilac (Butterfly Bush), Ponytail Palm (Elephant's Foot), and a Grevillea tree as the focus of the circles. Beneath these are succulents like Stapelio gigantea known as Carrion plant because of the rotted flesh smell of the unusual flowers. Their plant has two large buds ready to open. Blue agave and other cacti, Milk Weed, Acacia Saligna, Lemon Grass, Red Crown of Thorns and Salvia add interest.
We were surprised and pleased to see a native bee condo from our Fillmore Flower Show boutique in the middle of the Salvia bush!
For vertical balance, they had Epiphytes and three types of Passionflower vines growing up a trellis and the fence.
Drive past their yard and see how attractive a drought tolerant landscape can be.